Top Considerations before Customizing Your Engagement Ring
custom jewelry, custom ring process, customize engagement ring
9/1/2021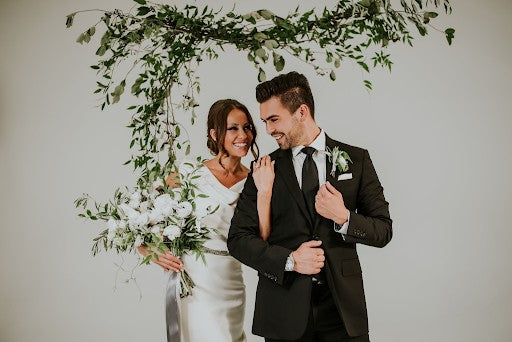 When selecting an engagement ring, many people simply visit a local jewelry store and point to a preset piece on the display shelf. These days, there are other, better options. Glimmering with every facet of your personality, customized engagement rings are designed to reflect your one-of-a-kind love story. Here's what you should consider when customizing your ring.
1. Choose the Right Jeweler.
Ideally, you want to go through the collaborative custom ring process with a skilled, reputable jeweler who has decades of experience. Jewelry design is art, and it's important to work with an artist who has a style that will appeal to your design sensibility. Ask to see examples of previous work and inquire about the jeweler's custom ring designing process.

If you already own a diamond, the jeweler should be able to incorporate it into a new, tailored-made design. If you're buying a new diamond, it should come with a GIA (Gemological Institute of America, Inc.) report or some other certified appraisal by a well-regarded jewelry institution.
2. Collaborate.
Your ring should be all about you and your love story. The design process should be a collaboration that incorporates your ideas and perspectives. Many people feel a bit intimidated when working with a skilled, experienced jewelry designer. Don't be afraid to speak up and provide insight into what you want.

While not absolutely necessary, it will help to have a budget in mind and an idea of diamond shape and size. You should also consider bringing visual aids to help guide your designer, whether it's a sketch or Instagram photo.

A reputable designer will approach each instance with knowledge, artistry, passion and patience. Don't put up with anyone who makes you feel rushed or silly about your ideas. Give plenty of insight to help your designer bring your boldest vision into the real world.
3. Protect Yourself.
When working on a custom ring design, it's important to make sure you understand all the design fees and timetables. This way, there will be no surprises when you arrive to pick up the finished product. Last but not least, ask about insuring your ring in case of damage or theft.
4. Be Patient.
Custom rings require more involvement on your part. In some instances, the process can involve a great deal of collaboration and several touch-point meetings along the way. Depending on your specifications, the process could take weeks or even months to go from an abstract idea to a tangible reality.

Approach the process with patience to ensure that you will be thrilled with your final result. That said, make sure the jeweler is upfront about how long the process will take. You should also clearly express your deadlines, so there's no misunderstanding along the way.
5. Don't Forget the Band.
You can save time and money by designing a wedding band when you design your custom engagement ring. This will ensure that both pieces are seamlessly paired, and you may be able to save money by having a beautiful set designed at the same time.
Uniquely Beautiful Engagement Rings
John Atencio is famous for crafting exceptional engagement rings using only the finest gemstones and highest-quality precious metals. While all of John's pieces reflect the skillful artistry of a master craftsman, his customized rings provide a personalized expression of your unique love story.

Through every step of the personalized design process, our experts work collaboratively with each customer to design the perfect engagement ring. Whether you prefer a ring with a nontraditional setting, fancy-shaped stone, or a distinctive creation combining more than one style, John can craft a uniquely beautiful jewelry piece that's as unique as your beautiful bond.

Not sure where to begin? Try using one of our previously designed rings as inspiration for a custom design. You can browse many of John's engagement rings online or at one of his convenient nearby locations. Then visit one of our locations to learn about all the available customization options from one of our attentive experts . From there, you can collaborate with our skilled designers to craft a stunning uniquely fashioned engagement ring unlike any other.

Choosing an engagement ring can feel confusing and overwhelming. That is unless you shop at John Atencio. Our jewelry experts can show you how to select a perfect diamond and setting for your bride-to-be. We can also help you personalize a unique engagement ring that perfectly represents your once-in-a-lifetime love story. Visit one of our locations and let our attentive experts guide you toward the perfect, quintessential expression of your beautiful bond.