Why Buy a John Atencio Engagement Ring?
engagement ring, engagement rings, john atencio
8/29/2022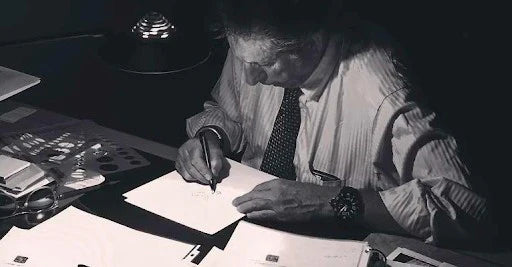 Have you been considering buying an engagement ring for your special someone? If that iridescent inkling has been dancing in the back of your mind, it's time to start shopping for a breathtaking ring that's worthy of your one-of-a-kind love story.

But what makes a ring that special? It's artistry, architecture, materials and social responsibility that all combine to yield the highest quality engagement rings. And this is what makes John Atencio's beautifully crafted wearable art the perfect choice for your bride-to-be.
Don't Settle for Second Best
Why choose a John Atencio engagement ring? Because your special someone deserves a ring of instantly recognizable quality. Because your perfect person merits the lovingly detailed process that goes into making a ring meant for her finger alone. Because a John Atencio ring summons the eyes of others and causes them to linger with admiring stares.

She means more to you than words can express, and she deserves the eternal joy and light that a John Atencio engagement ring is going to bring to her daily life for all of her days.
Choose the Wearable Art of Colorado's Own John Atencio
As a world-renowned designer of sensational statement jewelry for almost half a century, Colorado native John Atencio has raised the bar on the artistry of the engagement ring. As fate would have it, his first design was born 48 years ago as a ring he made for his girlfriend—a labor of love that spawned an international attraction for his artfully enduring jewelry creations.

The most rewarding part of choosing a John Atencio engagement ring? She'll always remember that you sought out the best when choosing the ring that started it all. From richly classic to majestically modern, a John Atencio engagement ring holds the promise of the quality, sparkle and significance as the forever gift that will decorate her finger.
The Engagement Ring with the Heavier Feel
The moment you see and feel a stunning John Atencio piece you'll know what sets him apart from other jewelers. John ensures that all his creations are crafted to be enduring heirlooms by making them with a higher metal content than most other jewelers use.

Your special person will appreciate the reassuring, weighty feel that a heavier, high-quality ring by John Atencio gives her. She'll also love that it's superbly suited for the active Colorado lifestyles. It is only fitting that the ring she wears for life is as strong as the union you share.
Each John Atencio Ring is Crafted for Balance and Beauty
Every piece of John Atencio jewelry goes through a unique artistic journey after being lovingly hand-sketched by John himself. Every ring is curated to be an heirloom, and only master artisans are able to craft exquisite forever rings made to John's precise specifications.

Stones are not simply dropped into a setting for John Atencio engagement rings. Instead, the setting dimensions are perfectly aesthetically scaled to support and beautifully complement the center gem you choose, from a ¾-carat stone and higher. This exacting element provides aesthetic balance and makes each ring unique, setting the perfect proposal within your reach.
John Atencio is the Socially Responsible Choice
For countless contemporary brides, it's important to choose an artisan jewelry designer who is determined to deliver exceptional quality and craftsmanship while being socially responsible.

Because he believes in doing right by all the world's citizens, John ensures that his fine jewelry is crafted using only recycled 18k gold and gemstones that have been responsibly sourced. We can also supply platinum rings and, when asked, rings in 14 karat gold. Whatever the case, when you buy the most important ring of your life from John Atencio, you can rest assured that it was sourced and crafted in a socially and ecologically responsible manner.
What Makes John Atencio Jewelry So Unique?
The best jewelry designers take a unique approach that makes each piece a distinctive work of wearable art. Inspired by meaningful life experiences and history's most compelling architectural achievements, John Atencio specializes in stunning jewelry designs that are truly one of a kind.


The world's most creative jewelry designers tap their love of architecture and geometry, developing compelling jewelry pieces inspired by their personal interests. Like other talented artists, architects, designers and expressionists, John Atencio infuses his creations with his personal experience of the world.
The Architecture of John Atencio
With distinct architectural lines, John's jewelry reflects the unmistakable artistry of a master craftsman. Clean and simple, his signature style is one of function and comfort. Sketched by hand, with every detail planned, John's jewelry designs are uniquely him. Instinctual and original, John is not afraid to buck trends. Whether he's using more metal than other designers or incorporating triangles when others are fixated on squares, John's style is always Avant-garde.

Using creative shapes in his designs, John thinks in the third dimension. This results in striking, original jewelry pieces, crafted by a skilled artisan using hand-selected gemstones that are always cut to spec. Made with impeccable attention to detail, each piece is expertly crafted using only the finest materials, creating unique jewelry designs that command attention.
What Inspires You?
We all have a passion that drives us. Whether it's your career, hobby, family or spirituality, inspiration can come in many forms. The best designer jewelry is informed by this type of passion, and it is from this magic that truly unique jewelry is made.

For John Atencio, a lifetime of experience informs his unique jewelry designs, which are a direct reflection of his dedication to the art of jewelry making. When he crafts one of his one-of-a-kind jewelry designs, John taps an endless world of inspiration in each of his creations.

For an accomplished artist like John, inspiration is everywhere, whether it comes from the intimate aspects of personal experience or the wondrous architectural achievements of the past. Take for instance his Paloma collection, with its gentle dimensional architecture inspired by John's grandmother, a woman of steadfast faith, who passionately envisioned a world united as one.

In similar ways, every one of John's designs holds deep meaning, based on compelling inspiration that sets his jewelry apart from the rest. Whatever the influence behind each of his artistic visions, every fresh design builds on the impeccable craftsmanship and organic architecture that is iconic John Atencio.
Jewelry as Unique as You
What started as a modest jewelry endeavor has grown into a globally renowned brand. Generations of women and men treasure John Atencio's jewelry, thanks to its exceptional quality and distinctive designs. Whether it means falling in love with one of his captivating creations or crafting a one-of-a-kind piece together, you can be part of this enduring legacy in so many different ways.


Renowned for his exceptional jewelry pieces, John takes things further with customized creations that provide a stylish expression of your personal taste or enduring love story. Leveraging just under a half-century of experience in design, John often works with customers to create beautiful wearable art. Through each step of the exciting design process, his team works collaboratively with customers to refine every custom piece so it looks perfect and meets John's strict standards for durability, quality and unmistakable beauty.

Whether you want a vintage-inspired engagement ring or contemporary jewelry design that blends more than one style, John Atencio can craft a unique and beautiful custom jewelry piece that's every bit you.
Years in the Making
John Atencio has spent more than four decades designing uniquely creative jewelry that evokes sophistication, glamor and style. Informed by the past and inspired by the future, he continues to elevate his craft, committing his inspirations to paper in freehand and then bringing each piece to life.

As he continues his incredible artistic journey, John is thrilled to create jewelry designs for a diverse customer base that spans the globe. From rings to bracelets to pendants, every piece is thoughtfully crafted in pursuit of progress, social responsibility and lasting beauty.

That's what makes John Atencio's jewelry so unique and so coveted by countless people in Colorado, the United States and the world.

Balanced dimensions. Fluid form. Bold lines. John Atencio crafts unique statement pieces and stunning wearable art. Whether it's one of John's distinctive designs or a customized engagement ring created with you (and only you) in mind, every piece embraces the flawless craftsmanship and organic design that is signature John Atencio artistry.
Design Her Ring or Buy it and Propose Now
Start your journey of a lifetime by designing your own engagement ring. Browse our diamond database at JohnAtencio.com for responsibly mined natural diamonds and lab-grown diamonds, and choose from a large selection of stones that vary in carat, color, clarity and cut.

There's never been a better time to shop for your future, so browse our website for, engagement rings and wedding jewelry, or make a virtual or in-person appointment with a Bridal Concierge. An engagement ring from John Atencio will be a ring worn for life, because where you buy it means as much as the love behind it.

Shop online or visit one of our locations and let our knowledgeable experts guide you toward the perfect jewelry piece for your one-of-a-kind style.
Listen to our podcast episode on the legend of John Atencio