Diamond Engagement Ring Cheat Sheet
anatomy of an engagement ring, diamond ring shapes, types of engagement rings
8/30/2022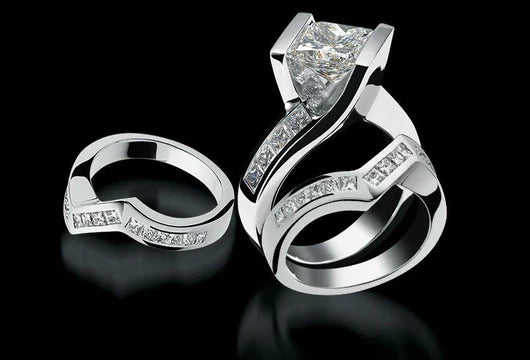 Shopping for an engagement ring? With so much to consider, the process can feel overwhelming. Never fear. We've created an informative engagement ring cheat sheet to help guide your shopping experience. Read on to learn some fundamental terms and key details that will help you choose the perfect ring for your one-of-a-kind love story.
The Anatomy of an Engagement Ring
If you've recently begun shopping for an engagement ring, you have likely encountered some unfamiliar terms that may have left you feeling confused.
While the idea of a ring may seem simple, there are numerous design details that go into each type of setting. Understanding how to differentiate these parts can help you fully appreciate your options and communicate your preferences to a jeweler.
Center Stone
This stone is the biggest gem that sits amid the center of the ring setting. Although the most popular diamond center stone shape is round, there are also plenty of fancy shapes available. These include oval, pear, marquise, cushion, emerald, radiant and pear cut diamonds, which have all become more and more popular in recent years.
Accent and Side Stones
Attached at the shank or shoulders of the ring, these stones flank the sides of the center stone. Made up of gemstones or diamonds, side stones can come in an array of fancy shapes for a uniquely compelling look. Accent gemstones can span a portion of the ring or encircle the whole band in an alluring "eternity" style.
Head
Situated at the top of the ring, the head refers to the area that holds up the center gemstone. The head includes the gallery and prongs.
Prongs
Prongs are the metal tips that hold the center gemstone in place. They are either bead prongs that are rounded, claw prongs that have pointed ends, or sometimes V-shaped depending on your setting and stone shape.
Most engagement ring settings include four to six prongs, although some fancy diamond shapes require an odd number.
Gallery
Part of the head, the gallery refers to the detail on the bottom side of the center stone that's visible from the side profile. The gallery is a nice place to feature hidden diamond accents and other intricate design details that bring unique beauty to the engagement ring.
Bridge
Typically located beneath the head, the bridge is the portion of the ring that rests on top of the finger. It supports the head and often includes extra design details such as milgrain patterns and/or diamond accents.
Shoulder
This refers to the top sides of the ring that form the start of the shank. The shank can be curved, flat, twisted or enhanced with unique design details.
Shank
Commonly referred to as the engagement ring band, the shank is the metal portion of the ring that encircles the finger. It is a critical design element that impacts both the comfortability and appearance of the ring.
Beginning at the end of the shoulders, the shank is usually all-metal but can include diamond accents that encircle the entire shank, such as the Yellow Gold Bevel Eternity Band with Black Diamonds.
Sizing Area
This term refers to the bottom of the shank where the ring can be cut and sized as necessary. Bear in mind that it is generally easier and less expensive to remove metal to reduce the size of a ring than it is to add metal to increase the size.
Setting
The setting includes every part of the ring except the center stone. It essentially refers to how stones are mounted to the band.
The setting is intended to support and highlight the brilliance and beauty of the primary center stone. The style of a setting can significantly impact the overall final look, maintenance and performance of a ring. The six most common diamond ring settings are:
Solitaire
Timeless and eternally popular, solitaire settings feature a full-metal band with a single stone, placing all the emphasis on the center gem. Solitaire settings can be simple or stylized by pairing them with a gorgeous diamond-accented wedding band.
Halo
Halo settings feature a center stone encircled by smaller gems for a scintillating look. Halo settings can make the center diamond look bigger and are perfect for brides who covet that show-stopping sparkle.
Three Stone
These settings are often preferred for their fiery sparkle and symbolic meaning. They feature a primary center stone and a pair of smaller accent diamonds on both sides. The three stones signify a couple's journey by representing the past, present and future.
Hidden Accents
Some engagement ring settings include hidden diamond accents. This can be a diamond-adorned gallery, diamond-accented bridge, or diamonds within a halo beneath the center stone. This causes the ring to sparkle from every angle for an especially dazzling effect.
Bezel
These settings are the most secure since the center stone's outer edge is entirely enclosed with a layer of precious metal. This securely fastens the center stone in place while creating a contemporary look.
Pavé
Pavé ring settings include a band mounted with numerous tiny diamonds set closely together for a glittering diamond-encrusted look. This engagement ring setting is ideal for brides who want a ring with eye-catching sparkle.
Diamond Ring Shapes and Cuts
Diamonds can be cut, polished, and shaped to embody a variety of unique designs and artistic expressions. All in all, there are a wide variety of potential diamond shapes that can be precisely crafted according to the jewelers (and the clients) wishes.
Some of the most popular diamond cuts include:
Round Cut Diamond
Round cut diamonds can be said to be traditional, timeless, and classic. Also termed 'Round Brilliant Cut' diamonds, these gemstones capture and bend light in a uniform way, giving the wearer a flash of brilliance with every glance. Typically with 58 facets, round cut diamonds are widely regarded to 'set the standard' for the diamond aesthetic.
Emerald Cut Diamond
When a more structured, royal design is preferred, the Emerald Cut is a top contender. Emerald cut diamonds exude a kind of elegance that can't be found with other diamond shapes. What makes this cut unique is the 'step-cut' faceting that is integral to the shape.
Oval Cut Diamond
Many regard the Oval Cut diamond as being modern and bold while still retaining the pristine elegance that is inherent in diamonds. Because the shape of this diamond appears to be 'slenderized', it is a fine choice for wearers who want a more svelte design that emanates delicate beauty. Oval cut diamonds treat light similarly to Round Cut diamonds, without sacrificing brilliance or shimmer.
Marquise Cut
As its name implies, the Marquise Cut diamond is fit for royalty. The shape of this diamond brings our attention to the opposing points at the top and bottom, an aesthetic that resembles the hull of an old, seafaring Spanish galleon.
Marquise Cut diamonds have been experiencing a resurgence in recent years, with many proponents of this diamond shape choosing it for its uniqueness and radiant appeal.
A lesser-known feature of Marquise Cut diamonds can make shorter fingers look longer. Also, this shape lends itself well to making the diamond appear larger than it actually is.
Asscher Cut Diamond
Similar in style to the Emerald Cut diamond, the Asscher Cut diamond is a shape preferred by those who are partial to antique jewelry design.
The Asscher Cut can be thought of as an artful blend of both the Emerald Cut shape and the Round Cut shape, giving the wearer the best of both worlds.
Asscher Cut diamonds are less common and therefore highly prized by those drawn to this bold, declarative design.
Pear Cut Diamond
A combination of both the Round Cut diamond shape and Marquise Cut diamond shape, the Pear Cut diamond can be said to resemble an inverted tear.
When choosing a setting for a Pear Cut diamond, a halo setting is a hand-in-glove fit, although other settings can work equally well depending on the desired presentation of the gemstone.
Heart Cut Diamond
When it comes to conveying passion, love and romance, few diamond shapes do a better job than the Heart Cut diamond. This diamond is one of the most difficult to create based on its complex geometry and intricate faceting.
Heart Cut diamonds are a fantastic choice for engagement and anniversary rings, and they serve as eternal reminders of commitment, sentiment, and gratitude.
Choosing a setting for a Heart Cut diamond can be challenging, since many ring styles may need modification to accept a diamond of these dimensions. This is why a diamond expert at John Atencio can add so much value, helping you to choose just the right setting for the ring of your dreams.
The Most Popular Types of Engagement Rings
With so many different features, it's easy to see why there is such an incredible variety of engagement ring styles. But which designs are most popular? Below, we've listed some of the most common ring designs.
Gold Engagement Rings
Gold engagement rings have never gone out of style, but every few years they re-emerge as the preferred metal over other options, such as silver or platinum. Paired with a four-prong, six-prong or channel settings, white or yellow gold engagement rings showcase timeless style, class, and elegance no matter the stone set. Made with 18k gold, John Atencio rings include iconic design elements that make them especially alluring to modern brides-to-be.
Rose Gold Engagement Rings
While gold engagement rings, in general, are rising in popularity, rose gold specifically stands out as something unique for any bride-to-be. The warm, blush color looks great on any skin type, and beautifully complements white diamonds and other precious gemstones.
Vintage 
You've heard the term old is new again. Vintage engagement rings are back. While jewelry designers will create a vintage look and feel to the rings, this isn't the only way to get the vintage style. Consider sprucing up grandma's engagement ring to go truly vintage and add a special touch to your proposal.
Sapphire Engagement Rings
Sapphire gemstones are bold and beautiful no matter the setting. When paired with white or rose gold, the fusion of color makes for a gorgeous engagement ring to show off to the world around you. Whether sapphire is her gemstone or not, if blue is her favorite color, this engagement ring type will make her heart sing.
Princess Cut Engagement Rings
While second in popularity only to the brilliant round diamond, a princess cut diamond engagement ring is one of the most classic styles you can choose. If you're looking for simplicity, a princess cut diamond engagement ring with a classic band showcases that love is all you need to shine.
Emerald Engagement Rings
Emerald gemstones bring to life an engagement ring with a flash of color that pops. Typically paired with smaller diamonds set in white or yellow gold, the emerald naturally draws the eye of everyone around you. Colored gemstones always bring something special to any engagement ring.
Halo Engagement Rings
Halo rings have always been trendy, but vintage-inspired halo designs have grown in popularity in recent years. The two-tone coloring of halo engagement rings is another option to add a splash of color to this traditional ring style.


Popular engagement ring types give you a starting point for your search for the perfect ring. Whether you have an idea of what she wants or haven't a clue where to start, engagement ring types and styles come in all shapes and colors. Take your time to find the perfect engagement ring to pop the question; you'll know the one when you hold it in your hand.

Searching for the perfect ring for your bride-to-be? Shop online or stop by one of our many John Atencio showrooms and get assistance from one of our attentive consultants.
Listen to our podcast episode on what to look for in an engagement ring.