Why Emerald-Cut Diamond Engagement Rings Are Trending
diamond engagement rings, emerald cut
10/8/2021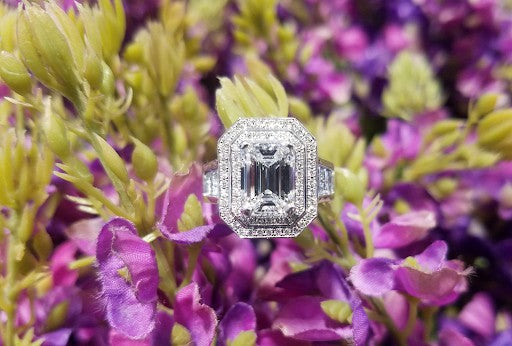 Known for their understated elegance, emerald cuts are a uniquely sophisticated class of diamond shapes. A popular option for larger stones with higher price points, these cuts emit plenty of brilliance and fire, but in a more subdued fashion. Read on to learn why emerald-cut engagement rings are popular among many modern brides.
The Basics
Emerald cut diamond engagement rings flaunt rectangular, elongated shapes with carefully chiseled step cuts. The stones have straight linear facets, typically arranged in parallel fashion down the length of the stone. To prevent fractures and ensure stability, the corners of emerald-cut diamonds are typically cropped.

The emerald cut provides a large surface table with deep clarity, along with lengthy step cuts that offer abundant reflections of both colored and white light. Popular among brides seeking larger stones at lower price points, emerald-cut diamonds typically look larger than other diamond shapes in the same carat weight.
Smooth Surfaces
While most diamond cuts have multiple angles, emerald cuts have large tables with very few angles that step away from the surface table itself. This leaves a smoother surface that really showcases the clarity and color of a quality diamond gemstone.
Distinctive Design
Emerald cuts are ideal for brides who prefer a bit of understated elegance. The cut is less ostentatious compared to many other types of cuts which tend to glitter with flash and brilliance. It's only when you take a closer look at an emerald-cut diamond that you get a full idea of its classy elegance.
Timeless, not Trendy
Created hundreds of years ago, the emerald cut is no flash-in-the-pan that will be trendy today and out of style tomorrow. While other brides might be stuck with a trendy diamond long after it's fallen out of favor; emerald cuts are reliably stylish whatever the latest rage.
Radiant Flashes
Although emerald-cut diamonds don't have the flashy fire of round brilliant cut gemstones, they're anything but dull. When angled right, the breathtaking flashes are stunning. While this cut may not attract attention from across the room; it makes a profound statement when the viewer gets an up-close view.

The flat sides of the diamond also look fantastic with accent diamonds. These luxe diamond details beautifully complement the center stone, especially when set by a master jeweler such as John Atencio. For brides who want a bit more brilliance from an emerald-cut, the addition of luminous diamond accents can make a ring look more opulent.
More Diamond for Your Dollar
Because it isn't as highly sought after compared to some other shapes, you can often get a better price on a larger carat with an emerald cut. At the same time, with the bigger steps of the emerald cut, the table appears larger, creating the illusion of a more expensive diamond. A single carat of an emerald-cut diamond will always appear bigger than one carat of a pear- or round-shaped stone.
Other Benefits
When it comes to choosing a diamond for an engagement ring, there are a lot of things to consider. One commonly overlooked example centers on the wearer's fingers. Certain shapes look better on longer, more slender fingers, while others look better on shorter, thicker fingers.

Emerald-cut diamonds tend to look flattering on long, slender fingers. This can make them especially appealing to some brides and less appealing to others.

Emerald cut diamonds fit quite well in a diversity of different styles, but are usually preferred with more understated settings. Emerald cuts look lovely in simple solitaire and pave settings, and are a great option for three-stone settings. Emerald-cut engagement rings are also available in a variety of other gemstone selections. A good example is John Atencio's Treasure Collection which features an entire selection of rings in Tanzanite or Rhodolite garnet emerald centers with beautiful baguette diamonds.

The cut of a diamond plays a big part in determining its brilliance. At the same time, an engagement ring's beauty depends on the metal, setting and overall design. At John Atencio, our rings are uniquely crafted to be personalized expressions of beauty and love. It begins with a thoughtfully conceived design and culminates with a stunning piece of artistry that sets the ring and diamond in a flawless union based on the preferences and lifestyle of your bride-to-be.

Choosing the perfect engagement ring can be overwhelming. But your experience needn't feel that way. At John Atencio, our experts can show you how to choose the right diamond carat and cut, along with the perfect setting and precious metal for your special someone. Visit one of our nearby locations where our team can guide you toward the one ideal ring for your one-of-a-kind love story.