Why You Should Buy a Lifetime Jewelry Warranty with Your Jewelry Purchase
jewelers mutual, jewelry warranty
10/13/2021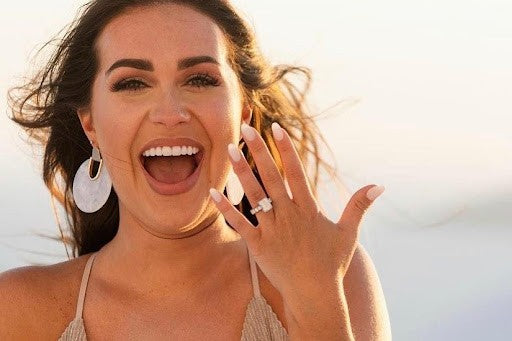 Do you know how important it is to purchase a lifetime jewelry warranty when you buy jewelry? It's not just important, it's vital if you want to protect against unforeseen damage or stone loss after the 90-day manufacturer's warranty has expired. Let's face it—unexpected accidents happen whether we want them to or not, and there's usually nothing we can do to prevent them. An action as simple as attempting to catch a falling item from a shelf can chip a stone or loosen the prongs on your jewelry. Because we can't foresee the future, having the forethought to buy a lifetime jewelry warranty can save you unnecessary heartache and money down the road in the event your jewelry is damaged or defective. Even the daily wear-and-tear on your piece can lead to weakened prongs and clasps, which can eventually lead to stone loss. So why risk it? Take care of your investment by buying a lifetime jewelry warranty like the one offered by John Atencio, the premier designer with 46 years of expertise designing bold and distinctive jewelry.
Master Designer John Atencio Recommends a Lifetime Jewelry Warranty
When a jeweler has the passion, experience and is talented enough to have a loyal customer base from around the world, it's safe to say he designs jewelry of exceptional quality. Unlike other jewelers who take the easy route by using the same setting size for different sizes of stones, John Atencio makes certain that every setting is crafted specifically to fit the center stone selected by each customer, ensuring optimal strength to the setting and support of the stone. Even though his pieces are crafted to last, he recommends a lifetime jewelry warranty due to the everyday accidents and normal wear and tear that can weaken or damage your jewelry. John Atencio believes in the Jewelers Mutual lifetime jewelry warranty and offers it at the time of purchase with every piece.
The Jewelers Mutual Lifetime Jewelry Warranty
John Atencio wants to give you the peace of mind you deserve and offers a lifetime care plan through Jewelers Mutual that's only available to buy at the time you make your jewelry purchase. Protecting the jewelry purchases of American consumers since 1913, Jewelers Mutual has a long history dedicated to preserving the jewelry you love. Exclusions and limitations apply to every warranty, so become familiar with what is covered under the warranty and any improper care or exposure that may void the warranty. This lifetime service warranty covers the following services and issues at no additional cost:
Ring resizing
Rhodium plating
Refinishing and polishing
Loss of stones due to defective setting
Broken, bent or worn prongs
Broken clasps, bracelets or chains
Cracked or thinning band or shanks
Replacing cracked or chipped stones
Broken earring posts
Pearl restringing
A thorough inspection by a John Atencio jeweler is suggested every six months to ensure the continued integrity of each piece. This care plan is not an insurance policy that covers loss, theft, damage or the mysterious disappearance of your jewelry. We invite you to explore jewelry insurance through the Jewelers Mutual Insurance Group and we will gladly facilitate a quote at any of our locations.
John Atencio's Lifetime Jewelry Warranty is Transferable to Others
Presenting anyone with an authentic piece of John Atencio jewelry is a wonderful gift and buying a lifetime jewelry warranty to protect that piece is even better. Not only will the recipient of this gift be thankful, they'll be also overwhelmed with gratitude at your thoughtfulness for buying a lifetime jewelry warranty to go with it. Simply present the receipt and the Jeweler's Mutual Care Plan brochure along with the gift. The lifetime jewelry warranty is also transferable if you sell the jewelry. Just ensure the new owner receives the original receipt and brochure. And, if you should want to return or exchange the piece within the designated time frame, the lifetime warranty is also refunded.
Submitting a Claim is Easy
John Atencio wants it to be convenient and easy for you to file a claim should your jewelry become damaged or lose a stone. In fact, if you're near a John Atencio boutique, we're happy to submit the claim for you. Simply bring your piece in to one of our stores and we'll submit it through the JM Care Plan Portal. If you're away from home or don't live near one of our boutiques, just contact Jewelers Mutual directly and they'll facilitate the insured shipping of your piece which is covered by the plan. It's our goal for your jewelry to be repaired as soon as possible.

John Atencio guarantees every piece of his jewelry to be free from manufacturing defects and offers a 90-day warranty to restore your jewelry to the highest standard if it's determined to be defective. While any defect is unlikely, he recommends the purchase of a Jewelers Mutual lifetime warranty because everyday life always brings surprises with it. So, walk in to a John Atencio boutique store or visit JohnAtencio.com to browse the most beautiful and distinctive jewelry in the world, then contact a knowledgeable concierge with your questions. Be sure to ask about the Jewelers Mutual lifetime jewelry warranty because your jewelry deserves the right care for a lifetime of wear.