10 Classic Jewelry Styles that Stand the Test of Time
classic jewelry, jewelry styles, vintage jewelry
8/15/2022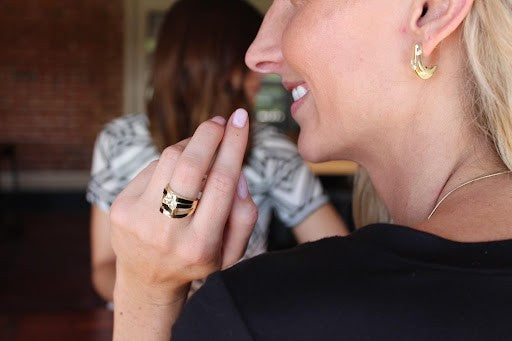 Are you considering making a jewelry purchase during times that may result in a recession? If the reply to that question is "yes," then beautiful, classic jewelry pieces designed by acclaimed designer John Atencio are the answer. Life's milestone moments continue despite an economic downturn, and recognizing those special occasions is always important. Classic jewelry is the best choice because it's timeless, forever in style and complements a wide range of clothing. When you choose a genuine John Atencio, you're selecting jewelry that's handcrafted to be an heirloom, so read below to discover our lasting classic jewelry styles.
The UTurn Diamond Stud Earrings
An absolute fashion staple through the years, a quality pair of diamond stud earrings is essential to your wardrobe. Versatile and tasteful, they can lend sparkle to your casual clothing or complement your finest attire. Handcrafted in 14 karat white or yellow gold, the UTurn Diamond Stud Earrings cradle 0.50 total carats of sparkling channel-set diamonds. John Atencio's modern take on the traditional diamond studs looks fantastic year after year.
The Devotion Small Hinged Diamond Tennis Bracelet
Classic jewelry is always in style, it accentuates a variety of outfits and you can enjoy it year after year when you select high quality pieces. Luminous and tasteful, the Devotion Small Hinged Diamond Tennis Bracelet by John Atencio is crafted with the utmost care in 18-karat yellow or white gold with channel-set, princess-cut diamonds. An excellent ally to have in your jewelry box, this sleek, hinged bracelet will be on your wrist for all of life's occasions to come.
The Solar Pearl Necklace
There's nothing more classic than a string of pearls, but if there's anyone who can elevate this time-honored strand, it's John Atencio. The 24-inch Solar Pearl Necklace is meticulously handcrafted with sterling silver and matched freshwater pearls. Also offered in an 18-inch length that's beautiful against a sweater or your Sunday best, this necklace is a treasure you'll hand down generation after generation.
The Essence Single Hoop Earrings with Pave Diamonds
Having high quality, classic jewelry on-hand and ready to wear at a moment's notice comes in handy, so it's smart to keep a great pair of earrings in your jewelry box. The Essence Single Hoop Earrings with Pave Diamonds are perfect for that, handcrafted in 14-karat rose gold and shimmering pave diamonds. Collect them in white and yellow gold as well, and you'll be ready to handle every fashion situation that comes your way.
The 2.0 Carat Lab-Grown Diamond Tennis Bracelet
Gaining ground since the 1970s, tennis bracelets have now attained classic status as a piece of jewelry that's useful to own because they enhance every outfit. Environmental sustainability is important to John Atencio, who only uses responsibly sourced diamonds in his creations and knows that this practice will become a standard just like the diamond tennis bracelet has. Handcrafted in 14-karat white or yellow gold, this 2.0 Carat Lab-Grown Diamond Tennis Bracelet belongs in your wardrobe.
The Essence Engagement Ring
Nothing can stop true love, so it's always a wise decision to invest in a genuine John Atencio when you plan to ask the most important question of your life. Classic jewelry design at its finest, the Essence Engagement Ring is handcrafted in 18k white, yellow or rose gold with pave diamonds on the band and a center stone of your selection. Crafted with a greater metal content than the average engagement ring, this exceptional ring is her shimmering reminder of your choice to give her the best under any circumstances.
The Orion Polar Diamond Pendant Necklace
Classic jewelry design is timeless, so owning an exceptional necklace to wear for special occasions – or to dress up a casual outfit – is a must. Reflective of classic simplicity touched by iconic John Atencio, the Orion Polar Diamond Pendant Necklace is expertly crafted in 14-karat yellow gold with a dazzling channel-set diamond. Also handcrafted in white gold, this diamond pendant necklace is a true asset to your wardrobe.
The Devotion Diamond Cross Pendant Necklace
The symbol of the cross brings peace to so many, so the gift of classic jewelry featuring this beloved emblem is appreciated any day you give or receive it. Handcrafted in 14-karat white or yellow gold with the utmost care, the Devotion Diamond Cross Pendant Necklace showcases six sparkling channel-set, princess-cut diamonds. This lifetime keepsake and heirloom is a versatile piece that will be cherished across the years.
The Treasure Baguette Anniversary Ring
An anniversary is always special, and if you've been planning to present your love with a gift, classic jewelry that lasts a lifetime is a thoughtful sentiment. The Treasure Baguette Anniversary Ring is meticulously crafted by hand in 18-karat white or yellow gold with channel-set, baguette diamonds. Made to become an heirloom by master artisans, a John Atencio is always an exceptional gift and a smart investment.
Ventana Quad Engagement Ring
When it's time, it's time, and going with a lesser quality engagement ring due to a recession is likely to have consequences down the road. Show her you're serious about spending your life with her by presenting her with a classically iconic John Atencio to wear for the rest of her days. Meticulously handcrafted in 18k white, yellow or rose gold with channel-set diamonds, the Ventana Quad Engagement Ring is a head-turner that says everything about your intentions.
John Atencio: Classic Jewelry Designs You'll Love
A celebrated jewelry designer known the world over, Colorado native John Atencio enjoys over 46 years of experience in bold and distinctive jewelry design. His work is inspired by history and his life's rich experiences, and he initiates every piece as a thoughtful pencil sketch. So well versed in the design industry that his iconic designs have become classic in their own right, he is also known for his solid commitment to quality and social responsibility. John allows only master artisans to handcraft his jewelry, using only recycled gold and responsibly sourced gemstones. Discover more about the intriguing man behind the exceptional jewelry that's crafted to stand the test of time.

Whenever you choose to invest in jewelry, ensure that it's a genuine John Atencio because of its beauty and lasting quality. Browse for your classic jewelry must-haves online or visit us in-person to see the incredible selection for yourself. Questions? Contact a knowledgeable concierge who will gladly answer any questions you may have. Because everyone knows a John Atencio is for life.