Our Best Princess Cut Diamond Engagement Rings
diamond engagement rings, engagement rings, princess cut, princess cut diamond engagement rings
8/8/2022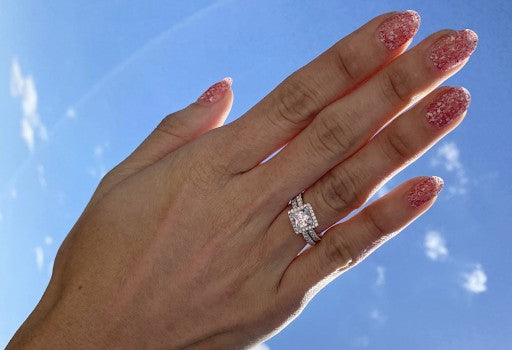 Princess cut diamond engagement rings deliver that fairy-tale feeling for modern brides-to-be. With sharp, distinct lines and remarkable brilliance, these elegant, square cuts illuminate a diamond's internal fire. Here are some of our favorite princess cut diamond rings from John Atencio's collection, along with some insight into what makes the princess cut so appealing.
What is a Princess Cut Diamond?
Princess cut diamonds are characterized by their geometric square shapes. With strong, angular lines, these contemporary cuts have pyramidal shapes, with four evenly beveled sides.

Invented in 1980 by Israel Itzkowitz and Betazel Ambar, princess cuts were preceded by the quadrillion cut and the French cut, which were both square-shaped designs. What makes the princess cut unique, however, is its alluring combination of brilliance and geometry.

Quite often, with angular diamond shapes such as the Asscher or emerald cut, you won't see a high degree of scintillation. This is because they are step cut in a way that yields flashes of light rather than fire. The princess cut is different because it produces a spectacular amount of fire despite its square shape. Of all the geometric square diamond cuts, the princess has the most brilliance, rivaling that of cushion and round cut diamonds.

When it comes to choosing a princess cut diamond engagement ring, there are a surprising amount of options. Unlike round cut diamonds, the princess cut isn't standardized, allowing you to select the qualities that deliver the look you'll love. Whether it's cut for smoldering scintillation or bold flashes of fire, the princess cut brings a certain amount of vibrant versatility, especially in the hands of a master artisan like John Atencio.

With distinct architectural lines, John's princess cut engagement rings truly stand out from the pack. Some of our favorites include:
There's something exquisitely simplistic about the uniquely compelling architecture of Intrigue. An iconic favorite, this piece is one of John Atencio's original hand-crafted designs. Set in square channels, the scintillating diamond is showcased in a whole new light, leaving you to wonder how this breathtaking design leaps from John's creative mind and comes together in the real world.
Bringing the princess cut diamond to life, Intrinsic is a sight to behold. John started the design from the top with the fiery channel-set diamond, complemented by soft twists and turns that combine to create this architecturally beautiful solitaire engagement ring.
Soft, smooth and elegant, Satin consists of a raised diamond halo, carefully paired with a single cascading row of glittering side diamonds. With a peek-a-boo side-stone, Satin's rich, subtle beauty is John's beautiful tribute to contemporary romance.
The Majesty engagement ring blends the brilliance of a fine diamond pave with the smooth, simple architecture and painstaking craftsmanship that is iconic John Atencio. When crafting Majesty, John showcases the fire of the center-stone by introducing the delicate halo of a gorgeous fishtail diamond pave just underneath the prong-set center. The matching fishtail pave diamond on the sides creates a rich accent that delivers a burst of brilliance and regal statement that is Majesty.
An iconic John Atencio creation, the Decision Engagement ring showcases a princess-cut diamond in an entirely new light with square channels and gentle twisting lines.
All about the square, Ventana is inspired by the geometry of a traditional stucco home with square windows. True to the John Atencio experience, this artistic creation showcases the square princess-cut diamond in a bold and modern design.
It's Not All About the Cut
The cut of a diamond gemstone plays a crucial role in determining its brilliance. At the same time, a ring's beauty depends on the setting, metal and overall design. John Atencio rings are uniquely designed to be personalized expressions of love and beauty. It all starts with an artfully conceived design and culminates with a striking piece of artistry that sets the engagement ring and diamond in a harmonious union based on the lifestyle and personal preferences of the bride-to-be.

Selecting the right women's engagement ring doesn't have to feel overwhelming. John Atencio's experts can show you how to decide on the right diamond cut and carat, along with the ideal setting and metal for your special someone. Shop online or visit one of our Colorado locations where our consultants can guide you toward the one perfect ring for your beautiful love story.
Listen to our podcast episode on what to look for in an engagement ring.