5 Ways to Pop the Question During Pride
Engagement & Weddings, Jewelry Design & Trends
11/11/2019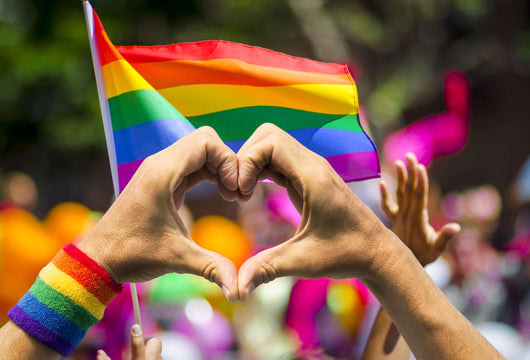 June is Gay Pride Month, and John Atencio couldn't be prouder to support equal rights and inclusivity for all. Gay Pride celebrations take place in major cities across the United States, including Denver, Boulder, and the surrounding areas. If you're coming to town for the Pride celebration or looking for a unique way to pop the question during the month, we have five creative ways to ask your partner to spend the rest of their life with you not just this month but year-round.
5 Creative Ways to Pop the Question During Pride
Where You First...
One of the most beautiful things about relationships are the memories you make along the way. The first time you meet is something you'll often recall over the years. Maybe it's the first date you went on, the first place you kissed, or another "first milestone" in the relationship. If it's a unique location or fantastic story to tell, consider proposing where it took place. The walk down memory lane coupled with the new memory you'll be making by getting down on one knee will make it even more magical.
A Surprise Getaway
If you're traveling for Pride, consider proposing at your destination. Big cities like Chicago, New York City, and Los Angeles put on some of the biggest Pride parades and events in the country. Get a swanky hotel room, book a table at a fancy restaurant, and make the getaway that much more special by proposing. You'll be so busy planning what to do at Pride and the trip itself, the proposal will come as a complete surprise to your partner.
Your Favorite Place
Perhaps proposing at your favorite restaurant, vacation spot, or another memorable place is the way to go. If you have an affinity for a part of the world, the comfort it brings could make the proposal this month even more surprising. No matter the place – let them know you're proposing before you arrive or while you book the trip or table. They'll often help you plan the event, making it even better for the two of you.
The Great Outdoors
You don't have to venture into the wilderness to propose, but you could if you both love hiking, camping, or adventuring. Something as simple as a picnic in the park or going stargazing away from city lights can make for a beautiful marriage proposal. If you love to get away from it all, consider a National or State Park for a gorgeous backdrop for asking your partner's hand in marriage.
Get Everyone Involved
Pulling off a proposal with family, friends, and those you've met along the way is easier said than done. If you have a close-knit group of family and friends, getting them involved in your proposal may be one of the most memorable moments of your entire relationship. Whether you travel back home or you plan something local, leveraging the people you love the most to help you express your love is unforgettable.
No matter how you pop the question, consider a John Atencio engagement ring for your special occasion. With timeless styles and designs, you're sure to find the perfect ring to convey the love you share with your partner forever.
When looking towards the future, consider John Atencio for your wedding bands as well. You and your partner can express your own individuality in selecting bands that coordinate but are distinct to the love you share.