3 Reasons to Consider Matching Wedding Bands
Engagement & Weddings
12/6/2019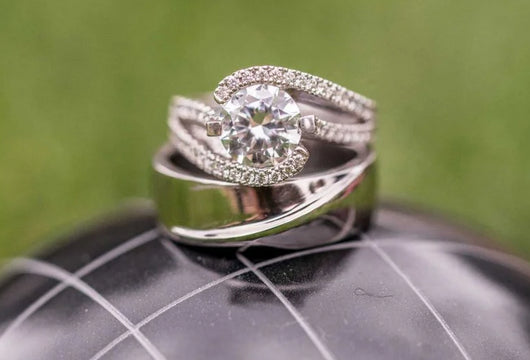 A symbol of a couple's commitment and love for each other, the wedding band represents the joyful union of two hearts. Matching wedding rings take this symbolism further by demonstrating that each person has become one unit with shared tastes and styles. 
Prominently featuring hand-selected gems, John Atencio creates iconic pieces designed to resonate with your life story and embody the love you share. With matching rings, we rely on artistry and passion to forge pieces that echo a tale of love and commitment for generations to come. Here are some of the reasons to consider matching bands for your ceremony, along with some tips for selecting rings you will both love. 
THEY ARE A SYMBOL OF YOUR UNION
To many couples, matching wedding rings reflect a sense of unity. Identical bands can represent an authentic portrait of a marriage and the selfless teamwork it involves. In a marriage, each partner works together toward common goals, while sharing in decisions and supporting each other along the way. Matching wedding rings can symbolize your bond and provide a fitting tribute to this unity.
THEY CAN BE MORE COST-EFFECTIVE
In many cases, you can save money by purchasing matching rings or bridal sets that include an engagement ring, and both wedding bands. This can be especially appealing to couples who are paying for their own weddings or have big plans for a dream wedding with a large number of guests. Saving on matching bands frees up money for wedding extras, including venues, décor, entertainment, and fantastic catering. It can also help you put more money toward your honeymoon or an elaborate destination wedding.
When couples save money on matching bands, they are also investing in their future together. Whether it goes toward a down payment on a new home, a car or to pay off student debt; any extra money can help strengthen your foundation as you begin your life together.
THEY ARE VERSATILE AND TIMELESS
Wedding ring fashions and trends come and go, but matching bands have always proved to be timeless. Two decades from now, your simple, sleek bands will still feel classic and modern. 
Matching bands can also give the bride more flexibility with her attire. Most people still prefer to propose with a traditional diamond engagement ring because they appreciate all that the diamond symbolizes. With their unique color, cuts, and settings, today's diamond rings can be personalized to feel one of a kind. Matching wedding rings offer you and your partner the best of both worlds: a stunning diamond engagement ring and a sleek everyday band for more subdued occasions. They also show that you value traditions, while demonstrating that you and your partner have similar tastes that make you ideal for each other.
THINGS TO CONSIDER
While matching wedding rings can offer big advantages, they aren't for everyone. In some instances, uniquely styled bands might make more sense for couples who:
Would each prefer to show their individuality.

Want to avoid pressuring their partner into a style he or she doesn't completely love.

Want a personalized ring, suited to their hand shape, size, and skin tone.
If you aren't exactly sure where you and your partner stand on band styles, ask yourself the following questions:
What 

gold color

 will best suit each of your unique skin tones?

Is there an existing band that is already part of the bride's engagement ring set?

Do you or your partner have skin sensitivities requiring hypoallergenic metal?

What is your individual style? (Your band should complement the style of clothes you typically wear.)
If you aren't sure about matching bands but want rings that still symbolize your union, you can always choose complementary rings. This includes two similarly styled bands with different metals or two differently styled bands with the same metals. 
Though they might not be exactly identical, complimentary wedding bands typically express a unique similarity that represents the couple's compatibility. Whether matching or complementary, the bands are designed to express two individual personalities joining together to create a unified bond.
Whatever you decide, it's important that you and your partner both love the wedding band you will wear every single day. If you are having trouble deciding if you want your wedding bands to match or simply compliment each other, John Atencio's jewelry consultants at the Park Meadows Mall can provide advice and show you a variety of options. 
We are passionate about helping each customer arrive at the best wedding band choice for them, and we're ready to start a conversation with you about your wedding ring today.
Contact us or visit the John Atencio store at the Park Meadows Mall.