7 Tips for Taking Care of Your Jewelry All Year Long
Jewelry Care
1/6/2020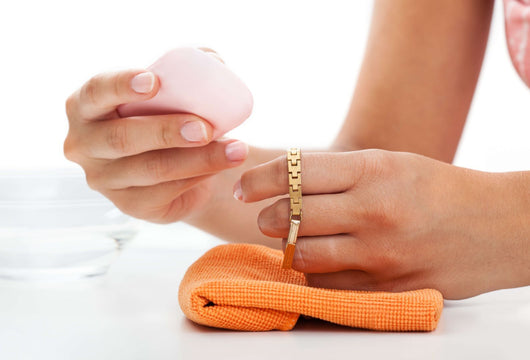 When you're used to showing off your jewelry, you want to make sure it looks good no matter how old, what type, or how often you wear a piece. Whether it's a necklace from your children, your engagement ring, or something else you cherish and bought yourself, taking pride in your jewelry also comes with maintaining it and taking care of it. These seven tips will keep your jewelry in tip-top shape to flaunt.
7 Tips for Maintaining and Cleaning Jewelry You Need to Know
Always Handle Jewelry with Care
This is a tip most people forget over time. We get so used to wearing a piece of jewelry; we forget how fragile it is. Handle your jewelry with care. Don't press hard on the stones or their setting. If a ring feels tight, don't force it on or pull it off. Be gentle with your jewelry to avoid costly repairs no matter what you're doing with it.
John Atencio Tip: When cleaning jewelry, use soft cloths and soft bristle brushes to get the job done. Go slow and steady, as if you're working with the most priceless item in your life - because you are.
Put Your Jewelry on Last
When getting ready to go out on the town or heading to work for the day, always put your jewelry on last. Jewelry can snag, get makeup on it, or otherwise be in the way as you're getting ready which can cause lasting damage to your treasure.
Understand Your Jewelry
Understand the types of metals and gemstones you wear. They all have stories behind them and care instructions to keep them in the best possible condition. Follow those instructions, get pieces repaired as soon as you notice issues, and clean or polish them regularly to keep them looking new.
John Atencio Tip: Gemstones like amber, emerald, opal, topaz, turquoise, and others can't be cleaned with conventional over the counter chemicals or products. Refer to the care instructions that came with the item to ensure you don't cause more harm than good when cleaning.
Clean Your Jewelry According to Instruction
Each piece of jewelry is unique and different. Find out from the source how to clean it and what to use, so you don't cause any damage. By picking up a jewelry cleaner at the local store and using it, you could cause more harm than good to your favorite pieces. When in doubt, ask your jeweler directly.
Polish Your Jewelry to Keep Its Shine
Talk to your jeweler about the best way to polish your jewelry. Polishing it keeps it looking shiny and new. Always gently polish and use a lint-free, soft cloth or chamois to do so. Never, ever pick up a standard washcloth or tissue to give it a quick polish, as you risk scratching your jewelry.
Invest in Storage for Your Jewelry
Having the proper place to your store jewelry is both essential to keeping it looking good and keeping it safe from prying eyes. Anti-tarnish bags or boxes or higher-end jewelry boxes are the best ways to keep jewelry safe from the elements, such as sunlight and temperature.
John Atencio Tip: For opals and pearls, consider investing in separate storage that's climate-controlled to keep their luster well into the future.
Get Your Jewelry Appraised
Have your jewelry appraised by a trusted jeweler like John Atencio at least once a year. This will give you an update on the stone and metal condition and address issues that may need to be repaired. Heed the advice of your jeweler and have your jewelry fixed to avoid further complications down the line, such as losing a diamond or gemstone.
John Atencio Tip: Diamonds are one of the easiest stones to clean. Most chemical, ultrasonic, and steam cleaners get the job done without damaging the family jewels.
When you wear a piece of jewelry – no matter the type – you're not just making a fashion statement or declaring your love for another person. You're investing in that piece of jewelry. Take the time to learn more about your favorite pieces, how to properly care for them, and ensure they're looking as good as you feel wearing them.