Shower Your Bride with a Bridal Set
Engagement & Weddings
12/26/2019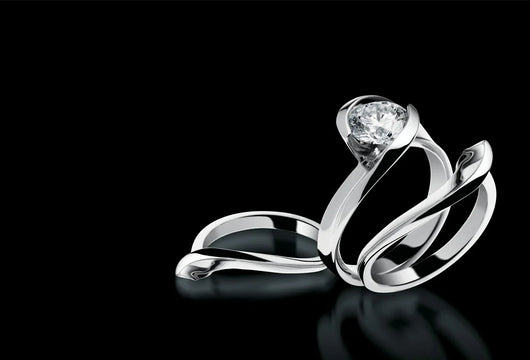 Bridal sets include an engagement ring and matching wedding band, creating a two-ring combination with a unique, harmonious look. In addition to providing a flawless, uniform appearance, bridal sets offer a number of other advantages that make them appealing to modern brides and grooms.
One of Colorado's most celebrated jewelry designers, John Atencio specializes in crafting distinctive pieces that inspire wonder and awe. With more than four decades of expertise, John is uniquely qualified to forge a unique ring set that echoes your personal tale of love and unity. Here are some of the reasons to consider a bridal set, along with some tips for selecting the perfect ring combination for your bride.
WHY BUY A BRIDAL SET?
Bridal sets offer some noteworthy benefits, compared to purchasing an engagement ring and wedding band separately. First, it's less complicated and more convenient. Instead of having to shop around for two completely different rings, you can save time and ensure that everything matches by buying your engagement ring and wedding band at the same time.
Bridal sets also ensure that each ring will complement the other. Many engagement rings have a unique shape, which can make it difficult to find a complementary wedding band. It's also important to make sure the stones on each ring are similarly sized to create a better balance. Bridal sets take out the guesswork of matching stone size, metal colors and band shape.
When you choose to purchase a bridal set, you are able to create a distinctive, complementary set that looks fantastic when worn on the same finger. Contemporary bridal sets are available with a diverse range of settings, designs and metals, allowing you to select the perfect set based on your partner's tastes, skin tone and expectations.
Bridal sets can also offer better value for your money. Since you are essentially buying two rings at once, you will usually be able to secure a better price compared to buying an engagement ring at one store and a completely different wedding band somewhere else.
ENSURING A PERFECT MATCH
Depending on your bride's individual preference, you might want contrasting metals for your engagement or wedding ring, especially if you are hoping to create a unique style. On the other hand, you may want the exact same metals without even the slightest variation. With a bridal set, you can ensure an exact metal match since each ring is handcrafted at the same time. When buying rings separately, on the other hand, even the same metal can have slight color variation, resulting in a close, but not quite perfect, match. 
Because bridal sets ensure flawless consistency, they create an elegant bridal style that becomes a symbol of love and union. Instead of having a set of similarly styled rings that look like two or three different pieces of jewelry, your bride enjoys immaculate uniformity, from the metals to the settings to the design.
THINGS TO CONSIDER WHEN CHOOSING A BRIDAL SET
When deciding on a bridal set, it helps to have a general idea of what you're looking for. Engagement rings come in an incredible array of styles, from simple solitaires to rings with a three-stone, side stone, twist or halo design. With so many options available, it's important to have a design in mind, so you will know what you're looking for before you begin comparing different options.
You will also need to select a metal and gemstone. Because gold, platinum and other metals each have their upsides and downsides, you will want to be well informed about your available options. If you prefer gold jewelry, be sure you are aware of which gold purity level is the most appropriate match for your lifestyle and budget.
When selecting a bridal set, you will also need to carefully consider your partner's ring size. Although most rings can be resized after you buy them, certain engagement rings are extremely difficult or impossible to resize. This includes rings with inset gemstones, as well as rings made from tungsten, rose gold and other fragile or very durable metals.
You should also consider whether you would prefer a customized or completely finished bridal set. Some sets use a semi-mount setting with no center stone, allowing you to choose the diamond or another gemstone for your partner.
With so much to consider, purchasing a bridal set may seem a little overwhelming. Fortunately, John Atencio's jewelry consultants can help you select the perfect ring combination for your bride. By working with established experts in the jewelry business, you enjoy in-depth guidance and access to a wider variety of ring options. Whether you're looking for something traditional or unique, the experts at our store in Park Meadows Mall can help you choose a bridal set that will reflect your bride's unique style and signify your unity as a couple.
Contact us or visit the John Atencio store at the Park Meadows Mall.