A Guide to Anniversary Jewelry by Year
10 year anniversary, 20 year anniversary, anniversary jewelry, anniversary ring
1/3/2023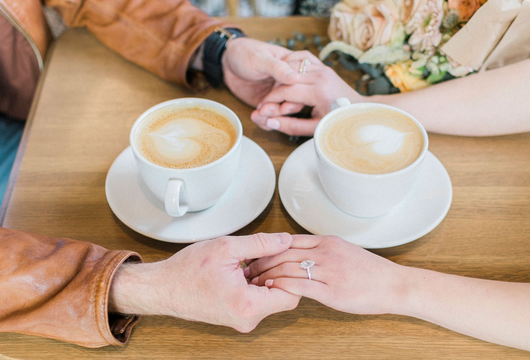 All anniversaries deserve gifts that meet the moment. For centuries, specific gemstones and precious metals have been traditionally associated with particular anniversary years. At John Atencio, we've assembled an informative guide to help you find the right time-honored gift for every significant milestone of your never-ending love story. 
1st Anniversary: Gold
Characterized by fresh experiences, the first year of marriage is a wonderful time when couples build new precious memories. The traditional first-anniversary present, gold is an appropriate way to commemorate your first 12 months together. Precious and pure, the metal symbolizes wealth, which young couples can aspire to in the coming years. Choose a timeless piece in yellow or icy white gold, or consider a romantic rose gold piece in a vintage-inspired style. Browse popular gold jewelry gifts by John Atencio.
2nd Anniversary: Garnet
With its flickering red hue, garnet represents passion and intimacy, two qualities firmly in place by the second year of marriage. Coveted since antiquity, garnet comes in various compelling colors, but its most prized hue is a rich, pomegranate red. As two years of marriage conclude, consider honoring the monumental moment with a striking garnet ring or perhaps a garnet pendant and earrings. Browse garnet gift ideas by John Atencio.
3rd Anniversary: Pearls
The traditional gemstone of third anniversaries, the lustrous pearl, is particularly unique because it comes from the sea. Desired since ancient times, these gorgeous gems symbolize wisdom and purity. 
Classic, creamy pearls add significance to an ensemble, while lovely rose options provide a muted burst of pretty color. Be they natural, cultured, saltwater, freshwater, or Akoya, every pearl is a miracle of nature, which brings unique attributes to fine jewelry pieces. 
Pearl earrings and pendants are among the most favored classic jewelry pieces, ensuring that your anniversary gift will be something she can treasure now and in the decades to come. Browse pearl gift ideas by John Atencio.
4th Anniversary: Blue Topaz
Topaz is believed to inspire humility, success, and creativity, which are all well-established themes by the fourth year of countless marriages. Blue topaz boasts a vivid and tranquil hue, while London Blue topaz brings a deeper color with a moderate-to-dark tone and saturation. There's also imperial topaz, which has a broader array of reddish and pinkish hues.
While it comes in a diversity of colors, the gemstone's famous blue hue is the most common choice for fourth anniversaries. With good clarity and brilliance, topaz is especially eye-catching when set in the center of rings, necklaces, and earrings. It also ranks well on the Mohs scale for hardness, ensuring strong durability for everyday wear.
5th Anniversary: Sapphire
Associated with loyalty, truth, and faithfulness, deep blue sapphires are a popular fifth-year anniversary gem. Available in a wide spectrum of hues, from regal blues to soft pinks, the sapphire offers enough versatility for a variety of styles. A beautiful sapphire band is a classic anniversary gift, while sapphire earrings and pendants also provide a meaningful way to commemorate your first half-decade of marriage. Browse sapphire gift ideas by John Atencio.
6th Anniversary: Amethyst
Regal and radiant, amethyst radiates a royal purple hue that beautifully enchants most any look. These semi-precious gemstones are available in soft and dark shades and compel the eye with vibrant depth. Amethyst pairs beautifully with gold and silver settings alongside other colorful gemstones, including topaz, garnet and glittering white diamonds. Bursting with color, amethyst looks cool and glamorous in rings, earrings, bracelets and pendants. Browse amethyst gift ideas by John Atencio.
7th Anniversary: Onyx
Dark and depthless, onyx jewelry lends style and sophistication to an otherwise dainty or demure outfit. Whether it's featured in a necklace,  earrings, ring or bracelet, onyx is a worthy gift for your seven-year journey together. 
8th Anniversary: Tourmaline
Unique among gemstones, tourmaline comes in various hues ranging from dainty pink to alluring green. Its vivid, bright hues elevate any jewelry design, making it a popular gift for eight-year anniversaries. 
9th Anniversary: Lapis Lazul
The nine-year mark calls for a truly unique gem that has been beloved for ages. Long used by healers, royalty, and priests for wisdom and power, lapis is one of the world's oldest spiritual stones and the traditional gift for nine-year anniversaries.
10th Anniversary: Diamond Jewelry
The most valuable and hardest precious gemstone, the diamond represents many things, including harmony, abundance, wealth and love. A tenth anniversary is a significant milestone, so it's only natural that the diamond would be the traditional stone for such a huge occasion. A fiery diamond ring is both striking and sentimental and reminiscent of the moment you stood at the altar and exchanged vows. Diamond earrings, whether classic studs, dazzling hoops, dangles or drops, are also a fine choice. Browse our best diamond gifts by John Atencio.
11th Anniversary: Turquoise
Well-known for its lovely robin's egg hue, turquoise is a semi-precious gemstone prized for its light blue, opaque color. A fashionable gemstone with striking color qualities, turquoise is the traditional gift for 11-year anniversaries. Browse turquoise gift ideas by John Atencio.
12th Anniversary: Jade
Jade jewelry has long been celebrated worldwide as a lovely symbol of grace and integrity. These characteristics combine with its soft, aesthetic beauty to make it the most common gift for couples celebrating 12 years together. 
13th Anniversary: Citrine
A quartz gemstone, citrine has a lovely warm golden-yellow color ranging from deep brownish orange to transparent, pale yellow. Rare in nature, the stone is the world's top-selling yellow-to-orange gem and the traditional gift for 12-year anniversaries. Browse citrine gift ideas by John Atencio.
14th Anniversary: Opal
Renowned for its luminous iridescence, the opal has been used in jewelry for centuries. The unique stone's amazing play-of-color is owed to sub-microscopic spheroids assembled in a grid-like pattern. As light bounces around these tiny spheres, the waves radiate and diffract a rainbow of spectral colors that add beauty and intrigue to your meaningful 14-year anniversary gift. Browse opal gift ideas by John Atencio.
15th Anniversary: Ruby
One of history's most storied precious gemstones, the ruby has long been thought to hold a fiery flame that never extinguishes, making it perfect for couples celebrating 15 years of marriage. Honor your enduring commitment and love with an elegant jewelry piece showcasing this long-treasured deep-red gemstone. Browse ruby gift ideas by John Atencio.
16th Anniversary: Peridot
With its exhilarating green hue, peridot is a vivid gemstone that captivates the eye. Thought to elicit positive energy, the gem looks beautiful in bracelets, earrings, rings and necklaces. The 16th anniversary stone has a warm, yellow-green color that contrasts brilliantly with refined white gold, classic yellow gold and sleek sterling silver. Browse peridot gift ideas by John Atencio.
17th Anniversary: Watches
After 17 years together, it's customary for couples to exchange watches. A stylish new timepiece is an excellent way to mark the passage of time, especially when it complements their existing jewelry pieces. 
18th Anniversary: Cat's Eye
Precious cat's-eye is the traditional gift for 18th anniversaries. The uniquely compelling gemstone adds intrigue to jewelry with chatoyance, an optical phenomenon in which a strip of reflected light moves just underneath the surface of a cabochon-cut stone. 
19th Anniversary: Aquamarine
Aquamarine is a timeless 19th-anniversary gift with a gorgeous icy hue that complements any ensemble. Named after ocean water, the gem's cool, tranquil hues evoke peacefulness while bringing eye-catching flair to luxury jewelry pieces. Browse aquamarine gift ideas by John Atencio.
20th Anniversary: Emerald
The traditional gift for 20th anniversaries, emeralds have that regal green color that's long associated with royalty. The sacred gemstone of the famous Roman goddess Venus, the emerald is synonymous with lasting love, making it a perfect gift for couples celebrating an inspiring 20-year love story. Browse emerald gift ideas by John Atencio.
21st Anniversary: Iolite
In shifting shades of blue and violet, iolite carries the inspiring spirit of both journey and illumination. Usually transparent to translucent, the striking gem brings vibrant bursts of color, making it a worthy gift for your twenty-first year together.
22nd Anniversary: Spine
Known for its hardness and durability, spinel ranks 8 on the Mohs scale for hardness. This makes the rich red gemstone an appropriate gift to celebrate 22 incredible years as a couple. 
23rd Anniversary: Imperial Topaz
Also known as golden topaz, imperial topaz varies in color, from orange to red to pink to purple. Solely sourced near the Brazilian town of Ouro Preto, this gorgeous stone is one of the world's most coveted gems and a worthy gift to celebrate 23 years of marriage bliss. 
24th Anniversary: Tanzanite
A brilliant blend of velvety purple, vibrant violet and rich blue, tanzanite is coveted for its distinctive color and considerable rarity. Only sourced near Mount Kilimanjaro, this exotic gem has a compelling backstory and a dazzling radiance that make it an exceptionally alluring gemstone gift for 24-year anniversary celebrations. Browse tanzanite gift ideas by John Atencio.
25th Anniversary: Silver Jubilee
Lustrous silver is the traditional gift for 25th anniversaries, which demands the honor of a jubilee. Celebrate a quarter of a century together by giving the gift of a complete sterling silver jewelry set, featuring earrings, a bracelet, a ring, and a pendant. You can also choose blackened silver with a beautiful dark patina that yields striking jewelry with an alluring edge. Browse our most popular silver jewelry gifts by John Atencio.
30th anniversary: Pearl Jubilee
Ancient and lustrous, pearls are the traditional gift for couples at the three-decade mark. They signify the unassuming beauty of enduring unions with inspiring maturity defined by grace and modesty. Earrings and pendants are popular choices. You can also go with a lovely pearl ring paired with eye-catching luxe diamond accents. Or better yet, make it a jubilee by purchasing a full set of gorgeous pearl jewelry.
35th Anniversary: Emerald
Twenty times rarer than white diamonds, emeralds are a worthy way to celebrate 35 years of marriage. The gemstone's rich green hues look striking in every metal type, especially when complemented with lavish diamond accents. 
40th Anniversary: Ruby
For your 40-year anniversary celebration, add a flicker of fire to their look with a passionately powerful ruby jewelry piece. Representing confidence, integrity, energy and strength, this gem brings a glamorous, spirited look to any ensemble while honoring your four-decade-long journey together.
45th Anniversary: Sapphire
For over a millennium, sapphires have been associated with royalty and romance. Combined with their exceptional beauty and color, this lore makes the brilliant blue gemstone a perfect gift for 45-year anniversary celebrations. 
50th Anniversary: Golden Jubilee
Since it's commonly called the "golden anniversary," it should be no surprise to learn that the traditional gift for the half-century mark is gold. An appropriate way to celebrate your rewarding history together, gold is a classic gift that shows the prosperity, wisdom, strength and significance of your everlasting union. 
John Atencio provides artfully crafted jewelry for every anniversary celebration. Shop online or chat with our fine jewelry consultants, who can help you choose the right gift or anniversary ring to honor your one-of-a-kind love story.