The Perfect Drop Earrings for New Year's - Pearl, Diamond, Silver or Gold
diamond drop earrings, drop earrings, gold earrings, pearl jewelry
12/23/2022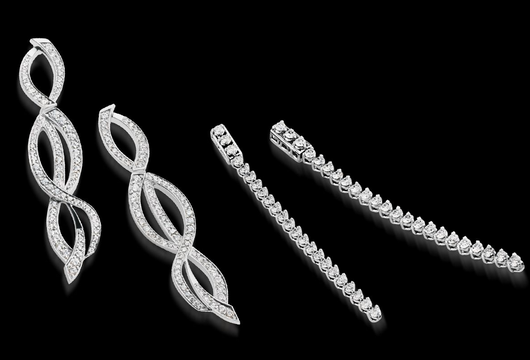 New Year's Eve is one of the most exciting opportunities to dress up and celebrate. But how do you add that extra edge to your sharpest look? Whatever your outfit, statement earrings are one of the easiest ways to infuse a touch of holiday glam, and drop earrings have become a trendy choice for modern fashionistas who want to stand out for all the right reasons. Let's look at some of our favorite drop earrings for women, so you can find something to illuminate your one-of-a-kind style. 
Pearl Drop Earrings
Timeless and sophisticated, pearl drop earrings bring beauty and elegance to your New Year's look. True classics, these natural miracles add luster to formal attire while pairing well with other jewelry staples. Their versatility allows them to blend beautifully with just about any outfit. They also send a specific message that adds some cosmopolitan glamor to your attire. 

For millennia, pearls have defined elegance and sophistication, whatever the setting or occasion. That said, they also bring a diversity of choices that complement a broad array of styles. Pearls come in a range of hues including white, white rose, pink, black, silver and gold. They can even include alluring secondary overtones of blue, rose and green. Traditional, creamy pearls add significance to ensembles, while romantic rose options deliver muted bursts of feminine color. 

A symbol of confidence, prestige and personal strength, pearls are fixtures in fashion, politics and the Hollywood big screen. All over the world, noteworthy people embrace the iridescent color and rare allure of beautiful pearl jewelry. If you're looking for statement earrings, pearl drops are an amazing way to add alluring emphasis to New Year's Eve attire. 
 
Diamond Drop Earrings
Diamond drop earrings are a striking way to frame your New Year's beauty in fire. While studs have long been one of the most versatile choices, drops have fast become one of the trendiest options for grand galas and holiday soirées.

Although they haven't always made headlines as the biggest jewelry trend, diamond drops have long held major appeal. From red carpet runways to classic movies, they've been consistently spotted amid the alluring hair flip. They've also been a common sight at formal affairs, where they tend to grace the ears of some of the most influential attendees. 

These days, diamond drop earrings are becoming more and more popular in social settings, thanks to an increasing appreciation for their impressive qualities and growing versatility. Contemporary drops can be entirely static or free-flowing in captivating ways that follow your body's subtlest movements. They also provide space for more daring fashion choices and come in diverse designs that pair glittering white diamonds with amethyst, opal and other colorful gemstones.
 
Silver Drop Earrings
Cool-toned and lustrous, silver drops look great in casual and elegant New Year's settings. Endlessly economical and eternally trending, the sleek, lustrous earrings enhance any outfit. The pretty pale metal also looks great on anyone, especially when complemented with luxe diamond accents. 

Accentuate your look with fashionable silver drop earrings that blend beautifully with a diversity of looks and styles. Take, for instance, John Atencio's Elixir Pave Diamond Earrings, a stunning sterling silver creation with glittering pave diamonds. Paired with a fiery sterling silver diamond pendant and a pave diamond ring, these scintillating stunners bring intriguing flair to your attire as you wait for the ball to drop. 

Prefer to add a touch of mystery to your look? Blackened silver is a great way to infuse compelling intrigue into your New Year's attire. Also known as oxidized sterling silver, this genuine sterling silver showcases a deep, dark patina that produces alluring jewelry with an eye-catching edge. 

Some perfect examples are found in John's Duplex and Elixir collections, which include a diverse array of uniquely intriguing drop earrings with bold blackened silver attributes.
Gold Drop Earrings
Coveted for millennia, gold continues to hold a preeminent position in our collective consciousness. The foundation of luxury and fashion, the prized precious metal adorns the hands, wrists, necklines and ears of the social elite and everyday fashionista. 

Forged alone or accented with scintillating diamonds, the precious metal yields stunning dangles and drops that take your New Year's look to a whole other level. 

Take, for instance, John Atencio's Essence Ball Diamond Earrings. Simplicity redefined, this striking set showcases clean lines, exquisite diamond pave and simple artistry that attracts the eye. Not to be outdone, John's Paris X/O Earrings inspire intrigue with a uniquely beautiful design informed by the beauty, culture and romance of the famous Parisian city of lights.

Classic and endlessly versatile, gold drops bring all sorts of possibilities to your look. While everyone appreciates the timeless appeal of classic yellow gold; white gold drops have become popular for their cool sophistication and refined, silvery luster. Spectacularly stackable, the pale precious metal beautifully complements other jewelry in varying colors of gold, making it easy to mix and match with your other New Year's Eve jewelry.

Romantic and flawlessly flattering, rose gold is another modern favorite, appearing on everything from champagne-gold red carpet dresses to smartphone shells. It has emerged as a trendy force in the jewelry world, making it a great complement to your New Year's look.

Bringing an enchanting vintage appeal, rose gold drops never clash with yellow or white gold pieces. On the contrary, in many cases, rose gold provides a compelling contrast to white gold and silver, allowing you to layer your jewelry and create a more alluring ensemble that reflects your unique style while making a striking, vibrant New Year's Eve fashion statement.

From timeless classics to fashion-forward designs, John Atencio has a unique collection of breathtaking drop earrings crafted using the finest diamonds and high-quality precious metals. Whatever the setting, whatever the occasion, John's artfully crafted jewelry can take your look to a higher level. Shop online or visit one of our many Colorado locations, where our attentive consultants can guide you toward a gorgeous piece of jewelry for every season of the year.