Black Zirconium vs Titanium Rings: Which To Choose?
black zirconium, mens titanium jewelry, titanium rings
12/7/2022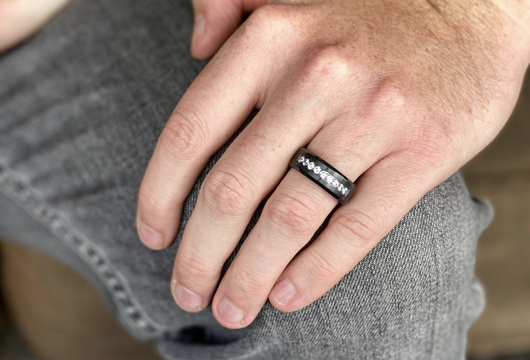 Trying to choose between a titanium and black zirconium ring? Both are beautiful, durable, lightweight options that make excellent wedding bands. To help you make an informed decision, we've created the following guide detailing the pros and cons associated with each metal option. Let's compare black zirconium vs. titanium rings and determine which material best suits your one-of-a-kind style. 
Black Zirconium
Often confused for titanium, zirconium is a beautiful refractive metal frequently used in industrial settings and, more recently, in jewelry. While it has a natural silver-gray color, the metal takes on a blackened appearance after an intense heating process, in which a dark, durable layer of oxide grows on its exterior. This black finish is essentially achieved by putting the zirconium through an artificial oxidation process, where the outer layer reacts with air to create a hard, black coating that is then polished to a very high shine or, in some instances, made into a handsome matte finish.
Prized for its sleek, attractive aesthetic, black zirconium offers many advantages, including: 
It is the only permanently black jewelry that is workable enough so gemstones can be set. 

It is hypo-allergenic and won't discolor or irritate the skin.

It's more durable than most precious metals, but this also means the ring cannot be resized. 

It is very lightweight; in fact, black zirconium is only about 1/4 the weight of pure steel, yet considerably stronger.
A lustrous, durable metal, black zirconium is a handsome, bold metal option. With a rating of 9 on the Mohs scale, the formidable material is almost as hard as a diamond.
Titanium
Tougher than steel yet light as a feather, titanium is one of the most durable metals you can wear. It's also a sleek, eye-catching complement to your everyday attire. 
One of the world's most famous metallic elements, titanium has a naturally grayish color that brightens when polished. An incredibly strong material, the metal won't bend or break and has an incredibly high melting point of 3034 degrees Fahrenheit. First discovered at the conclusion of the 18th century, the metal got its name from the Titans of Greek mythology, who were known for their extreme strength. 
Coveted for their durability and luster, titanium rings offer many benefits, including: 
They have the strength of steel, but their weight is comparable to aluminum.

They will not fade, rust or corrode and require very little maintenance. 

The metal is a hypoallergenic material that won't irritate the skin. 

They can be more economical than gold or silver due to their long lifespan. 
Available in a variety of styles, titanium is ideal for those who want men's wedding rings that can withstand their rugged routines. Bear in mind that titanium rings cannot be resized and have a relatively mild luster. They can look quite beautiful, however, with inlays designed to complement the metal's impressive durability and formidable aesthetic. 
Which to Choose?
Titanium and black zirconium are both strong, corrosion-resistant, long-lasting metals. Black zirconium is technically more durable than Titanium; however, both metals are lightweight and strong enough that you generally don't need to worry about significant dings or dents. Both metals are also scratch-resistant and hypoallergenic. With that said, titanium is typically more expensive than black zirconium, but prices can range significantly based on the ring design and individual jeweler. 
Both metals provide a very sleek, modern look that complements many different skin tones. Zirconium is a very nice option if you are looking for a bold black ring and want to get creative with distinctive metal or two-tone designs. With all that said, it all comes down to individual taste. If you're not sure which option is right for you, make sure to shop at a jeweler who offers many different options featuring a range of uniquely crafted designs. 
The very best wedding rings are a reflection of the wearer's lifestyle and personality. Whether it's understated sophistication or rugged masculinity, your ring should tell the world who you are. Crafted with rare meteorite, durable tantalum, black zirconium, formidable titanium and more, John Atencio's uniquely crafted men's wedding rings are made to impress.
If you're searching for a distinctive men's wedding band, shop online or visit any nearby John Atencio location, where our knowledgeable experts can help you find the perfect ring to seamlessly match your style. Let our attentive consultants show you how to select a stylish wedding ring with an attractive inlay to honor your walk down the aisle.