A Guide to Three Stone Diamond Rings from Engagements to Anniversaries
custom engagement ring, diamond engagement ring, engagement ring, three stone engagement rings
11/9/2022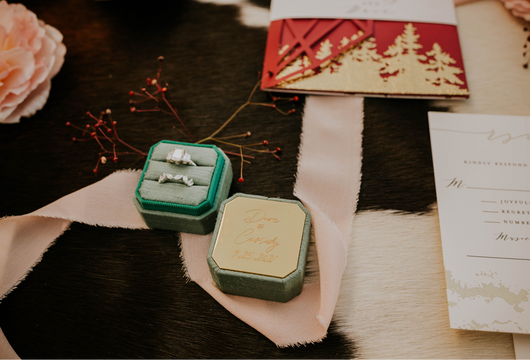 A stunning expression of love, three-stone anniversary and engagement rings carry uniquely significant symbolism that makes them especially popular among countless brides-to-be. Here's what you should know about these increasingly popular engagement rings, along with some tips for choosing one that suits your style. 
What is a Three Stone Ring?
Enhanced by deeply felt symbolism, three stone rings are designed to honor your past, present and beautiful future together. The first glittering diamond gemstone signifies the years that led up to your proposal, while the second represents the exciting and passionate present, when you're both busy making big plans for the future. These promising plans are symbolized by the third stone, which represents the endless possibilities and the promise of an enduring love that will stand the test of time. 
Benefits of a Three Stone Diamond Ring
Three stone engagement rings feature a pair of scintillating side diamonds that beautifully accentuate the size and brilliance of a center stone. Heftier than traditional solitaires, these dazzling treasures add eye-catching emphasis to a ring bringing more attention to your token of ever-lasting love. 
With many three stone rings, the side stones are set lower than the center diamond to add depth and dynamic dazzle. That said, you can also get three stone rings with equally sized diamonds that sit at the same level. In fact, three stone rings provide plenty of opportunity for customization. You can choose three diamonds or create a stunning color contrast by adding a pair of colored gemstones on either side of a fiery center diamond.
In the eyes of most, however, the best thing about a three-stone setting is that it truly maximizes the brilliance of the diamond gemstones. And this has made the setting a very popular choice for engagement and anniversary rings. 
Designer 3 Stone Engagement Rings: Popular Diamond Shapes and Styles
The most popular diamond shapes used in three stone engagement rings include the round and princess since they tend to fit seamlessly together. Other common three stone diamond shapes include emerald, Asscher, marquise and oval. 
Whether it's for an engagement or anniversary, three stone rings come in a variety of alluring styles, ranging from classic and vintage to minimalist and contemporary. Some popular examples include John Atencio's stunning Devotion and Lines three stone diamond rings. Each design includes distinctive design elements that reflect John's exceptional artistry and attention to the finest details. In addition to these popular rings, John also works with customers to craft customized three stone ring designs that reflect a couple's one-of-a-kind love story and unique preferences and style. 
Tips On Shopping for Three Stone Anniversary Rings
When it comes to anniversary rings, three stone settings are a meaningful way to honor your enduring love story. Set in timeless yellow gold, three stone diamond rings glitter with classic glamor. Blush rose gold rings deliver a touch of romance for a nice vintage look. The three-diamond anniversary design takes on a scintillating shimmer when set in refined, luminous white gold. 
Caring for Your 3 Stone Diamond Ring
While they do offer a number of compelling benefits, three stone settings require more care, attention and maintenance compared to solitaire settings. The shared prongs create small spaces between the gemstones, which can attract dirt, dust and grime over time. With this in mind, it's important to maintain a regular cleaning schedule to keep your ring shining and sparkly.
Generally, you can safely clean your three stone rings by gently washing them with warm water and simple dish soap. Still, it's good to get a professional cleaning every now and then. John Atencio offers complimentary in-store cleaning over the lifetime of your John Atencio three stone ring. This not only ensures that each gemstone looks amazing; it also includes routine, six-month examinations to make sure every stone is secure in its setting. 
A living legend in the jewelry industry, John Atencio offers striking three-stone engagement rings for your bride-to-be. Browse online or visit any John Atencio location, where our attentive experts can help you find the perfect ring for your beautiful love story.