Diamond Drop Earrings: 2021's Hottest Jewelry Trend?
diamond drop earrings, diamond earrings, diamond stud earrings
10/21/2021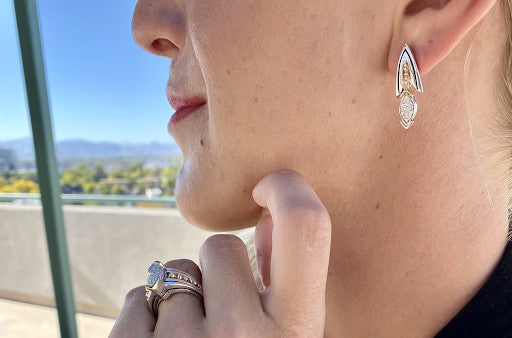 Diamond earrings are a breathtaking way to frame your beauty in fire. While studs remain one of the most versatile and popular choices, diamond drop earrings are fast becoming one of the trendiest options in 2021. Read on to learn why these dazzling danglers are so hot right now.
Growing in Popularity
While they haven't always made headlines as the trendiest jewelry accessories, diamond drop earrings have always held big appeal. From classic movies to red carpet runways, they've been regularly spotted amid the graceful hair flip. They also have a solid place among formal affairs, where they grace the ears of some of the most elegant and influential attendees.

These days, diamond drops have become more popular in other social arenas, thanks to a growing appreciation of their many impactful qualities and increasing versatility. Modern drops can be static or free-flowing in mesmerizing ways that match your body's subtle movements. They also offer more room for daring fashion choices and are available in diverse designs that pair white diamonds with opal, amethyst and other colorful gemstones.
From timeless to fashion-forward, John Atencio has a compelling collection of diamond drops crafted using the highest quality diamonds in fine precious metals. That said, although diamond drops are a red hot trend right now, it's important to understand when they deliver optimal impact compared to traditional favorites.
Studs vs. Drops
Whether you're attending a gala or headed to the movies, no outfit is complete without a stylish pair of earrings. Whatever your preference, there are different designs to pull your look together.

Since they go with absolutely any outfit, diamond earrings are always an appropriate accessory. With that said, there are a few considerations you should make when choosing studs or drops. The right choice can elevate an ensemble while the wrong choice can clash in unappealing ways.


Because they're so versatile, diamond studs are almost always a good idea. This classic accessory goes with anything. From t-shirts and jeans to elegant ball gowns, you'd be hard-pressed to assemble an outfit that won't work with a pair of glittering studs. The only caveat centers on size.

Smaller, round-cut studs can be worn in any setting. Anything larger than a carat (or something with a unique cut or multiple stones) may seem too ostentatious for casual settings, especially if you're really not trying to stand out.

Diamond drop earrings, on the other hand, are designed for special occasions when you're not afraid to attract attention. Whether you're wearing a pair of bold danglers that tap your collar or delicate dazzlers with a feminine feel, it's best to pair them with dressy attire.

It's generally not a great idea to don a pair of glittering danglers at the supermarket or gym. Not only do they look a bit formal, they're also apt to tangle with headphones, slap your cheeks as you jog, or get in the way as you tangle with the kids. In general, diamond drops are meant for one purpose: to complement your face when you're dressed up for a big night with your hair in a fabulously beautiful up-do.

With this in mind, whatever the current trend, it's always best to have a pair of diamond studs to fall back on. Versatile and hassle-free, they make great accessories for fancy and informal outings. When you're ready to light up the room, on the other hand, a pair of scintillating diamond drops is a powerful way to frame your face in elegant fire.

Whether you're searching for a trendy style or traditional classic, John Atencio can guide you toward a uniquely beautiful jewelry piece. From hoops and studs to dazzling drops and lab-grown diamond dangles, we have an alluring selection for every style and any occasion. Discover diverse designs, including ear cuffs and studs with gemstones, hearts or fancy colored gems. Whatever your look, whatever the setting, the perfect pair of diamond earrings is just a few clicks away.

Find the ideal gift for her or treat yourself to a beautiful pair of diamond earrings that go with absolutely everything. Visit a nearby John Atencio store where our attentive team can show you how to select a perfect pair of diamond earrings for an upcoming occasion or everyday look.