Unique Father's Day Jewelry Ideas
black diamonds, fathers day
5/15/2023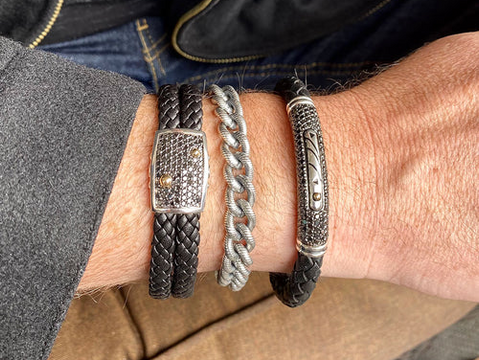 He's been there all along with wisdom, guidance, loyalty and strength. Show him how much he's impacted your life with a meaningful Father's Day gift that adds an edge to his sharpest look. We've curated a list of some of our favorite jewelry gifts for Dad and provided some key insight into what makes jewelry such a powerful way to celebrate Father's Day in style.
Why Jewelry is a Unique Gift for Dad
Transcending generational boundaries, jewelry has always been a timeless gift option for men. It's also an inspired way to celebrate the bond between a father and his children. From cufflinks and watches to bracelets and personalized necklaces, it's easy to find a piece that will resonate with any man's unique taste and personality.
At the same time, jewelry also carries emotional significance, often serving as a cherished momento of the giver and the occasion. A thoughtfully selected jewelry piece for Father's Day can easily become a family heirloom, passed down through generations as a testament to your love and appreciation for Dad. And with customizable options, you can add more meaning by engraving a special message, date or initials to make the jewelry truly one-of-a-kind. 
Factors to Consider When Choosing Jewelry for Dad
When selecting jewelry for Dad, it's important to consider his personal style and preferences. As with any gift, understanding your Dad's tastes and interests will ensure that the jewelry you select will be cherished and appreciated. Start by taking note of the type of jewelry he already wears, such as watches, bracelets or rings.
Then, try to choose a piece that aligns with his existing collection. You should also consider his daily attire and the occasions when he may wear the jewelry. If your Dad has a conservative style, choose classic and timeless designs. On the other hand, bolder, unique pieces may be more suitable for a fashion-forward father.
Another essential factor to consider is the quality of the item. A well-crafted and durable piece of jewelry will not only serve as a constant reminder of your love and appreciation; it will also stand the test of time. Investing in a quality piece of jewelry from a reputable designer ensures that your gift will remain in excellent condition, even with daily wear.
You should also keep your Dad's lifestyle and occupation in mind when choosing a jewelry gift. If your father has a physically demanding job or engages in activities that could potentially damage delicate jewelry, consider selecting more robust, practical pieces. Alternatively, if your Dad frequently attends formal events, a sophisticated, elegant piece may be more suitable. 
By taking all of these factors into account, you will be able to find a jewelry gift your Dad will treasure for years to come. And if you're not sure where to start, visit a local John Atencio store, where our attentive jewelry consultants can help you find the perfect jewelry gift for Dad.
The Best Father's Day Jewelry Gift Ideas
This Father's Day, delight him with an exceptional present from John Atencio Men's Collection on Father's Day. Ranging from minimalist daily wear to the latest black diamond creations, every John Atencio item showcases flawless artisanship and a legacy of skill and distinction for a timeless impression. Some of our favorites include:
PANTHEON III WATCH WITH HIGH PERFORMANCE ELASTOMER BAND
The Pantheon, a top-tier timepiece collection by John Atencio, marks the dawn of a time evolution. Drawing inspiration from the Roman Pantheon's artistry, beauty, and craftsmanship, each aspect of these watches has been meticulously crafted by John, utilizing Swiss movement technology and cutting-edge steel finishes and materials.
In his latest Matrix Men's collection, John Atencio has once again showcased his impeccable talent for blending striking designs with meaningful symbolism. The Matrix Chain Bracelet is a standout piece that features a bold and oxidized pattern, adorned with the iconic circle, triangle, and line symbols that John created to represent the three keys to communication.
Crafted with precision and attention to detail, the Matrix Chain Bracelet is made from a combination of oxidized sterling silver chain and 14-karat yellow gold accents, adding a touch of luxury to the design. The magnetic clasp not only ensures a secure fit but also adds an element of convenience to the piece.
MATRIX BLACK DIAMOND SIGNET RING
Crafted from sterling silver and accented with 14-karat yellow gold, this signet ring is an instant classic. The .50 total carat weight of black diamonds add a touch of luxury to the already stunning piece.
The ring comes in a stock size of 10 and measures between 6-9mm wide, making it a comfortable fit for any finger. Whether Dad is dressing up for a special occasion or simply wanting to elevate his everyday style, this Matrix Black Diamond Signet Ring is sure to be a favorite piece in his jewelry collection.
MATRIX DOG TAG PENDANT NECKLACE
A meaningful gift for Father's Day, John Atencio's Dog Tag Pendant Necklace is a masterpiece of design and craftsmanship. The piece is also part of his celebrated Matrix Men's collection, where he has skillfully blended bold, oxidized patterning with iconic circle, triangle and line symbols to create a one-of-a-kind statement piece.
Crafted from high-quality sterling silver, this pendant necklace is durable and long-lasting. The pendant measures 45mm x 25mm and hangs beautifully from a 24" bead chain, adding a touch of elegance to any outfit. Whether it's a casual day out or a formal event, this necklace is versatile and can be worn with any outfit.
Crafted from high-quality sterling silver and 14-karat yellow gold, these cufflinks are a perfect blend of style and substance. The lever backs ensure that they stay securely in place, making them ideal for any occasion. Measuring 15mm x 17mm, these cufflinks are just the right size to make a statement without overpowering Dad's attire.
Masterfully designed to hold deep meaning, John's Matrix cufflinks are a unique and personal way to elevate any outfit. With their intricate patterns and powerful symbolism, they're sure to become a cherished addition to Dad's jewelry collection.
Mixing and Matching
Selecting jewelry for Dad presents a unique opportunity to experiment with layering options and combining various materials to create a one-of-a-kind statement. Mixing leather, beads and sterling silver bracelet styles can effortlessly elevate his look while showcasing his individuality. 
The addition of black diamonds brings an element of depth and intrigue to the ensemble, further enhancing the overall aesthetic. By thoughtfully curating a combination of textures and designs, you can help Dad express his style and create a look that is both versatile and fashionable.
Buying and Financing a Jewelry Gift for Dad
With nearly 50 years of experience in the jewelry industry, John Atencio's skill and knowledge are unsurpassed in bold and distinctive jewelry design. Using his life's adventures and experiences as inspiration, he takes the time to envision each piece, hand-sketching them with pencil before he brings his vision to life, using sustainable, ethically sourced materials.
John offers a wide array of Father's Day gifts for Dad's special day. Browse our favorite Father's Day gifts from John Atencio and discover classic, modern and iconic designs that speak to your Dad's strength, courage, loyalty and indomitable style.
There's no need to ever feel unsure about finding a Father's Day jewelry gift for Dad. Shop online or visit any John Atencio location, where our jewelry consultants can help you find jewelry he will always treasure. John also offers affordable financing opinions, and you can even purchase gift cards, so Dad can choose a piece that fits his one-of-a-kind style.