Our Best Picks for Men's Black Diamond Jewelry
black diamond mens wedding bands, black diamond wedding rings, black diamonds, mens black diamond jewelry
5/17/2022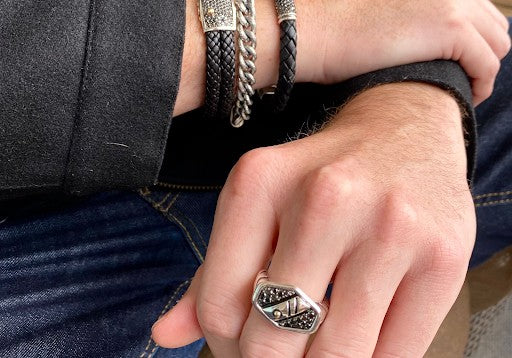 Bold, mysterious and eye-catching, black diamonds glitter with depthless beauty. These days, the dark gemstones have become a trendy choice for men who want uniquely striking jewelry pieces that reflect their personalities. Here are some of our top picks for men's black diamond jewelry, along with some insight into what makes black diamonds so special.
What Makes Black Diamonds So Unique?
Black diamonds are authentic diamonds that get their rich color from large quantities of minuscule mineral inclusions such as graphite, pyrite or hematite. It's these rich concentrations of tiny internal features that give the black diamond such a dense, dark appearance.

Now commonly referred to as "fancy blacks," these alluring gemstones have always had a fascinating status in historical lore. Take for example the famous Eye of Brahman, an enormous 60-plus carat Black Orloff diamond. Reminiscent of a Harrison Ford Indiana Jones movie, the gemstone was stolen from the eye of the statue of the sacred Hindu God Brahma in the Indian subcontinent. In turn, it was thought to be imbued with dark supernatural powers.

Renowned for their compelling mystery and lore, black diamonds have become popular in modern men's jewelry, thanks to their deep, bold color and formidable style.
The Matrix Collection
John Atencio brings his skillful artistry and unique perspective to the creation of Black Diamond Matrix, the latest exciting addition to his men's jewelry collection.
Striking and unusual, black diamonds absorb light while giving off an incredibly rich color in a way that seems to defy nature. Inspired by the depthless beauty of naturally sourced black diamonds, John's Matrix collection uses pave-set diamonds to make an impressive, masculine statement while imbuing a formidable sense of luxury, formality and strength.

The Matrix Black Diamond Collection features a range of ring, bracelet and necklace styles, including some of the best-selling leather designs which make for great layering statements. Some of our favorite men's pieces from the collection include:
Matrix Black Diamond Cross Pendant Necklace
Inspired by the strong meaning and spirited tenderness of the Cross, this striking black diamond necklace blends beauty, artistry and symbolism. A stylish way to show off your faith, the handsome piece is designed to share strength, hope and love to celebrate or assist during difficult times.
Matrix Black Diamond Cross Ring
John blends iconic triangle, line and circle symbols with bold, oxidized patterning to create a uniquely personal statement in the Matrix Men's collection. A perfect example is the bold black diamond cross ring, featuring a prominent gold cross symbol set amid striking black pave diamonds and lustrous sterling silver.
Matrix Black Dog Tag
Framed with rows of black diamonds, the Matrix Black Dog Tag necklace includes Matrix's iconic meaningful symbols: the circle, triangle and lines. John created these symbols as the critical three keys to communication, representing the struggles that exist within all of us as we balance family and relationships.
Matrix Chain Black Diamond Bracelet
Wrap your wrist in something significant and add an edge to your indomitable style. John's Matrix Chain Black Diamond Bracelet showcases nearly a full carat of bold black pave diamonds joined together by a handsome oxidized silver chain.
Explore the Entire Matrix Collection
Uniquely John Atencio in every aspect, Matrix Black Diamond is a timeless, brilliant statement. As with every John Atencio design, Matrix is hand-sketched by John and impeccably crafted using responsibly sourced black diamonds and the finest materials available. Explore the Matrix collection and find a piece that speaks to you.

John also has a stunning selection of black diamond wedding bands that have become an intriguing choice for modern grooms. A men's wedding band should always hold deep meaning while also reflecting the personality of the wearer. A fine black diamond is a stunning gem with a uniquely intriguing look unlike any other stone in today's marketplace. They are also often less expensive compared to white diamonds of similar carat and size.

Searching for a distinctive men's wedding band or everyday jewelry piece? Shop online or visit one of our convenient locations, and our attentive experts can help you find a uniquely compelling ring, necklace, bracelet or timepiece that perfectly matches your one-of-a-kind style.