Bringing Out The Old Jewelry. How to Clean & Repair
Jewelry Care, jewelry cleaning
3/7/2023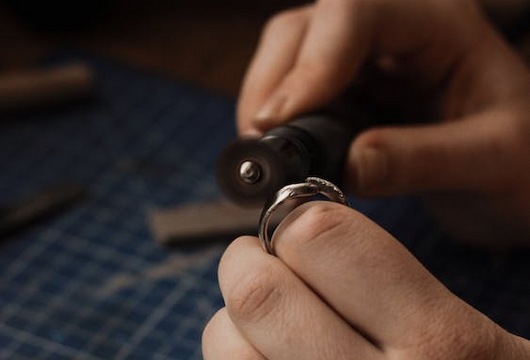 Older jewelry tends to have character that gives it an intriguing well-worn beauty. Quite often, it also holds sentimental value that makes it irreplaceable. With a well-earned reputation for creating high-quality, timeless jewelry pieces, John Atencio knows the best ways to protect and restore treasured pieces. Here's how to clean your old jewelry and make necessary repairs, so it can be passed down over generations.
Assessing the Condition of Your Jewelry
With an unyielding commitment to quality, John crafts every one of his jewelry pieces with the finest materials to help ensure that they last a lifetime - and well beyond. But like all things, fine jewelry is not impervious to the rigors of everyday life and the effects of our harsh natural environment. Over time, even the highest-quality pieces can suffer damage and accumulate dirt and grime. That's why it's so important to properly maintain your jewelry pieces using best practices. 
One of the most effective ways to preserve your diamond and gemstone pieces in addition to your gold and silver jewelry is to have them regularly inspected. If you don't, you may not be aware of loose settings or faltering clasps that could cause you to lose a stone or the jewelry piece itself. Even if you don't see anything wrong with your John Atencio jewelry, it's always best to maintain routine, annual examinations to make sure the stone is secure in its setting. 
Repairing Your Jewelry
Because John's commitment to quality doesn't end after your purchase, he offers comprehensive after-purchase care, which includes thorough inspections. Whether it's prong re-tipping, chain or clasp repair, setting replacement or a thorough polishing, our professionals can make any necessary repairs to your old John Atencio jewelry, whatever its age. 
Of course, when you purchase a high-quality jewelry piece, you are far less likely to require alterations or repairs. Still, even masterfully crafted jewelry is susceptible to damage. When this happens, it's very important to leave repairs in the hands of professionals who have keen eyes for detail and steady hands, which help ensure your jewelry gets restored perfectly in a timely manner.
John Atencio can provide a full spectrum of repairs at a licensed jewelry repair facility that has a long history of excellence. And while John does charge a fee for repairs, he also offers an exclusive care plan at the time of purchase through Jewelers Mutual that provides a lifetime warranty.
Cleaning Your Jewelry
Sometimes, a good cleaning is enough to refresh older jewelry and make it look near-brand new. But even cleaning is fraught with potential risk. To avoid potential mishaps, it helps to know some fundamental dos and don'ts associated with jewelry cleaning. 
Don'ts
Do it yourself. Older, damaged jewelry requires an experienced, gentle hand. If you don't know what you're doing, you could scratch the metal or inadvertently damage your John Atencio jewelry. Avoid the temptation to do it yourself and take your piece to a local John Atencio location, where our team can carefully clean the jewelry and inspect it for potential damage. 
Use ultrasonic machines. Automatic ultrasonic cleaners won't necessarily damage your older jewelry, but it's best to err on the side of caution. In some instances, the subtle but intense vibrations from ultrasonic machines can do more harm than good.
In most cases, it's best to clean older jewelry by hand. If an ultrasonic cleaner is used, the process should be carried out by an expert who understands the potential risks. 
Submerge jewelry for long periods. Liquids can harm many types of jewelry, especially if they include opals, cameos, seed pearls, or any type of soft stone. For older, fragile jewelry, it's best to avoid saturating the piece with liquid. Instead, lightly clean the peace with a damp cloth or, better yet, outsource this important job to a professional. 
Use harsh chemicals such as ammonia. The internet is full of home recipes that tell you how wonderful ammonia is at restoring old jewelry and making diamonds shine. This might work when carefully done in moderation.
More often, it leads to big problems, especially when you're dealing with older jewelry pieces. Always avoid harsh cleaning detergents, ammonia, and household cleaners containing bleach. 
Dos
Use a gentle cleaning solution. You can do a surprising amount of good by gently cleaning your older jewelry with simple water-based dish soap and warm water. The degreasing nature of the gentle soap is quite effective at loosening dirt and grime. John Atencio also provides a gentle jewelry cleaner that has been specially formulated for delicate jewelry pieces.
Use a soft-bristled toothbrush and lint-free cloth. Whether you use dish soap or a specially formulated cleansing solution, be sure to clean your jewelry with a soft-bristled brush. Avoid any coarse scrub brush, which can leave tiny abrasions in the precious metal. Before you begin, always make sure every gemstone is secure, and never wash your jewelry over a sink. 
Rinse and dry thoroughly. Soap and jewelry cleaners can leave residues that can build up into yellowish coatings. After you've thoroughly washed your jewelry, be sure to rinse it in lukewarm water. You should also carefully pat it dry to help prevent oxidation.
For rings, use a non-abrasive polishing clean cloth to lightly buff dry the shank, while being careful to avoid areas near engravings or stones. Always let your jewelry dry out before putting it away.
Manage your expectations. Older jewelry tends to have a well-worn look that adds to its beauty and charm. While you want to remove grime, dirt and bacteria, you don't want to diminish its character and patina.
Try to temper your expectations when cleaning older jewelry. While it may never look completely new, it can have much of its beauty restored, especially in the hands of the experts at John Atencio. 
Caring for Your Jewelry
To prolong the life of your fine jewelry, it's important to get regular inspections and professional cleanings. It's also important to avoid wearing your jewelry during potentially hazardous physical activities, such as gardening, woodworking, sports and exercise. You should also avoid harsh chemicals, such as cleaning solutions and chlorine found in pools and spas. 
You can learn some very effective ways to preserve and protect your jewelry by reading our product repair and care guide. You can also drastically reduce the risk of damage and untimely wear by purchasing your jewelry at John Atencio, who only uses the finest materials to craft wearable works of art that remain beautiful for generations. 
Looking for the perfect jewelry piece? Shop online or visit one of our Denver, Fort Collins or Boulder locations and let our knowledgeable experts guide you towards the perfect jewelry piece such as stunning silver and gold jewelry, elegant engagement rings, dazzling diamond studs, and eye-catching diamond pendants to match your one-of-a-kind style. Trust John Atencio to help you find the perfect piece for your one-of-a-kind style.