A Guide to the Different Types of Women's Bracelets: Sizing and Styles
bracelets, diamond bracelets, diamond tennis bracelets, women's bracelets
3/6/2023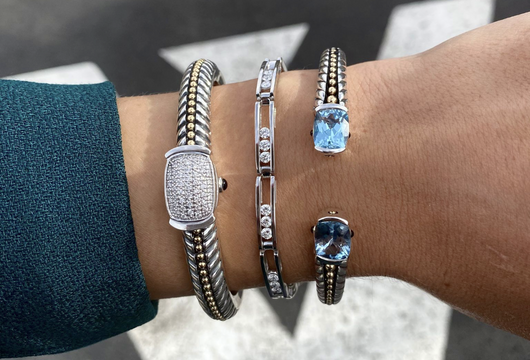 From casual everyday beaded bracelets to eye-catching statement cuffs, bracelets are an especially intriguing way to elevate your look. Whether you're drawn to the scintillating fire of an elegant tennis bracelet or the playful intrigue of a beautiful bangle, there are so many ways to accentuate your style. We've broken down some bracelet basics to help you take your look to a whole other level. 
Sizing Guide for Women's Bracelets
Whatever type of bracelet you choose, fit is critical for comfort and style. The standard length for women's bracelets is 6.5 - 7.5 inches, with the most common length being 7 inches. That said, since every woman is unique, it's best to take actual measurements to ensure that your bracelet will fit the way you want it to. 
Using a flexible cloth tape measurer, accurately measure just below the wrist bone, where you would typically wear a bracelet. Next, consult John Atencio's bracelet size chart to determine which size is right for you. John's team can accommodate space for an appropriate comfort fit based on your measurements using this helpful guide.
Types of Women's Bracelets
One of the great things about bracelets is that they come in so many different compelling styles. This allows you to easily find something that fits your unique personality. Over thousands of years, designers have created all sorts of different types of bracelets. These days, the most popular designs include: 
Bangles
Typically (but not always) circular, bangle bracelets are rigid and nonflexible. Unlike most types of bracelets, bangles do not include closures.  They're also usually made of metal, but occasionally, you will see some made of plastic, glass, stone or even wood.
Highly versatile, bangles can be worn high on the arm or loose on the wrist. They can also be layered or worn as a single statement piece, depending on the quality of the piece and the wearer's preferred style.
Hinged bracelets
Hinged bracelets are essentially cuff bracelets with spring hinges that make them easy to clasp around the wrist. Tension and hinged bracelets are usually finished in an ovular shape, which allows them to fit tighter on the wrist. This can be a big plus if you work at a desk or have a job that requires you to use your hands.
Cuff Bracelets
One of the easiest bracelet types to wear, cuffs have an opening in the bracelet that allows you to slip them on your wrist using a quick rolling motion. Similar to bangles, cuffs come in a wide range of metals and textures. A wider cuff provides a bold, trendy look, while thinner cuffs make great everyday accessories.
Charm Bracelets
If you want jewelry that reflects your unique taste and personality, a charm bracelet is a great option. With these customizable pieces, you can add inspiring charms and birthstones that represent important symbols or commemorate special memories. There's no wrong way to personalize a charm bracelet, and that's what makes each piece so unique and intriguing. 
Chain Bracelets
These fashionable bracelets are usually made of metal loops affixed together to create a chain. While simple chain bracelets can be made using any type of metal, silver and gold are preferred for their value, beauty and durability. While they come in a wide array of styles, most chain bracelets include clasps that make them easy to put on and remove. The right chain link bracelet can provide a chic yet ageless look that works with a ballgown or your favorite t-shirt and jeans. 
Beaded Bracelets
With a cool, bohemian style, beaded bracelets are both versatile and diverse. They can be elastic or stiff and include beads made of gemstones, glass, plastic or even wood. Generally worn in more casual environments, bead bracelets are perfect for stacking with other common types of bracelets. This is a great way to add color and texture to metallic bracelets that don't include colorful gemstones. 
Tennis Bracelets
Dazzling diamond tennis bracelets are iconic, sophisticated jewelry pieces that work well in elegant environments and casual settings. The diamond line bracelet is the quintessential tennis bracelet, which features a string of uninterrupted diamonds spanning the circumference of the wrist. These days, however, there are a number of uniquely creative options that take tennis bracelets to a whole other level of artistry and fashion. 
Styling Women's Bracelets
When it comes to styling bracelets, many modern fashionistas lean heavily on their instincts. And why not? No one knows you better than you. Still, it can help to know some of the fundamentals of bracelet styling. 
First, when selecting what piece to wear, always consider the expected environment. When at work, it's best to avoid noisy bracelets that might be disruptive. For professional settings, consider something simple and stylish that speaks to your unique personality. While less is more in professional settings, you can still show off your style in a fashionable, understated way. 
Another general suggestion is to contrast your bracelet with your outfit. If you're wearing a stylish ensemble, for instance, consider a more neutral bracelet. On the other hand, if you're donning a neutral outfit, add some interest by slipping on a statement bracelet.
At the same time, don't be scared of thicker bracelets. Whether you're painting the town red or sitting down for a quiet dinner with friends, a chunky bangle can really make your outfit shine.
As for stacking bracelets, you should never be scared to experiment. Try on a few bracelets with different patterns, colors or widths. Several contrasting bracelets can blend beautifully with the right outfit. Always remember that it's your unique style you are trying to flaunt, so trust your own judgment and make your own personal statement.
As you mix and match, consider blending metals to add intrigue to your look. The safest way to mix is by blending similar shades. For instance, a gold bracelet can look especially striking when mixed with a deep brown bangle. If you really want some diversity, however, you can also mix different styles of bracelets or an elegant watch. 
When it comes to matching clothing with bracelets, consider the color of your outfit and choose a bracelet that complements or contrasts with it. For example, if you're wearing a black or white outfit, a bold and colorful bracelet can add a pop of interest.
You should also consider the style of your outfit and choose a bracelet that complements it. If you're wearing a bohemian-style outfit, for instance, a bracelet with beads can enhance the overall look. Whatever your outfit, don't be afraid to mix and match and multi-layer bracelets to create a textured look.
Ultimately, creative bracelet styling means finding a cohesive look that reflects your personality. If you're having trouble coming up with ideas, the expert jewelry consultants at John Atencio can lead you in the right direction. 
Whether you're shopping for that special someone or treating yourself, you can't go wrong with a stylish bracelet. Masterfully crafted using fine metals and exquisite gemstones, John Atencio's artistic pieces are available in a wide array of one-of-a-kind designs and styles. 
Browse online or visit any John Atencio location, where our consultants can help you find the perfect women's designer bracelet to elevate your look and complement the jewelry you wear every day.