How to Determine Ring Size
engagement ring, engagement rings, ring size
7/25/2022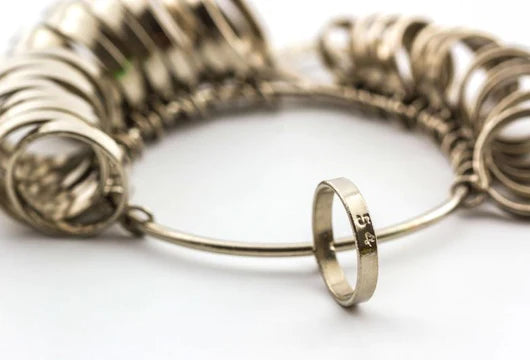 An engagement ring is a symbol of your love story and a reflection of her one-of-a-kind style. It is also an everyday jewelry piece that needs to be comfortable and perfectly sized. But what if you're planning a surprise proposal? Here's how to find their ring size without raising suspicion.
Why Is Ring Size Important?
While a perfectly sized engagement ring can feel like an extension of your beautiful love story, an improperly sized ring can cause a wide range of problems.

If a ring is too large, it can be uncomfortable and even dangerous. When the piece is constantly slipping off her finger, she could run the risk of losing it. And if it is particularly loose, it could get caught on something and end up causing an injury. On the other hand, if the ring is too tight, it will be uncomfortable, cut off circulation and cause actual physical pain.

When a ring doesn't fit correctly, it also tends to look less attractive. An oversized ring can look tacky, while a small ring can look like a child's toy on your finger. A ring that fits correctly, however, will look just right. It will be a sleek and elegant addition to your outfit and not an embarrassing distraction.

In some instances, a poorly fitted ring can give people the wrong idea about your relationship. If, for instance, she is constantly having to remove the ring during activities to keep it from slipping off and becoming lost, people may incorrectly assume there are problems within your relationship.

Whatever the case, it's best to make sure an engagement ring fits comfortably. But how do you do it without spoiling your surprise proposal?
How to Find Ring Size
Choosing the correct ring size is a fundamental step in the jewelry buying process. A poorly sized ring can be uncomfortable and, in certain instances, hard to resize. We've assembled this informative guide to help you measure or estimate the right ring size for your special someone.

If you spend some time on the internet, you will see a number of tips and tricks that can help you estimate ring size. The best way to get a perfectly accurate measurement, however, is to visit your local John Atencio store, where our knowledgeable jewelry experts can determine the right size for your engagement ring or wedding bands.

If you can't make the trip or want to purchase a ring as a surprise gift, you could try to determine the proper ring size on your own; however, it's generally best to avoid guessing so you won't have to resize the ring later.

If you want the ring to be a surprise, you can try locating an existing ring that fits well and then bring it to John Atencio, where our jewelry experts can use it to help determine the right size for your new ring. If you can bring the person with you, a John Atencio expert can use a finger-sizing gauge to determine an accurate ring finger size. These special tools are marked in whole and half sizes. The narrow-finger sizing gauges measure fingers for narrow rings such as narrow bands or solitaire rings (up to 4 mm in width). The size of a ring finger is typically recorded in millimeters to ensure a very precise and comfortable fit.
Ring Sizing Tips
When it comes to sizing a ring, everything depends on the individual person's unique physiology. The average ring size in the U.S. is 6, but this will vary a lot based on the individual person's build. To ensure an ideal fit, there are some considerations you should make when choosing a ring size:


Always account for the width of wedding bands or "stackable rings."
Use an existing properly sized ring on the finger that you would like to measure.
Be sure the ring will fit snugly enough to stay on but loose enough to remain comfortable and fit over the knuckle.
Since some people have differently sized ring fingers on either hand, it's important to remember that engagement rings and wedding bands belong on the left-hand ring finger, while fashion rings can be worn on either hand.
Ring Resizing
When rings don't fit a finger well, they may need to be resized. A jeweler can typically resize a ring in a couple of weeks; however, it can take longer if the ring has an intricate setting or is especially delicate.

If you just can't seem to get an accurate idea of your partner's ring size, it's generally best to purchase a ring a bit larger. This is because sizing down is usually less complicated than increasing a ring's size. Since jewelers have to add more material, it also tends to cost more to make a ring bigger than to reduce its size.

At John Atencio, we craft our beautiful ring designs in standard stock sizes. We find that this sizing is typically a good fit in most cases. Usually, we can size our rings up or down 1½ sizes from our stock sizes. If a ring size is beyond the 1½ up-or-down rule, we can custom create the ring at our production facility to ensure a perfect fit.

Our experts can show you how to choose the exact right ring size and match the right metal and precious gem. Make an appointment at one of our convenient locations to meet with our attentive, knowledgeable team.
How Do You Find Out Someone's Ring Size?
One of the trickiest parts of any proposal is making sure you have the right ring size. It's usually something you don't think about until you begin ring shopping – then the panic sets in. What size ring does he or she wear? You can't remember if you know this fact somewhere in your head or if it's never come up before. You've probably bought your partner jewelry but maybe not a ring, so it's time to figure out the right ring size before you get down on one knee.

John Atencio is here to help you get over this hurdle. Here are some ways to figure out your significant other's ring size so you'll be prepared when you find the ring of your dreams and get ready to pop the question.
Focus on the Right Finger
When determining someone's engagement ring size, always use the left-hand ring finger as your guide. Fingers come in different shapes and sizes, and since this is where the ring will live, it's the best option for sizing an engagement ring.
Bring an Existing Ring to John Atencio
When they're not looking, try bringing in one of their existing rings to have it sized. Our expert consultants are constantly helping people find the right ring size in secret. While you're here, you can walk around and see if any engagement rings might be the right fit. Just be sure the existing ring fits well before using it as a guide.
Trace the Ring
This may not be the most scientific way to find the right ring size, but it can work in many instances. If you can't take her ring out of the house without raising suspicion, trace it on a small piece of paper. You can then take this tracing to John Atencio and have it measured for size. We recommend tracing the inside of the ring for the most accurate results.
Create an Impression of the Ring
This takes the concept of tracing a step further. Simply use soap or clay to make an impression of the existing ring. Be sure to thoroughly clean the ring afterward to cover your tracks. Use this impression to have a jeweler help you confirm the right size ring to buy.
Talk to Friends or Family
Ask their friends if they know the right ring size to get. Depending on how close you are to their family, consider asking mom or dad, too. This is the perfect time to drop a hint you're ready to propose and get everyone excited about your future together.
Do Some Impromptu Jewelry Shopping
You can get their ring size without raising too much suspicion by doing some "spontaneous" shopping with your significant other. Have them try on necklaces and bracelets in addition to rings to make it more natural and avoid suspicion. Depending on your relationship, you can even have them try on some of the most expensive engagement rings you can find for a laugh.

Buying an engagement ring is an exciting time for any relationship. Knowing your partner's ring size beforehand just makes the moment that much more perfect. With the tips above, you're on your way to finding the right engagement ring for your partner. But finding the right size is just a small part of the ring shopping process.

While choosing the right engagement ring can feel overwhelming, your experience needn't be that way. At John Atencio, our attentive experts can show you how to choose the right stone cut and carat, along with the perfect metal, setting and size for your special someone. Visit one of our locations where our experts can guide you toward the one best ring for your love story.