How to Measure Engagement Ring Size
engagement ring, engagement rings, ring size
7/29/2022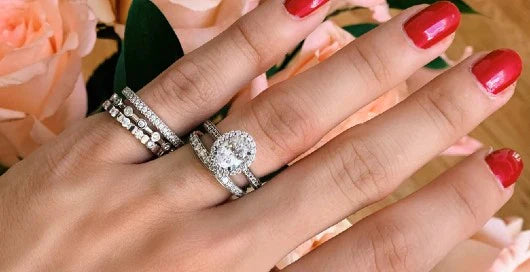 Often underappreciated, ring size is a fundamental step in your shopping journey. An improperly sized ring won't just be uncomfortable; it can also look awkward and force the wearer to remove the jewelry piece during everyday activities.

It's always best to have your finger professionally measured at a local John Atencio store to make sure your ring will fit perfectly. To cover all the bases, however, we've assembled this informative guide to help you measure ring size in the comfort of your home.

A properly sized ring ensures a comfortable fit while eliminating the need for resizing. Unfortunately, it's not always easy to determine the appropriate ring size for someone else, especially when you're buying a ring as a surprise. Ideally, you should have the person's finger measured at a nearby John Atencio location. If you can't make the trip or want to purchase a ring as a surprise gift, however, there are some useful ways you can measure ring size at home.
How to Measure Ring Size at Home
There are a few simple tricks to help you get a decently accurate idea of ring size in the comfort of your home. One way is to locate an existing ring that fits well on the exact finger you would like to measure. Then, you can match the inside edge of this particular ring to the appropriate diameter on a printable ring size chart. You can also simply measure the inner edge of the existing ring and use that measurement (in millimeters) to help determine the right ring size.

If you don't have a tape measure or ruler, you can always use a strip of paper, a piece of dental floss or a length of string to measure the ring finger.

Start by cutting a small strip of flexible ribbon, string, thread or floss. Then firmly wrap it around the finger. You can then compare your measurement with a printable ring sizing chart. Just be sure not to wrap the string around the finger too tightly or the ring will probably be too small.

To help determine proper ring size, it's best to use a ring size chart and printable ring sizer. If you aren't able to print out a ring sizing chart, you can always bring an existing properly sized ring into a John Atencio store and ask one of our attentive associates to measure it.
Why it Matters So Much
A well-fitted ring should sit comfortably at the base of the finger. Ideally, it should slide off easily without being loose enough to fall off on its own. At the same time, it shouldn't be too tight or it could cut off circulation. An overly tight ring can also increase the chances of skin discoloration since rings containing copper or nickel can alter the color of your skin.

Ring sizes are generally measured in millimeters, with every full size separated by .8 millimeters and every half size separated by 0.4 millimeters. Even a fraction of a millimeter can drastically change a person's ring size, so it's important to get accurate measurements.

If you guess wrong, you may need to get the ring resized. If you can't seem to get a good idea of your partner's ring size, it's better to purchase a ring a little larger since sizing down is typically less complicated than sizing up. It can also be less expensive because jewelers have to add more material when increasing a ring's size.
Getting Expert Guidance
Choosing an appropriate ring size is a critical step in the jewelry buying process. A poorly sized ring can be very uncomfortable and, in some instances, difficult to resize. If you're having trouble measuring ring size at home, you can always try to locate an existing ring that already fits well and bring it as an example to John Atencio. Our jewelry experts can then use it as a reference point to help determine the correct size for your new ring.

You can also ask your partner's mother, sister or friends to help get a better idea of their ring size. Even if they don't know, chances are your partner's family or girlfriends will be able to get her ring size without raising a lot of suspicion.

If possible, you can also bring the person with you and have a John Atencio expert use a finger-sizing gauge to get an accurate ring finger size. Whatever the case, our experts will work hard to ensure that your ring is properly sized. If necessary, we can also resize the ring later to ensure a more comfortable fit. Our experts can also show you how to choose a stunning design and match the right metal and gem. Make an appointment at a John Atencio location to meet with our attentive team of thoughtful experts.
How to Find Out Her Ring Size without Asking
Thinking of proposing but don't want to spoil the surprise? You'll need to be sneaky about getting her ring size. But how do you get an accurate measurement without raising suspicion? Here are some tips for determining her ring size without setting off alarm bells.
Sneak it into Conversation
If you have the nerve, consider smoothly asking for her ring size in a casual conversation. Just be careful not to give anything away. One idea is to say you're thinking about buying a ring for your sister or mom but are having trouble figuring out their size. She is likely to give away her own ring size during the conversation. If not, you could ask her to tell you her size to help you get a better idea of what the other person's size might be.

If that seems too risky, try to get creative with your conversational topics. There are a lot of ways to execute this tricky maneuver. Just be sure you can engage in a conversation that feels natural and won't leave her feeling suspicious.
Have Someone Else Ask
If you have someone you can trust, consider having them ask her ring size. This can be a lot easier and less stressful than trying to sneak the topic into a conversation. A friend asking about her ring size is far less obvious than if you were to ask. She's unlikely to suspect that you asked someone to get in on a proposal. This will allow them to gather the all-important info in a more direct way.


Bear in mind that this technique will work best if your accomplice uses tact. If they bluntly ask what her ring size is, odds are you will receive a more accurate answer. The more direct they are, however, the greater the risk. Be sure you choose someone who knows how to be somewhat discreet, or they could end up blowing the surprise.
Practice Patience
Choosing an accurate ring size is a key step in the jewelry buying process. An improperly sized ring can be uncomfortable and, in certain instances, difficult to resize. The best way to ensure that a ring fits is to get an accurate finger measurement using a finger-sizing gauge. Unfortunately, this act is liable to raise suspicion in most instances.

If you ask your fiancé-to-be to accompany you to a jewelry store to have her finger measured, alarm bells are sure to go off. One way to avoid this is to put some time between the measurement and the proposal. For example, maybe you go to a movie and then do a little window shopping. Casually suggest that the two of you enter a jewelry store to look around and then have her finger measured in case you want to buy her a gift at some point in the future.

Even if she suspects something, these feelings are likely to pass if you wait a few weeks or months to pop the question. You could even follow through with your excuse by purchasing her a fashionable designer ring or another jewelry piece as a gift to help throw her off a bit.
Err on the Bigger Side
It really isn't that big a deal if you need to get an engagement ring resized in the days following your proposal. If you don't have an exact measurement, however, it's always best to size up. This is because downsizing is less complicated than expanding a ring's size. Since a jeweler will need to use more material, it will also usually cost more to make a ring larger than it will to reduce its size.

A jeweler can usually resize a ring in just a few hours. If a ring is especially delicate or has an intricate setting, however, it may take a few weeks.
Try Not to Stress
While we all dream of a magical proposal, perfection isn't an achievable goal. In most instances, proposals are somewhat expected, especially if you've been in a relationship for some time. Generally, it's the timing and circumstances of the moment that generates the greatest surprise.

Even if you ask her ring size, she will never know when the moment is coming. This can create pulse-quickening anticipation that conjures feelings of excitement which can actually enhance the entire experience.

Whether you choose to be direct or sneaky, try not to stress about getting the perfect ring size. If possible, bring the person with you to John Atencio and have one of our experts use a finger-sizing gauge to measure her ring finger size. You can also use our convenient ring sizing chart to help you get a better idea of her size.

If you'd rather guess to preserve the surprise, we can always resize the ring later to ensure a perfect fit. We can also show you how to select a stunning engagement design and match the right gem and precious metal. Make an appointment at a John Atencio location to talk to our attentive team of jewelry experts.