Engagement Ring Trends for 2023: Princess Cut Diamond and More
diamond engagement rings, engagement rings, princess cut diamond engagement rings
2/3/2023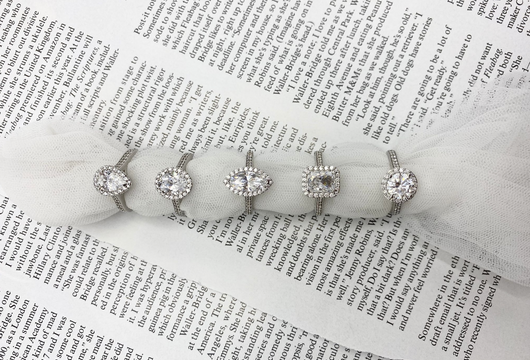 The love of your life deserves a ring that meets the moment. But how do you choose a piece that reflects their personality and style? While ring preferences are a matter of personal taste, it helps to know the current trends. From vintage-inspired styles to alternative gemstone designs, here are the engagement ring trends making big noise in 2023.
Vintage-Inspired Rings
One of the biggest engagement ring trends of 2023, vintage-inspired designs have captured the attention of countless modern brides-to-be. Made to resemble styles from a bygone era, classic engagement ring designs traditionally feature a diamond with a round, princess or oval cut. 
Depending on the individual design, some will have more ornate features, while others can be more understated. The most popular current trend is actually an updated retro style featuring a high-quality princess cut diamond. 
Developed in the 1960s, princess-cut diamond rings deliver that once-in-a-lifetime fairy-tale feeling for modern brides-to-be. With remarkable brilliance and sharp, distinct lines, these elegantly cut square shapes illuminate a diamond gemstone's internal fire. 
Characterized by their exquisite geometric square shapes, princess cuts have strong, angular lines and pyramidal shapes that include four evenly beveled sides. With most angular diamond shapes, such as emerald and Asscher cuts, you won't get brilliant scintillation because their step cuts yield flashes of light instead of fire. The princess-cut diamond is different because it yields an incredible amount of fire. This makes it a trendy choice for modern brides who want a uniquely alluring throw-back style with the modern qualities of today's glittering gem cuts. 
When it comes to selecting a princess-cut diamond ring, there are a number of alluring options. Unlike round-cut gems, the princess cut is not standardized, allowing you to choose the traits that deliver the look you want. Whether it's eye-catching fire or smoldering scintillation, princess-cut diamonds bring vibrant versatility, especially in the hands of a creative artisan like John Atencio. 
With distinct architectural lines, John Atencio's princess-cut engagement rings truly stand out from the pack. Discover some of our best princess cut diamond engagement rings.
Rings With Colored Stones
Colorful gemstones have become a growing trend in engagement rings, and we expect this to continue in 2023. Radiating brilliant hues, gemstone engagement rings glitter with vibrant color. Available in a broad rainbow of options, these gorgeous diamond alternatives have become a trendy force among many modern brides-to-be.
Enchanting contemporary ring designs, colorful gems shimmer with striking facets and breathtaking depth. Whether you enliven your ring with a plum-colored amethyst, bold blue sapphire, regal-green emerald or fancy colored diamond, the results are incredibly eye-catching, especially when the colorful center gemstone is accented with fiery white diamonds.
Black diamonds are another trendy way to add depthless color to an alternative engagement ring. Commonly called "fancy blacks," these alluring gemstones are 100% real diamonds that attain their color from a substantial number of tiny mineral inclusions such as pyrite, graphite or hematite. Twinkling with intrigue, mystery and intense allure, black diamond rings have become a popular choice for a growing number of women.
Bezel Settings
One big trend in the engagement ring world centers on how the diamonds are held in place. Known as a bezel setting, this trendy look operates differently from the traditional prong setting. Instead of using a sort of claw-style action to secure the gemstone, a bezel essentially consists of a single ring of metal that surrounds the entire circumference of the diamond.
The sleek and contemporary look of covered edges provides a minimalist style you can't generally get with traditional prong settings. A bezel is trendy among brides who like the style of a solitaire engagement ring but not the profile. It's also popular with women who want more ring and less bling. 
In addition to protecting gemstones better, a bezel setting can help disguise small inclusions more effectively. On the downside, it can sometimes make a diamond look a little less sparkly and, in some instances, somewhat smaller. A creative designer can minimize any negative effects by setting the gemstone higher on the band.
Chunky Bands
Thick bands are another style having a moment right now — and for good reason. Chunky band styles are more durable, and with certain diamond settings, they can bring more brilliance. 
Whether you prefer a split band style, single row, or a three-row pave setting, the increased support of a chunky band provides more room for more diamond weight. 
In the right hands, a thick band can set a foundation for a stunning work or wearable art. Using more metal than other designers, John Atencio crafts artful ring designs that provide that reassuring weight modern brides love. 
Pear and Oval Rings
Essentially a longer-cut round diamond, oval- and pear-cut diamonds are known for their brilliant facet patterns. The longer cut makes the gem appear larger while also making the finger look longer and thinner. An elegant choice for non-traditional engagement rings, oval and pear cuts are becoming trendier among modern brides-to-be because they look bigger at smaller carat weights. They can also be more affordable in many instances. 
While many other fancy-shaped diamond gemstones sacrifice brilliance, oval and pear diamond engagement rings are quite brilliant since they essentially feature a slightly modified version of the round brilliant cut's radiant faceting pattern.
Cluster Stones
In search of a true showstopper that will elevate your proposal? More and more brides-to-be are coveting the awe-inspiring beauty of multi-diamond engagement rings. 
Arranged together, smaller diamond gems can sparkle just as well as a larger diamond covering the same surface area. But the big advantage of a cluster is its ability to create the illusion of a larger gemstone at a lighter cost.
Packed with dazzling diamonds, these scintillating pieces stand apart from the traditional solitaire. Shimmering with mesmerizing fire, cluster diamond engagement rings shimmer and shine, just like your beloved bride-to-be. 
Mixed Metals
Once frowned upon, mixed metal engagement rings have become a force in the jewelry world, as brides look for ways to add intrigue to their rings. Combining multiple metal types adds a fresh, modern flair, creating balance and excitement that keeps your fingers from feeling too formulaic.
As modern engagement rings continue to defy tradition, a growing number of brides are looking to customize their rings with personalized designs that include varying metal colors. In the hands of an artist like John Atencio, a uniquely designed ring can harmoniously blend refined white gold with timeless yellow gold or blush rose gold for a romantic feel. 
Mixed-metal engagement rings can run the gamut from subtle mixtures to major contrasts. Customizing an engagement ring at John Atencio allows you to add your personality to the piece and ensure that you won't see anything similar on someone else's finger. Whether you want to personalize a design from scratch or customize an existing ring style, John can help you design a beautifully blended metal ring that meets his highest standards for quality.
Step Cut Diamond Rings
Stylish and striking, step-cut diamonds are trendy at the moment. Because the cut preserves more of the rough gemstone's carat weight, the final cost tends to be less than brilliant cuts. And while step cuts do tend to sparkle less, they provide a superior showcase for a diamond's clarity.
The most popular step-cut diamonds are Asscher, emerald, carré and baguette. All are cut with square or rectangular facets that graduate from the gemstone's face like steps. The Asscher cut has a square shape that includes X-shaped facets from its center culet out to its corners for mesmerizing sparkle. 
Baguette diamonds are a rectangular step cut that can have tapered or straight edges. The carré step cut, on the other hand, is a square-shaped diamond with facets that can resemble a pyramid when observed from above. 
Flaunting longer, rectangular shapes, emerald cuts have carefully chiseled step cuts with cropped corners and gorgeous flashes that create a compelling "hall of mirrors" effect. 
With a square to slightly rectangular outline, princess cuts differ from the traditional step-cut configurations of Asscher and emerald cuts by having extra facets that create more brilliance and scintillation.
Popular with brides who seek bigger diamonds at lower prices, many step cuts will look bigger than other diamond shapes of similar carat weight.
While trends come and go, your ring should be a family heirloom that never goes out of style. When it comes to choosing an engagement ring, there are so many options. John Atencio's thoughtful experts can take the stress and guesswork out of the selection process, leading you to the perfect ring based on your bride's preferences and style. Visit one of our convenient locations and let us help you find the perfect engagement ring in Denver and the surrounding areas for your monumental moment.