How to Make a New Engagement Ring out of Your Treasured Family Jewels
diamond engagement ring, diamond engagement rings, engagement, engagement ring, engagement ring shapes, engagement ring styles, engagement rings, family jewels, gemstone engagement ring, vintage jewelry
9/5/2022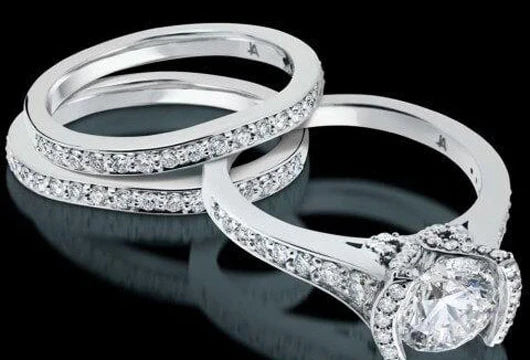 Choosing the right engagement ring is one of the biggest decisions you can make. This makes it a nerve-wracking experience for most people. Some simply choose their mother's engagement ring, especially if it's a treasured item that's been passed down for generations. Others prefer something new and creative that reflects their partner's unique personality.

Still, others get the best of both worlds by creating a brand-new ring using their treasured family jewels. Here's how you can incorporate your family jewels into a vintage-inspired engagement ring that's informed by the past and inspired by your beautiful future together.
What Are Vintage Inspired Engagement Rings?
More affordable than decades-old vintage rings, vintage-inspired engagement rings mimic vintage and antique rings from the past. Quite often, they will include diamonds and gemstones passed from one family member to another, generation after generation.
Sometimes these rings will feature metals, shapes and other characteristics that are throw-backs to popular trends from bygone eras. In many instances, these rings can be recreated with the family jewels to look like your grandmother's engagement ring or your mother's wedding ring.
Using the Family Jewels to Create a Vintage-Inspired Engagement Ring
By working with a renowned jewelry designer like John Atencio, you can recreate a vintage look with a unique engagement ring that stands out for all the right reasons.


While there are many traditional engagement rings styles available on the market, most brides want something original. Vintage- and antique-inspired engagement rings bring beauty and grace you won't always find in modern styles.

Designing the ring around the family diamonds or gemstones, John Atencio can create a brand-new, vintage-inspired ring according to your preferences.

Bear in mind that vintage-inspired engagement rings aren't just for those looking for something "older looking." You can mix and match shapes, styles and colors to create something bold and modern that still maintains a vintage feel.
Other Ways to Restyle Your Family Jewels
Whether it's popping the question with a grandmother's ring or passing down a ring from one generation to the next or, jewelry is a big part of American family traditions.

But there's another way to incorporate the family jewels into your engagement. It's called restyling, and it's a great way to add a touch of tradition to a modern engagement ring.

If you're looking for a way to carry on the family tradition with jewelry, here are a few ways to restyle your family jewels and carry your grandmother's or mother's spirit along with them.
Go with a Different Type
Looking for an easy way to restyle something that's been in a family for generations? Simply use the stone from the existing piece in an entirely new ring style. Work alongside John Atencio's expert consultants to create a custom design that gives a nod to the past while embracing your future together.
Swap Out Metals
Rings are often made up of multiple pieces that combine to create a gorgeous piece of jewelry. When restyling your ring, you can change up the metal to create a new look from the shank to the prongs to the band itself. Consider moving from yellow gold to white gold or from platinum to gold. You could even add an inner band for some additional flair. Rose gold is hot right now and pairs well with diamonds of all shapes and sizes.
Change the Setting
One of the most vibrant ways to rejuvenate a diamond or gemstone is to change its setting. This is a great way to breathe new life into a grandmother's or mother's gemstone, keeping a part of them with you and adding a little bit of yourself to a piece of jewelry.

While the prong setting has been the go-to in the jewelry world for decades, consider a bezel or pressure setting for a full diamond or gemstone. If you have smaller stones to work with, the pave or invisible setting are gorgeous options to design around.
Add a Message
Looking for a way to add a distinctive touch to a ring? Try customizing the piece with a message, such as an important date or a nickname for your loved one. Consider personalizing your family jewels by adding a message that only you or your loved ones will recognize for a special touch. During the process, get the ring polished and buffed up so it looks like new. You'll be surprised by the grime that builds up over the years on older rings.
Restyling Your Ring
Not sure how to restyle a treasured family ring? Talk to your family and see what types of engagement and bridal jewelry they wear to get inspiration. Look through their jewelry boxes. Hear the stories behind the different pieces of jewelry and the meaning behind them to understand the power one ring has for the rest of someone's life.

The more you learn the easier it will be to find inspiration. There are many traditional looks to engagement rings, but that may not be the right fit for your bride-to-be. If you're not sure where to start, try working with a creative ring designer like John Atencio.

John truly shines when he works on a piece of jewelry from a family's collection. He understands how jewelry touches each member of the family and why these pieces are passed down from person to person. By working with John, you can restore those treasured pieces or create something new altogether.

Bold lines. Fluid form. Balanced dimensions. At John Atencio, we craft unique statement pieces and wearable art, made by hand from start to finish, using the finest materials — all with impeccable attention to detail. Whether it's one of John's distinctive designs or a custom ring created with you in mind, every piece embraces the organic design and flawless craftsmanship that is signature John Atencio artistry.

Keep your family's legacy alive while embracing your future. Shop online or visit one of our locations and let our knowledgeable experts guide you toward the perfect jewelry piece for your one-of-a-kind style.
Listen to our podcast episode on what to look for in an engagement ring.