How to Re-style Your Family Jewels
Jewelry Design & Trends
10/7/2019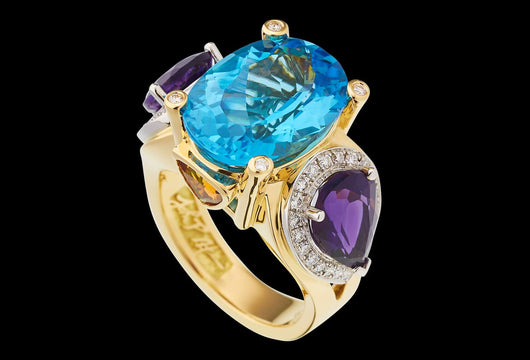 Who doesn't love to keep family traditions alive? Whether it's passing down jewelry from one generation to the next or popping the question with your grandmother's ring, there's another option many people overlook – re-styling a piece of jewelry from what you have. If you're looking for a way to carry on the family tradition with jewelry, here are a few ways to re-style your family jewels and carry your grandmother's or mother's spirit along with them.
Ways to Re-style the Family Jewels
Go with a Different Type
Using the stone from one piece of jewelry and adding it to another is a widespread practice among jewelers, especially when re-styling something that's been in a family for generations. You can always go with an entirely new ring style, but you can also go to a different type of jewelry. Depending on the stone and how adventurous you are, consider creating a necklace from a ring or vice versa.
Swap Out Metals
When looking at rings, they're often made up of multiple pieces that come together to make a gorgeous piece of jewelry to wear or give. This means you can change up the metal to create a new look from the shank to the prongs to the band itself. Consider moving from yellow gold to white gold or from platinum to gold or add an inner band for some additional flair. Rose gold is hot right now and pairs well with diamonds of all shapes and sizes.
Change the Setting
One of the most vibrant ways to bring new life to any diamond or gemstone is to change its setting. Working with a jeweler to ensure the setting breathes new life into your grandmother or mother's stone is a way to keep a part of them with you and add a little bit of yourself to a piece of jewelry. While the prong setting has often been the go-to in the jewelry world for decades, consider a bezel or pressure setting for a full diamond or gemstone. If you have smaller stones to work with, the pave or invisible setting are gorgeous to design around.
Add a Message
Customizing a piece of jewelry with a message, such as an important date or a nickname for your loved one, is one way to add a distinctive touch to a ring or necklace. Consider adding to your family jewels by adding a message that only you or your loved ones will recognize for a special touch. During the process, get the ring polished and buffed up so that it looks like new. You'll be surprised by the grime that builds up over the years kept in a jewelry box.
Think Outside the Box
Jewelry designers shine when they work on a piece of jewelry from a family's collection. They understand how jewelry touches each member of the family and why these pieces stand the test of time by being passed down from person to person. Work with a designer to restore those treasured pieces or create something new altogether. Whether you have an idea of what you want to do or want to cherish your family's memory by doing something entirely new, rely on a jeweler to help you keep those memories alive.
No matter what type of jewelry's been passed down from generation to generation, what you do with it now will keep your family's legacy alive through the future. Give the gift of jewelry to your bride-to-be, your mother, or your children; just keep giving the gift of jewelry to your loved ones.