Jewelry Insurance and Appraisals: How Important Are They?
engagement ring insurance, jewelry cleaning, jewelry insurance
3/30/2023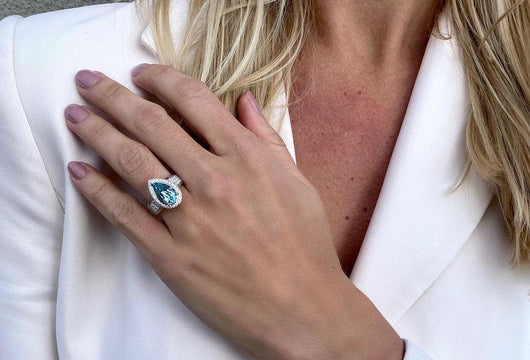 Congratulations! You've acquired a stunning piece of jewelry, or you're planning on it. Have you considered obtaining insurance? From engagement rings and diamond earrings to bracelets and necklaces, jewelry insurance makes sense. Protecting your purchase from damage, loss, theft, and mysterious disappearance is vital because what we often think won't happen certainly can, and homeowner's insurance has its limits.
Having your piece appraised and insured goes hand-in-hand with owning it because valuable jewelry, such as a genuine John Atencio, deserves that protection, and you deserve the peace of mind that accompanies it.
Enjoying 47 years of experience in designing bold and distinctive jewelry, John Atencio is celebrated worldwide for his creations that make that personal statement. Handcrafted with the utmost attention to detail, his designs are sought after for their exceptional quality and beauty, so appraising and insuring these treasures are essential. This is why he advises his customers to insure their pieces with a reputable jewelry insurance company like Jewelers Mutual. 
Obtaining a Stand-Alone Jewelry Insurance Policy is Important
John Atencio believes in the exceptional quality of his jewelry and offers a warranty that covers unintentional defects. A warranty is a wonderful element of jewelry purchase, but it is not to be confused with jewelry insurance, which is a policy that covers damage, accidental loss, disappearance, and theft.
Insuring your piece against these occurrences with a stand-alone jewelry insurance policy is always advised because as diligently as we try to protect our fine jewelry from these circumstances, it's easier than you may believe to damage or lose it in everyday life, and theft is always the surprise that can be a reality.  
Some jewelry owners may believe their homeowner's insurance is just as beneficial as a stand-alone jewelry insurance policy. In truth, a specialized jewelry policy offers benefits that homeowner's insurance does not. Here is how homeowner's insurance may be limited in terms of jewelry protection: 
A deductible may be required, and it's often capped at a much lower amount than the value of your jewelry, leaving you with very little of its financial worth or the total amount necessary to repair it in the event of damage or theft. 
Loss, mysterious disappearances, and worldwide travel are generally not covered. 
Your claim may affect your homeowner's policy, resulting in an increased premium or even cancellation. 
You may be required to work with a jeweler within their network, not one of your choice. 
They specialize in homes, not jewelry. Specialized jewelry insurance is essential.  
Not every jewelry insurer is alike, and when you own exceptional jewelry designed by John Atencio, you want to select the right one. Recognizing the rich history and outstanding coverage provided by Jewelers Mutual, John Atencio facilitates their customers' direct connection with the company in the event they desire a quote or any information regarding their services.
The only company solely committed to insuring jewelry since 1913, a Jewelers Mutual policy is an "all-perils" policy, meaning it covers damage, loss, theft, disappearance, and worldwide travel unless the cause is listed as an exclusion. These exclusions generally include occurrences such as war, intentional acts, vermin and rodents, manufacturer's defects, and general wear and tear. 
A Jewelers Mutual policy is a repair or replacement policy, allowing you to work with your jeweler for repair or replacement while Jewelers Mutual handles the payment. Moreover, coverage limits are customized specifically for your piece based on the recent appraisal, not like the predetermined coverage amount put forth by some jewelry insurers. This is the reason that Jewelers Mutual is such a trusted company and that ongoing appraisals are so imperative.
Know the Value of Your Jewelry with a Jewelry Appraisal
Periodic jewelry appraisals are necessary because precious metal and gemstone values fluctuate, so staying abreast of its value is a must to be properly insured and protected in the event of damage, loss, theft, or mysterious disappearance. John Atencio offers a complete range of appraisal services performed by fully accredited, experienced industry professionals who are experts in accurate jewelry evaluation. 
At John Atencio, we focus on excellence and providing you with the most accurate jewelry appraisal. Whether you need an appraisal on a new piece or an heirloom, John Atencio can arrange for an appraisal at your request. You may also find it convenient to have your jewelry sent out for appraisal at the time you have it sized, inspected, refurbished, or have a stone set.
The appraiser will provide the official documentation that meets all insurance guidelines, as well as the details of the piece so that it may be identified if ever lost or stolen. This document can be used to directly update your jewelry insurance. 
Protect Your John Atencio Jewelry 
When you own a genuine John Atencio, you want to protect it. While wear and tear is a normal occurrence, there are steps you can take to keep your jewelry in good condition, including keeping it in a safe place away from small children and animals. When you are wearing it, take care not to engage in activities that may damage it (i.e., painting, labor involving your hands, etc.).
It's also advisable to use a gentle cleaning solution on your jewelry at home, such as John Atencio Gentle Jewelry Cleaner. Formulated to clean sterling silver, gold, pearls, and fine gemstones, it can help keep your jewelry free of dirt and grime between in-store cleanings.   
To help keep your John Atencio jewelry in the best condition possible, John Atencio offers complimentary in-store cleaning over the lifetime of the jewelry. Simply bring your piece to the store every six months for a cleaning and inspection to ensure the stones are secure in their settings. Annually, John Atencio bridal customers enjoy complimentary professional cleaning, polishing, rhodium finish, and inspection of their wedding jewelry at our licensed repair facility. 
Choose a Lifetime Care Plan
With the proper care, your John Atencio jewelry will be the beautiful heirloom it was intended to be. To further care for your jewelry, John Atencio offers a Lifetime Care Plan from Jewelers Mutual. Available only at the time of purchase, this transferrable lifetime service warranty that is separate from jewelry insurance provides the following at no additional cost for repairs:
Ring Resizing
Rhodium Plating
Refinishing and Polishing
Loss of Stones Due to a Defective Setting
Broken, Bent or Worn Prongs
Broken Clasps, Bracelets, or Chains
Cracked or Thinning Bands or Shanks
Cracked or Chipped Stone Replacement
Broken Earring Posts
Pearl Restringing
Obtaining a Lifetime Care Plan and insuring your John Atencio jewelry is an excellent way to help keep it in prime condition for handing it down generation after generation. 
Appraising and insuring your jewelry is important to guard against its damage, loss, disappearance, and theft of it. John Atencio utilizes professional appraisers who will skillfully appraise your jewelry for insurance purposes.
Questions on the process? A knowledgeable concierge will gladly direct you in the steps toward getting your piece appraised and insured. Because there's nothing like the satisfaction of knowing your favorite jewelry is protected.