Our Picks for Mother's Day Necklaces
birthstone necklace, diamond pendant necklaces, heart pendant necklaces, mothers day
3/17/2023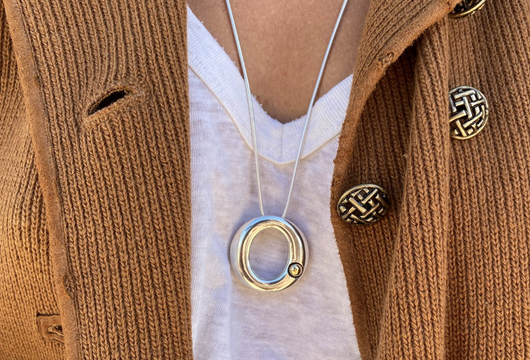 She's been a rock throughout your life, always ready to support you with unconditional love. Now, it's your turn to honor her with a thoughtful gift that's straight from the heart. With Mother's Day just around the corner, we've curated a collection of stylish and meaningful necklaces that reflect mom's confidence, wisdom, honesty and devotion to the family.
Why Necklaces are a Great Choice for Mother's Day Gifts
Stylish and meaningful, necklaces are great gifts that signify your appreciation and admiration for mom. Timeless symbols of love, these stylish pieces are versatile accessories that can be worn with any outfit, making them a practical gift she can wear every day.
With so many styles, materials and designs, necklaces can be personalized and customized to suit your mom's unique taste. Whether she prefers a simple style or a bold, statement piece, a necklace is a thoughtful and meaningful gift she can treasure for years to come.
Our Top Picks for Mother's Day Necklaces from John Atencio
A legend in the jewelry world, John Atencio offers an intriguing selection of uniquely beautiful necklaces for Mother's Day. From minimalistic and elegant pieces to modern, edgy designs, John has something to suit mom's distinctive style. You can even customize your gift with initials or engravings to create a personalized gift meant just for her.
To help you find the perfect piece for Mother's Day, let's look at some of our top gifting options.
Birthstone Necklaces for Mother's Day
Steeped in history and meaning, birthstones hold a special place in the heart. Vibrant and captivating, birthstone necklaces make for a truly meaningful Mother's Day gift, offering a kaleidoscope of colors that add a personalized touch to her style. 
With each gemstone representing a particular birth month, birthstone necklaces are the perfect way to honor your mom's individuality and celebrate her unique personality. Whether she prefers delicate pendant necklaces or bold statement pieces, a colorful birthstone necklace is a timeless and cherished gift that will make her feel special every time she wears it.
John Atencio offers a variety of birthstone necklace designs, including pendant necklaces, layered necklaces and charm necklaces. These designs are crafted using high-quality materials and precious metals, ensuring that your gift will be cherished for years to come. A breathtaking example is John's Arrivo Trillion Solitaire Pendant Necklace.
If mom's favorite gemstone is Rhodolite Garnet (January), Amethyst (June), Peridot (August), Diamond (April) or Blue Topaz (December), this Mother's Day birthstone necklace will truly delight her. Designed for the Arrivo Collection, the stunning Arrivo Trillion Solitaire Pendant Necklace showcases a responsibly sourced trillion suspended on an 18-inch rope chain. She'll love the iconic look of Arrivo, which celebrates the coupling of vibrant gemstones, sterling silver and 14k yellow gold.
Diamond Necklaces for Mother's Day
Glittering with scintillating fire, diamond necklaces are a luxurious gift idea for mom. Timeless and elegant, diamond pendants add a touch of glamor to any outfit. Beautifully versatile, they can be worn with formal wear, business attire and casual outfits. 
A diamond necklace is a stunning addition to any jewelry collection that never goes out of style. Radiating fire, the right diamond necklace is a perfect way to show your mom how much you appreciate her love, devotion and sacrifices through the years.
John Atencio offers an array of breathtaking diamond necklace designs. Each piece is crafted with the finest diamonds and precious metals, making them a true statement of luxury and sophistication. Whether you choose a simple solitaire or a more elaborate piece, a diamond necklace from John Atencio is a stunning and unforgettable gift. Take, for instance, his Lines Small Solitaire Diamond Pendant. 
A contemporary piece that will glorify any outfit, this modern necklace by John Atencio does it with style. Masterfully crafted in 14k yellow or white gold with a dazzling round brilliant diamond, the Lines Small Solitaire Necklace is a beautiful addition to any mother's wardrobe. Suspended on an 18-inch franco chain, the dynamic design will set mom apart and become one of her go-to pieces. Best of all, this exceptionally stylish pendant will always remind her of you.
Heart-Shaped Necklaces for Mother's Day
Worn over to the heart, pendant necklaces are sentimental gifts treasured long after they're given. And when a pendant is crafted in the shape of a heart, it holds added meaning, especially when accented with fiery diamond gemstones. From mixed-metal and texture designs to diamond pendants that sparkle with meaningful beauty, John offers an array of heart-shaped pendants for mom. A fine example is his Entice Gold Diamond Heart Pendant Necklace.
Mom will feel the love every day when you present her with this Mother's Day heart necklace. Uniquely, John Atencio, the Entice Diamond Heart Necklace is handcrafted in 14-karat white gold, with three shimmering bezel-set diamonds and an 18-inch franco chain.
As part of the Hearts and Crosses Collection, this exceptional necklace employs the universal symbolism of the heart to reflect our spirited tenderness for the people we love. Surprise the mother in your life with this special gift of a heart pendant that will give her endless joy.
Unique Necklaces for Mother's Day
Looking for a uniquely special gift for mom? Consider a one-of-a-kind women's pendant necklace from John Atencio. With mixed metal pendants, textured statement pieces and nature-inspired designs, there's a necklace to suit any style.
These distinctive pieces are the perfect way to showcase mom's individuality and let her know how much you care. Two wonderful examples are John's Essence Crown Petite Pendant and Endearment Silver Pendant Necklace.
All mothers should be honored in grand fashion, so give her a necklace that will place her on the pedestal she deserves. A brilliant example of John Atencio's artistry in jewelry, the Essence Crown Petite Pendant Necklace is part of his celebrated Essence Crown Collection. 
Expertly handcrafted in 14k yellow or white gold, this exceptional necklace is available in three sizes, so it's perfect for the mom in your life. Honor the queen of the family with a pendant that will look beautiful on her.
Not to be outdone, the Endearment Silver Pendant Necklace is another meaningful gift that will delight any mom. Inspired by the circle of life made possible by mothers, Endearment features soft contours and fluid lines that blend beauty and simplicity into a uniquely artful design.
Meticulously crafted with sterling silver and 14k yellow gold, this lustrous pendant suspended on a 36-inch snake chain will make her holiday one to remember. 
At John Atencio, we pride ourselves on providing customizable, high-quality fine jewelry that celebrates the love and bond between mothers and their children. Whether you prefer to shop online or visit one of our local stores, our friendly and knowledgeable jewelry consultants are always available to assist you in finding the perfect gift. We also offer affordable financing options and gift cards that allow mom to choose jewelry that matches her unique fashion sense.
Our New Spring Collection + Look Book
The John Atencio Spring 2023 Brochure is live online and in stores. It is a perfect way to experience Spring and What's New for Mother's Day 2023 at John Atencio firsthand.