Make it a White Winter with White Gold Jewelry
white gold, white gold bracelets, white gold earrings, white gold jewelry, white gold necklaces
12/28/2020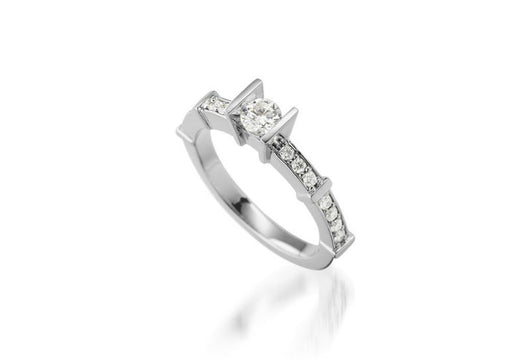 Refined and fashion-forward, white gold jewelry has become popular for its cool sophistication and modern, silvery sheen. Here's everything you need to know about this contemporary favorite, from white gold necklaces and earrings to engagement rings and wedding bands.
What Is White Gold?
Originally developed to imitate platinum, white gold is a blend of pure gold and white metals, such as silver, nickel and palladium, usually with an added rhodium coating. While it is real gold, the alloy includes other metals to create its pale appearance and increase its durability.

The value of white gold jewelry will generally depend on the karat (14K vs 18K) and exactly how much metal is used to craft the jewelry piece. The price of white gold rings can vary from about $200 for a basic solitaire to $2,500 for intricate vintage ring settings. The actual cost will depend on the vendor, the ring's design and the amount of white gold included in the piece.
Why is it Mixed with Alloy Metals?
In all gold jewelry, pure gold must be mixed with harder types of metals for added strength and long-term durability. Though valuable, pure gold is a soft metal that will easily bend out of shape without the inclusion of harder alloy metals to keep it rigid.

For white gold, in particular, silvery-colored alloys are added to create the desired white color. Apart from these alloys, white gold jewelry is also coated in a precious metal called rhodium, which comes from the same metal family as platinum. In addition to adding even more strength and durability, this rhodium layer adds a lustrous white surface sheen.
What Makes White Gold Appealing?
White gold offers a number of benefits that make it a popular choice in the jewelry world. These include:
It's more affordable than platinum.
It's currently trendier than yellow gold.
It is alloyed with stronger metals, making it more durable and scratch-resistant than yellow gold.
It complements clear white diamonds better than yellow gold.
It looks great with rosy and fair skin tones.
Spectacularly stackable, white gold jewelry beautifully complements other jewelry in different colors of gold, making it easy to mix and match with the jewelry pieces in your existing collection. Styles such as white gold pendant necklaces, hoop earrings, chains and bangles can be worn again and again in all sorts of different settings.

On the downside, white gold needs to be dipped every few years to retain its luster and color. Because it often contains nickel, white gold can also cause allergic reactions for some. In other words, the metal is not hypoallergenic unless it has been mixed with alloy metals other than nickel.

Many people prefer lustrous white gold over platinum due to cost. Platinum is much denser, purer and heavier compared to gold alloy mixtures. It's also around 30% rarer. Although a plain, white gold engagement ring or wedding band will cost less than the same band in platinum, it is still a great investment because it is a beautiful and classic precious metal.

Because it's more malleable, white gold is easier to customize. It's also usually available in a wider selection of styles, making it easier to find a ring or jewelry piece that suits your partner's unique taste.
Is White Gold Right for You?
While white gold yields stunning jewelry, it comes with a few considerations. The clean pale color of white gold looks quite striking alongside white, colorless diamonds, making it a popular choice for diamond engagement rings. However, the bright white luster can emphasize any yellow tint of diamonds with low color grades.

When choosing the right precious metal for your jewelry, it's important to get guidance from an expert to help you understand the color relationship between gold, diamonds and other precious stones.

At John Atencio, our experts can show you how to choose and match the right metal and precious gem. Make an appointment at one of our locations to meet with our attentive, knowledgeable team.