Why Design a Custom Engagement Ring with John Atencio
custom engagement ring, custom jewelry, custom ring process, engagement ring
6/7/2022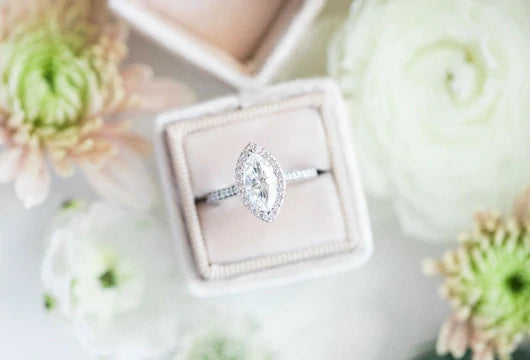 Finding the love of your life is one of the world's most beautiful things. When you're ready to pop the question, it's natural to start thinking about the perfect engagement ring. Since your love is one of a kind, her engagement ring should be too. Here are some compelling reasons to choose a custom engagement ring, along with some tips for showcasing your love with a one-of-a-kind design.
Why Opt for a Custom Engagement Ring?
A Unique Reflection of Your Love
Nobody knows the love of your life like you. What better way to show it than by giving her a one-of-a-kind engagement ring? When you customize an engagement ring, you're in charge of how the ring looks and feels.

While many people simply walk into any jewelry store and buy preset rings; most don't realize that it's possible to use preset rings as a starting point or inspiration for a customized piece that's one of a kind. In fact, too many couples don't even realize that expert jewelers, such as John Atencio, will work with them to create a customized engagement ring from start to finish.
Knowing Your Options
When it comes to designing a customized piece, many people don't know where to start. It helps to do some legwork to better assess your available options.

Read up on engagement ring styles on Pinterest or Instagram and view pre-made pieces to get some inspiration. Learn everything you can about what you're about to buy; it will help you choose the customization options for a ring and understand what can and can't be done. From there, you can take what you've learned and work alongside a John Atencio consultant to design a unique piece that helps you celebrate your love.
A Mutual Celebration
Customizing an engagement ring allows you to add a little bit of both your personalities to the ring. Whether you're personalizing a design from scratch or customizing an existing engagement ring style you love; you can add a little flair that shows you know one another. You may be giving her the ring, but it'll have a touch of both of you when she wears it.
Consider Alternative Gemstones
Most engagement rings will come with a diamond. This is the traditional type of engagement ring on the market. That doesn't mean you have to buy a diamond engagement ring. If your girlfriend prefers a specific gemstone, consider saving the diamonds for the wedding band and go with her favorite alternative gemstone for a customized engagement ring. Emeralds and sapphires make uniquely eye-catching engagement rings, especially when enhanced by luxe diamond accents.
Personalized for Eternity
Did you know most engagement rings, and jewelry in general, can be personalized in one way or another? For rings, you can engrave your name, important dates, or even a special message. When considering engraving an engagement ring, think of key dates, things you say to one another, or other important moments in your relationship for inspiration.

Customizing an engagement ring is one of the many ways you can show her she's special and unique while creating a ring that reflects her style and personality. When you're ready to get down on one knee, think outside the box and customize her engagement ring with John Atencio, who can help you create a unique expression of love.
Custom Engagement Ring Options: A Ring That's Unique to You
One of the benefits of working with established experts in the jewelry business is being able to bring to life your vision of the ideal wedding or engagement ring. Every loving relationship is unique, and John Atencio celebrates this with custom rings inspired by the passion and beauty that is integral to love itself.

You might be surprised to learn what modifications can be made to your John Atencio ring of choice. There are four key areas where your customized ring preferences can be incorporated into the final design. These areas include:
Choice of precious metal
Ring style
Gemstone size and shape
Personalization through engraving
Because we want you to be thrilled with your ring selection, we put the power of customization into your own hands. And with the close counsel from the jewelry design professionals at John Atencio, the resulting ring will be an iconic representation of your love for each other.
Choosing a Precious Metal
As you may already know, higher karat ratings for gold represent higher purity of elemental gold in the ring itself. However, karat ratings above 18 aren't necessarily ideal for most rings. The reason for this is because pure, 24-karat gold is actually very soft, making it prone to denting or wearing over time.

For this reason, 18-karat gold is the perfect choice for most rings and the standard for all John Atencio bridal rings. Variations within 18-karat gold ring styles include:

White and yellow gold combination: This choice results in a ring that shimmers and glows similarly to yellow gold, but with an enhanced whiteness that many find irresistible.

White gold: Technically speaking, white gold is an alloy that uses at least one kind of white metal in its composition. These white metals can include nickel, silver or palladium. White gold is preferable for those who want classic ring styling without committing to a gold hue.

Yellow gold: Ah, the timeless beauty of yellow gold — it simply cannot be put into words. Yellow gold is often imbued with either copper, silver or a combination of both in order to produce a striking, colorfully powerful gold ring.

Rose gold (or white/rose gold combination): Not to be confused with red or pink gold, rose gold is a gold and copper alloy that has a warm, vibrant color that is perfectly suited to a diamond setting.

Platinum: Platinum is more ductile but less malleable than gold, making it slightly more challenging to work with. However, the extra effort results in a truly stunning ring that has a shine and brilliance all its own.
Choosing a Ring Style
Choosing the style of ring that best reflects your personal taste can take some time. There are dozens of options, and they each have their own distinct, timeless look.

Bridal Ring designs from John Atencio reflect his unique artistry and commitment to craft. They fall under three main categories: modern, classic, pave or solitaire. When choosing your ring style, it's highly advised that you work directly with one of the experts at John Atencio. Our attentive consultants will walk you through all of your options and answer any questions along the way.
Choosing a Center Gemstone
Let's talk diamonds.

Cut, color, clarity, and carat weight are the 'Four Cs' that determine the value and brilliance of a diamond. Some diamonds can be exceptionally large in size yet without the color or clarity that a smaller diamond of a similar cut might have. Then again, an 'ideal' cut diamond might not be the perfect aesthetic or fit for the setting you're considering.

At John Atencio, our goal is to help you customize a ring that strikes the perfect balance of precious metal choice, ring style, and gemstone selection — all within your budget. So, for example, if a princess cut diamond is more appealing to you than other diamonds, we'll make sure that the setting and ring style coordinate with it.

We know the choices you make in the customization of your ring are very important. To get the most out of your investment, we'll work with you one-on-one until the perfect ring is determined. Ready to get started? Contact us today, or visit one of our Colorado showrooms to learn more.
How Long Does It Take to Make an Engagement Ring?
You're ready to pop the question and wondering how long it will take to make a personalized engagement ring. When you want to give her a custom ring that's as special as she is, several elements come into play.

Making a custom engagement ring involves many factors, from choosing the right setting, metal, center stone and side stones to the actual crafting process. It takes more time to custom-create the perfect ring, so it's best to begin the process as soon as you find the perfect bride. Customizing a stunning engagement ring that will wow her is fun and easy at John Atencio, who has the skill and experience to bring your boldest vision into the real world.
John Atencio Is World-Renowned
Choosing an engagement ring from John Atencio is a wise decision because of his extensive experience, his devotion to impeccable quality and his honorable sustainability practices.

With a half-century of experience, acclaimed artist and designer John Atencio is known the world over for designing distinctive statement jewelry that marks life's most important milestones. With unyielding care, John takes the time to sketch every piece on paper, envisioning his designs from his own rich experiences and inspirations.

A firm believer in creating the highest quality statement jewelry with the finest, responsibly sourced materials, John crafts stunning, one-of-a-kind designs. Discover more about the man who can craft a breathtaking jewelry piece she'll keep close to her heart.
The John Atencio Difference
Giving her a John Atencio engagement ring speaks volumes about the love you share because all of John's rings are meticulously crafted for beauty and quality.

John goes above and beyond the typical process of other jewelers, avoiding the practice of using standard settings to fit any size of the center stone. Instead, the size of each John Atencio ring is scaled to precisely fit the center stone you select, resulting in a durable piece with perfect aesthetic balance.

Put short: John believes every ring is unique and his commitment to quality is simply second to none.

Sustainability is also important to John, who takes an ethical, environmentally considerate approach to jewelry design. All of John's rings are created using only recycled gold and gemstones that are either lab-created or responsibly sourced from mines. He is committed to using natural diamonds that adhere to the Kimberly Process Certification Scheme (KPCS), a worldwide movement to prevent exploitation and eliminate the diamond trade used to finance war and human trafficking.

You can find these exceptional diamonds in the convenient natural diamond search and lab-grown diamond search on JohnAtencio.com.

So how long does it take to make an engagement ring that will take her breath away? Read on to discover the John Atencio custom process.
The Customization Process
How long does it take to make a custom engagement ring? From the moment you bring your ideas to a John Atencio boutique to the time of completion, it generally takes a minimum of two months to handcraft a stunning engagement ring.

The following steps detail the process.
Get Some Ideas
The first thing you must do is browse sites like Pinterest and Instagram to find ideas for her custom engagement ring.
Set a Budget
Decide the amount of money you're willing to spend on the perfect custom engagement ring. She'll wear this ring on her hand for the rest of her days, so it's well worth the investment.
Contact a John Atencio Bridal Concierge
Bring your ideas to one of our skilled bridal concierges who will work with you to custom design the perfect engagement ring.
Choose the Metal of the Setting
John Atencio always uses sustainable materials in his creations, so you'll feel good whether you choose gold, white gold or rose gold.
Select the Center Stone and Side Stones
Careful consideration must be used when selecting the center stone and side stones for the ring that will grace her finger for the rest of her days. John Atencio has an exceptional selection of stones, including responsibly mined and lab-grown diamonds in a variety of cuts, as well as fancy yellow diamonds and colored gemstones. After you've decided upon the materials and the setting, a CAD drawing will be created from your ideas and will be presented for you to review.
Wait for the Wax Model
After you've approved the CAD drawing, a wax model of the ring will be created for your review. The process up to this point takes a minimum of two weeks.
Approve the Setting to Be Cast
After you've authorized the wax replica of the agreed-upon design, the actual setting is cast in the metal you selected. This particular process takes a minimum of four weeks.
Wait While the Stones are Mounted
Precise and sturdy placement of the chosen center stone and any side stones will take approximately two weeks. After this process, her custom engagement ring is ready for you to slip on her finger.

Presenting her with an exquisite, custom-made engagement ring is an easy feat that's well worth the few months it takes to handcraft. So, browse Pinterest, Instagram or other sources for ideas and bring them to your nearest John Atencio boutique where a bridal concierge is ready to assist you every step of the way. Because when you give her an authentic John Atencio ring, she'll always wear your love story on her finger.
Can't Wait? Propose Today with a John Atencio Proposal Ready Engagement Ring
If you just can't wait a few months to ask her to be yours, John Atencio offers an amazing selection of Proposal Ready Rings. Meeting the strict standards he also uses with his custom engagement rings, each of these rings is designed in iconic John Atencio style. Set in 18k white gold and paired with an exquisite hand-selected diamond, these stunning engagement rings are the perfect answer if the time to propose is now.
Listen to our podcast episode on what to look for in an engagement ring.