Damascus Steel Rings for Men
damascus steel, damascus steel rings
5/16/2022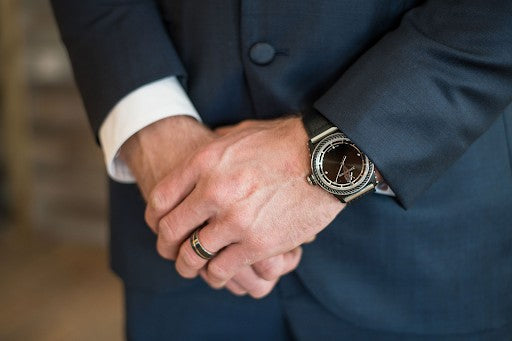 For most men, a wedding ring is more than just jewelry; it's a reflection of who they are. These days, modern men have an exceptional array of options that allow them to select a design that fits their unique style. Whether you prefer cool sophistication or some eye-catching elegance, Damascus steel wedding bands are a great way to add an edge to your sharpest look.
A Legendary Metal
Named for the capital city of Syria, Damascus steel has a compelling history rooted in ancient battles and glory. The striking metal refers to the storied forged wootz crucible steel used to forge razor-sharp medieval knives and swords during ancient times. Reputed to be very durable and near-shatter-proof, the steel could be worked into an especially sharp, formidable edge. The artfully crafted metal is recognized by distinctive patterns that resemble beautiful flowing water, with some versions taking on a ladder or rose mottling.

Made using varying iron alloys, contemporary Damascus steel jewelry is crafted by layering different metals of varying shades (often silver and gray). These contrasting layers are then bonded with high heat and carefully shaped by a complex process that produces beautiful patterns.

These days, Damascus steel makes an impressive men's ring, especially when crafted by a skilled jeweler, such as John Atencio.
The Appeal of Damascus Steel Rings
Whether it's paired with dinosaur bone, meteorite, or classic yellow gold, Damascus steel adds an element of intrigue to men's wedding rings.

From his sleek Eclipse band and compelling Rayo ring to his domed Flattwist band and rose gold Flattwist ring; John Atencio has harnessed the power of Damascus steel to create uniquely compelling works of wearable art.
But what makes Damascus steel such an alluring material for men's rings? Here are some of the reasons modern men are drawn to this ancient metal:
Impressive Durability
Used by ancient warriors throughout history, Damascus steel is extremely durable and very strong. Its scratch resistance and remarkable longevity make it an ideal metal for wedding bands.
Striking Patterns
Another advantage of Damascus steel rings is the various uniquely attractive designs. The liquid-like patterns of the metal provide an eye-catching royal look. And because of the metal's durability and tensile features, those designs will stay intact for decades to come.
Deep History
Damascus steel has a storied history dating back to the ancient world. The process of forging two different kinds of steel numerous times created the world's strongest, sharpest blades used by both the 13th-century Samurai and 11th-century Vikings.
Very Unique
There's an endless amount of personalization that can be done with a Damascus steel ring ranging from added inlays to the actual swirl patterns. Damascus rings are similar to a fingerprint in that no one piece will look the same. Damascus rings can be further customized by adding inlays of meteorite, gold, bone and more.
Easy Care
Damascus steel rings are very easy to clean and maintain. The metal requires minimal upkeep which can easily be done at home. After it is exposed to the elements over time, a Damascus steel ring may accumulate some dirt and grime from daily use. You can have it looking lustrous and new again by cleaning it with simple soapy water.
Well-Priced
Unlike many other men's rings, Damascus steel rings come with a very attractive price point. The metal's longevity and durability also make it a wise investment. Nearly scratch-proof, the steel requires no recoloring or other upkeep. Thus, overall, it can be a highly intelligent purchase at a very reasonable price.

With all that said, there are a few things to consider before you purchase a Damascus steel ring. For one, because the rings are so durable, they cannot be resized. Also, it's important to keep the rings away from chlorine which can damage the finish. Finally, people who are allergic to nickel should not wear Damascus steel rings because, like every other type of stainless steel, they contain small amounts of the nickel.

Searching for a distinctive men's ring that reflects your unique personality? Shop online or visit any nearby John Atencio location, where our knowledgeable consultants can help you find a sleek, sophisticated ring that suits your style. Let our courteous team show you how to select a stylish men's ring with an attractive inlay to honor your walk down the aisle.