Past, Present, Future Rings Show Your Love from the First Ring
Engagement & Weddings, Jewelry Design & Trends
6/1/2020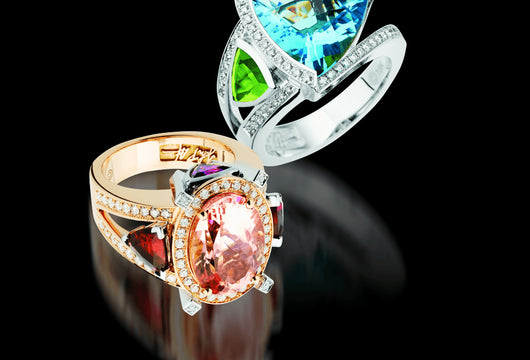 Jewelry tells a story, especially between two people in love. Whether you've been with your partner for years, you married a decade ago, or you're looking to the future, capturing those special moments with jewelry is one way to showcase the love you share. As you decide how to celebrate and remember that love into the years to come, a new type of ring has emerged to do that – the past, present, future ring.
Let's look at this exciting type of ring and how it reminds us of the love we cherish in our lives.
What Are Past, Present, Future Rings?
Past, present, future rings are typically engagement rings that feature three stones symbolizing each part of a relationship with another person. This ring features a stunning gemstone surrounded by two diamonds although many opt for a bright center diamond and gemstones accenting it. Each stone, in its way, represents a part of the relationship and the future it holds.
Three-stone diamond engagement rings and other rings that use the style have always been a part of jewelry design. In the last few years, they've skyrocketed in popularity as celebrities, and big names across the globe show off their engagement with rings designed with spectacular stones that mean something special to them.
As the popularity of this type of style has grown, consumers many have jumped on the trend finding the beauty and uniqueness of the past, present, future engagement ring to be something dear to them. When getting engaged, the feelings and memories that support why you should be with someone often leads you to the perfect engagement ring to pop the question with.
The deeper the love you feel for someone, the harder it can be to find that ring, which is why shopping for the perfect engagement ring can be much more complicated than it seems for some couples. You want to find a ring that symbolizes the love you share and means something to the person you're giving it to – it's so much more than asking them to spend the rest of their life with you.
Giving a past, present, future engagement ring to that special someone in your life tells them how much you cherish the time you've already spent with them. It also shows them how important they are to your life now and that you're ready to spend the future with them.
The ring itself is as important as how you ask them to marry you and the intent behind spending the rest of your lives together. Take the time to find the perfect engagement ring to say I love you.
Visit a John Atencio location to browse our collection of engagement rings and find the most beautiful way to ask her to marry you today.