How to Choose An Engagement Ring Diamond
Engagement & Weddings
5/18/2020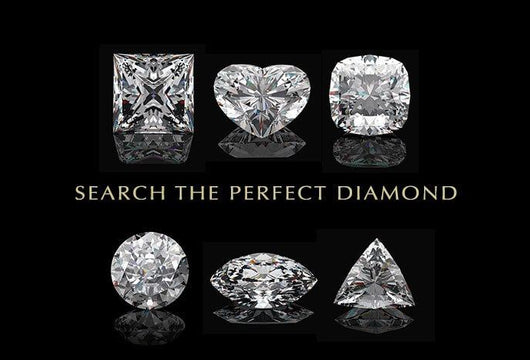 Choosing an engagement ring diamond can be as hard as choosing the engagement ring itself. If you decide to go with a diamond over another type of gemstone, you need to educate yourself a bit on diamonds to ensure you choose the right one for you.
This may be one of the most significant purchases you'll ever make. It'll be one of the most memorable of your life. You want to get it right. Let John Atencio walk you through what you need to know about engagement ring diamonds with our guide below.
What to Consider When Choosing an Engagement Ring Diamond
The number one thing to keep in mind when choosing an engagement ring diamond is what your significant other likes. Understand the type of metals, stones, and styles she loves. From there, you can focus on the nuances of each part that makes up the ring itself – starting with the diamond.
You'll want to begin by choosing the diamond shape. There's a variety of shapes out there. Some of the most popular include round, princess, oval, pear, and cushion. The ring setting itself will determine the best diamond shape to go with it, but if your loved ones prefer a particular shape, you can begin looking for rings that showcase it.
Next, you'll need to consider the diamond size. This is where your budget comes in handy. Engagement ring diamonds average in size at about 1-carat in the United States. A 1-carat diamond can appear too large depending on the size of someone's hands. If your partner wears rings frequently, consider bringing one with you when you shop to compare the size of the stone to some of the diamonds you're looking at. This will give you a better idea of what will be most flattering on her hand.
Keep in mind that many couples are choosing to go with a smaller diamond in an engagement ring and go with something bigger and bolder with a wedding band or anniversary ring down the line. Consider this when selecting a diamond size, especially if budget is a concern when proposing and planning everything that comes after she says "yes."
From here, you'll want to work your way through the 4 C's to ensure the diamond you're choosing is the best it can be. The 4 C's to look for in a diamond are cut, color, clarity, and carat weight. Learn more about the 4 Cs here. If you're splurging on the perfect ring for the woman you're about to marry, you want to make sure the diamond is as perfect as she is. A designer like John Atencio will explain what to look for in each diamond they show you, along with pointing out what diamond sizes work best in each of his settings.
What to Consider If You're Thinking About Buying an Engagement Ring Diamond Online
While online research is helpful, when it comes to buying a diamond, seeing and experiencing the diamond first-hand is very important. The descriptions and certifications won't tell you what how the diamond sparkles and how the light is reflected, or what the cut and clarity characteristics mean in terms of beauty and appearance.
When you compare diamonds, you will immediately see the differences for yourself. It is also the best way to judge the size of the diamond. Since every diamond is unique, looking at it first-hand is the only way to honestly know what type of diamond you're choosing.
The experts at John Atencio will walk you carefully through the diamond choices – whether ethically mined or created above ground. They will help you compare, examine the diamonds under magnification (10x), and assist you in choosing the right engagement ring diamond.
Ask questions, research, and take your time when choosing an engagement ring diamond. Don't feel pressured that you have to find the "perfect engagement ring" as soon as you start shopping. Sometimes you don't know which ring is right until you know it in your gut. Let us help you in your search for the right engagement ring diamond today by visiting one of our locations across the Front Range.
Listen to our podcast episode on what to look for in an engagement ring.