Should I Consider a Canary Diamond for my Engagement Ring?
canary diamond, canary diamond engagement ring, diamond engagement ring, engagement ring
11/23/2021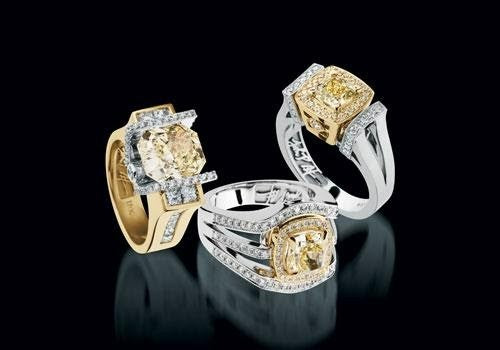 Have you been considering a canary diamond as the center stone for your engagement ring? Once gracing the fingers of royalty, fancy colored gemstones have stepped back into the spotlight as unique and vibrant engagement rings. The rare canary diamond is one such colored stone, named so because its deep yellow hue resembles that of the canary bird. Known to symbolize joy and love, a canary diamond ring will always be a conversation piece due to its vibrancy and rarity. Master jeweler John Atencio can customize any of his bold and distinctive designs with a yellow or canary diamond, so bring your budget and your ideas and we'll work with you to find the perfect yellow diamond for the engagement ring of your dreams.
How does a Canary Diamond Become Yellow?
The presence of nitrogen atoms makes a diamond yellow, with a deeper yellow color related to a higher level of nitrogen. When blue light is absorbed by the stone, the color yellow is reflected. While any fancy yellow diamond is highly desirable, a canary diamond sits at the top of the yellow diamond order. Naturally occurring colored diamonds are rare, with only .01% of all mined diamonds being colored diamonds. Due to this rarity, canary diamonds are also grown in the lab by introducing the presence of nitrogen as the diamond crystal develops. They're more affordable and just as breathtaking.
Canary Diamonds on the Diamond Color Scale
Fancy yellow diamonds are actually an extension of the diamond color scale, which grades the color of a diamond from D to Z. Diamond grades with small amounts of yellow color are often seen as less desirable and are less valuable, with completely colorless diamonds holding a higher value. However, the value of a diamond rises as the saturation of yellow color becomes more prevalent, with the X-Y-Z color grades initiating the yellow color scale. The fancy color diamond scale begins after this, leading the way up to the vibrant canary diamond.
Customize your Canary Diamond Engagement Ring
When you're interested in making a canary diamond a permanent part of your love story, it's important to go to a jeweler who has experience setting these gemstones so that their radiance is maximized. At John Atencio, we have extensive experience in creating stunning rings with yellow and canary diamonds, but we also go the extra mile to create a ring that's designed to last a lifetime. Unlike other jewelers who drop any size stone into the same size setting, John Atencio scales the setting to precisely fit your canary diamond, creating a durable ring with exceptional aesthetic balance. Moreover, every engagement ring is handcrafted with a higher metal content than average jewelers use, resulting in a heavier ring with a reassuring feel you'll appreciate. From presenting your design, to choosing your metal and any side stones, customizing your beautiful canary diamond engagement ring takes around two months, so it's wise to get started today.
Canary Diamond Alternatives
There are several excellent alternatives to canary diamonds, with X-Y-Z yellow diamonds being a great choice due to their proximity just under the fancy color scale. Champagne diamonds, which are also stunning as center stones for engagement rings, are brown diamonds with a secondary yellow tone. In addition to canary diamonds, X-Y-Z diamonds and champagne diamonds, John Atencio can customize any ring with yellow gemstones, including yellow sapphire, chrysoberyl, tourmaline, moissanite and the dynamic lemon quartz.
Master Designer John Atencio Knows Canary Diamonds
Enjoying 46 years of experience in the jewelry industry, John Atencio is world-renowned for his bold and distinctive jewelry designs that make a statement, including those with the magnificent canary diamond. Sketching each design by reflecting on the inspirations in his life, John only permits master artisans to meticulously handcraft every piece. Using only recycled gold and responsibly sourced gemstones in his creations, he demonstrates exceptional sustainability practices and a constant commitment to quality. Discover more about the man whose distinctive designs are perfect for the unique yellow and canary diamonds.

If you're searching for a stand-out ring that will shine joy into your days, a canary diamond engagement ring is the one for you. Customizing a canary diamond ring is easy and fun at John Atencio, so visit JohnAtencio.com to browse his bold and beautiful designs. Feeling original? Contact a knowledgeable concierge with your idea or come in to one of our John Atencio boutiques to discuss your design idea that crowns your future engagement ring with a dazzling canary diamond. Your love story will always stand out from the crowd with a John Atencio on your finger.