Why Double Band Engagement Rings are Gaining Popularity
double band engagement ring, engagement ring, split shank engagement ring
11/9/2021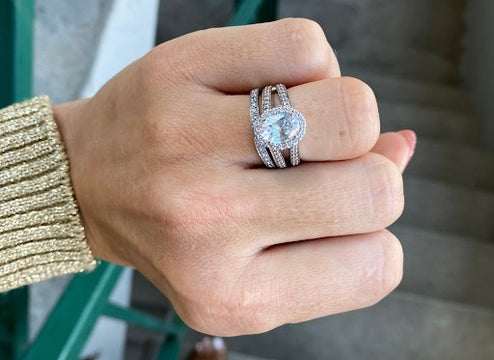 Double band engagement rings are a fresh and modern way to make your diamond stand out. Read on to learn why these compelling designs have become popular and find out whether a double band is right for your unique love story.
What Are They?
As the name would suggest, double band engagement rings incorporate two bands into a single ring design. While this may sound simple enough, the rings come in an incredible diversity of uniquely compelling styles. They also provide plenty of opportunities for customized options that speak to the individual bride-to-be.

From simple and understated to beautifully ornate, double band engagement rings are available in a broad range of designs. Wonderfully versatile, the bands can be split, curved or merged into a double shank. The rings can also be crafted in personalized ways that reflect the wearer's style.

Some stones come fixed between a top and bottom band, appearing pressurized amid the two. Others rest atop a split shank, creating a similar amount of space all around the stone with the two bands joining in the back of the ring. You can even get double-band rings with no center stone for a minimalist look without all the bling. Most brides, however, aren't afraid to embrace a little bling. Set with glittering smaller diamonds on each band, double band engagement rings can be especially striking, especially when crafted by an experienced jewelry expert such as John Atencio.
Why They're Trending
If nontraditional is your style, a double-band ring can be a fitting complement to your look. That said, even though the double band makes these rings modern, they can often have simple, elegantly placed details that make them look more traditional. Whatever your taste, you can get a double band ring that hits the mark. You can also get distinctive designs that flawlessly blend modern and classic elements into a personalized expression of your love.
A double-band ring can even serve as both a wedding band and an engagement ring if you're not in love with the idea of wearing more than one ring. Or, if you're the type who likes to stack, a double band will give you a nice head start on your nesting.

If a double band engagement ring doesn't seem quite right, you can get a similar effect with a split shank engagement ring. Similar to a double band ring, these designs usually have a less pronounced double-band appearance. A standard split shank ring will often have a small tapered gap, showing just a hint of skin. The design is fairly classic and subtle, but there are endless possibilities with this type of setting. A wider negative space between the shanks creates an attractive alternative look, as do wider shanks with more precious metal. The design also leaves room for creativity with the final number of shanks, how they join, if they braid or twist, and if there is asymmetry on both sides of the center stone.

You can also get double band engagement rings without gaps, where the two bands sit flush together, as with this elegant Dynasty engagement ring from John Atencio.
Is it Right for You?
Whether it's a double band or other design, your engagement ring setting should be tailored to your diamond and the unique style of your bride-to-be. With so many countless options, it's best to seek help from knowledgeable jewelry experts who can help you choose a style and setting that will complement your diamond selection and maximize its beauty.

With engagement rings from most jewelry stores, you can add a stone to the setting, whatever its scale, because it's the easiest approach. John Atencio does things differently. Our rings are masterfully crafted to be an artistic, accurate expression of your one-of-a-kind love story.

John takes a unique approach to his gorgeous ring settings, designing each piece around the stunning center stone—from a 3/4 carat to 1 carat to 2 carats and up—scaling the ring to optimize the aesthetic and preserve the dimensions. The result? A flawless design that sets the ring and center stone in a harmonious union that reflects the beauty, taste and lifestyle of your fiancé-to-be.

Choosing the right engagement ring can feel overwhelming, especially if you shop at an ordinary jeweler. Things are different at John Atencio, where we use our expertise to take the worry, confusion and headache out of ring shopping. Our experts can guide you to the ideal diamond and ring setting for the love of your life. Visit one of our convenient locations and let our team help you choose the one ring design for your magical moment.