The Biggest Trends in Jewelry this Winter
chain jewelry, gemstones, jewelry trends winter 2022, lab grown diamonds, pave rings, pearl jewelry
11/30/2021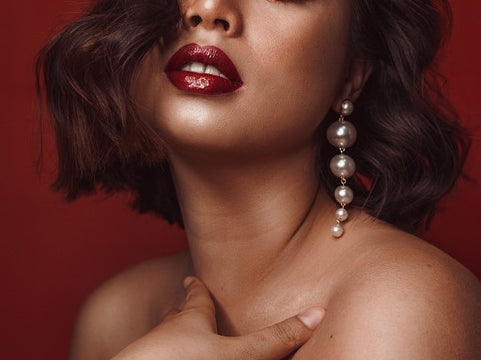 Winter styles bring a distinctive flavor, as trendsetters embrace fashion-forward clothing, hairstyles and jewelry. From warm, vivid gemstones and pavé style rings to dazzling dangle earrings and scintillating lab-grown diamonds, here are some of the biggest jewelry trends making headlines this winter.
Pearl Jewelry
A lustrous natural wonder, the pearl has been a jewelry staple for centuries. An especially versatile favorite, pearl jewelry has evolved into one of the most popular trends for 2021. Emerging last Spring, the theme has persisted into the winter with all types of pearls, from Keshi to South Sea to cultured pearls. The pearl trend takes shape in an array of silhouettes that include sleek and streamlined, organic and rough-hewn, along with edgy modern silhouettes.
Chain Designs
From elongated oval and rectangular links to elegantly entwined designs, chains continue to be popular in every classification of jewelry. Earrings are trendy in linked linear styles with movement and 'frozen' chain hoops. Textural chain bracelets borrow inspiration from intriguing infinity knots, while necklaces range from delicate and feminine to chunky and bold in short to ultra-long designs. White diamond luxe accents infuse these looks with a scintillating vibe while black rhodium-plated finishes imbue chain designs with a chic 1980s rock and roll flair.
Lab-Grown Diamonds
Radiating fire during the stark winter months, lab-grown diamonds have become a trendy force in the jewelry world. Coveted for their stunning sparkle, exceptional quality and lesser environmental impact, these brilliant gemstones are made in dedicated facilities using specialized technology. The result is a gorgeous man-made diamond that's chemically and optically identical to natural diamonds. They're also held to the same strict standards as natural diamonds, receiving ratings for the critical 'Four Cs' (cut, color, clarity, and carat weight). From tennis bracelets to fiery pendants, lab-grown diamond jewelry is all the rage this winter. Learn more about why to consider lab grown diamond jewelry.
Pavé Style Rings
Pavé style rings are having a moment this winter. With this trending style, small diamonds are set in a line along the ring shank. Tiny prongs or beads hold the fiery diamonds in place, creating a scintillating look that's exceptionally breathtaking.
Popular pavé styles include one or more rows of diamonds. These days, more and more winter brides are adding pavé bands to varying engagement ring styles. Since pavé diamonds tend to be delicate, it's important to take extra care with these ring designs.
Gemstone Jewelry
Nothing melts away the cold, dreary winter haze like the vibrant warmth of colorful gemstone jewelry. From rings and pendants to bracelets and earrings, winter trend-setters are embracing color in their jewelry selections. Radiant rubies bring a fiery flair to winter looks, while icy sapphires complement cool winter attire. Garnet, amethyst, emerald and morganite are also popular, especially when paired with dazzling luxe diamond accents.

Enchanting most any jewelry design, colorful gemstones glitter with beautiful depth and striking facets. Available in yellow, rose or white gold, vivid gemstone jewelry emits a resplendent glow, especially when set amid one of John Atencio's artful designs that blend modern inspiration with timeless beauty.
Diamond Drop Earrings
From red carpet runways to classic films, diamond drops have been trendy jewelry options throughout modern history. This season, they've reclaimed their status as a scintillating winter trend. Regularly spotted amid the graceful hair flip, these dazzling danglers have a solid standing among formal affairs, where they grace the ears of celebrated celebrities and influential attendees. This winter, they've also become more popular in other social arenas, thanks to a growing appreciation of their dazzling versatility.

Contemporary diamond drops can be static or free-flowing in alluring ways that follow your body's subtle movements. They also offer more opportunities for daring fashion choices and compelling combinations that pair white glittering diamonds with amethyst, opal and other colorful gemstones.

From timeless styles to fashion-forward designs, John Atencio has an intriguing collection of diamond drops made with the highest quality diamonds and the finest precious metals. Whatever your style, these fashionable selections are a red hot trend this winter.

Searching for a trendy jewelry piece to elevate your look? Looking for that perfect holiday gift for that special person on your shopping list? Visit any nearby John Atencio location, and our knowledgeable experts can help you find a uniquely beautiful jewelry piece that will make you stand out for all the right reasons.