Statement Earrings this Season - Create Your Look
diamond earrings, drop earrings, gold earrings, silver earrings, statement earrings, women's earrings
9/16/2023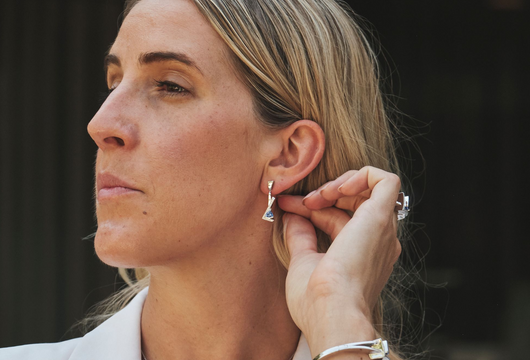 As the days turn cooler, the fashion world shifts its focus to the adornments framing our faces: statement earrings. This season, it's all about the arresting allure of exceptional materials and distinctive designs that echo elegance and individuality. Dive into this captivating world and add a touch of distinctive elegance to your seasonal ensembles.
Trending Now: The Season's Must-Have Styles
With his finger on the pulse of the latest in-vogue fashions, John Atencio brings artful creativity to every design that keeps his jewelry at the forefront of trending styles. This season, John orchestrates a symphony of gold, silver and diamonds, crafting earrings that go beyond mere accessories, becoming a statement of one's personality and style. This includes bold pieces that merge classic and contemporary elements, introducing a fresh yet timeless vibe to any look. 
From gold to silver to dazzling diamonds, the jewelry world is abuzz with pieces that speak to every style sensibility, promising to add that sparkling touch to your autumn ensemble. Let's dive into some of the trending earrings from John's most celebrated collections and see how gold, silver and diamond designs are setting the trend in this season's statement earrings.
Gold Glamour: Gold Statement Earrings
Coveted for millennia, gold holds a preeminent position in our collective consciousness. The exalted metal has long captivated humanity with its radiance and rarity. Today, gold remains the pillar of style and luxury, gracing the fashion icons and tastemakers of our era. Forged into striking drops and dangles, gold elevates evening wear to new heights of glamor.
While the warm glow of classic yellow gold is eternally beloved, white gold has emerged as a sophisticated alternative. With its cool silvery sheen, white gold complements both yellow gold and silver for effortless layering. The versatility of white gold drops allows for creative styling for any look. 
Take, for instance, John Atencio's Essence Ball Diamond Earrings. Simplicity redefined, this striking set features clean lines, scintillating diamond pave and simple artistry that summons the eye. Not to be outdone, John's Paris X/O Earrings inspire intrigue with a distinctive design informed by the romance, culture and beauty of the famous Parisian city of lights. And his new Paris X/O Blue topaz earrings are an exciting addition to the collection that are sure to become another trendy design. 
Meanwhile, rose gold has rapidly become a contemporary darling. Its romantic pinkish hue flatters all skin tones, adding modern flair to both ballgowns and everyday ensembles. Rose gold drops carry a vintage charm that never clashes with other gold tones.
In fact, the interplay of rose, yellow and white gold produces an eye-catching multi-dimensional effect. A great example is John's Duplex Gold Pave Diamond Dangles.
This season, go bold with gold drops that reflect your unique flair. Layer white, yellow and rose gold pieces to craft a glamorous statement that dazzles from dusk till dawn. Usher in this year's next chapter with time-honored golden glitz.
Silver Elegance: Silver Statement Earrings
Lustrous and cool-toned, silver statement earrings are eternally trending pieces that enhance any outfit. Exceptionally versatile, the pretty pale metal looks great on anyone, especially when complemented with luxe diamond accents. 
Accentuate your look this season with stylish silver earrings that blend beautifully with a variety of looks and styles. Consider, for instance, John's popular  Elixir Pave Diamond Earrings, a stunning sterling silver creation with fiery pave diamonds. Paired with a dazzling sterling silver diamond pendant and an eye-catching pave diamond ring, these scintillating stunners add an unignorable element to your look, whatever the occasion.
Prefer a touch of mystery? Blackened silver is a trendy favorite that infuses compelling intrigue into your seasonal look. Also known as oxidized sterling silver, this genuine sterling silver boasts a deep, dark patina that produces alluring statement earrings with an eye-catching edge. 
Some inspired examples can be found in John's Elixir collection, which includes a wide array of uniquely artful earrings with compelling blackened silver attributes. Elixir adds an extra compelling facet to your look by fusing lustrous sterling silver with radiant gemstone accents that bring an extra dimension to your style.
The Power of Statement Diamond Earrings
Diamond earrings are a striking, surefire way to frame your beauty in fire. Timeless and eye-catching, these classic options truly elevate your look, especially when they're crafted in uniquely intriguing designs. When designing his diamond statement stud earrings, John applies the same daring creativity he uses for all his jewelry pieces. This gives you an incredible variety of options, including dazzling Orion diamond studs, bold Apollo Pavé earrings, and exquisite Devotion earrings with a captivating center diamond surrounded by a cluster of diamond stones. 
While statement stud earrings have long been one of the most versatile choices, drop earrings have fast become another trendy option for this season. From red carpet runways and movie premiers to classic movies and elegant soirées, these dangly dazzlers have been consistently spotted amid the alluring hair flip. 
Gracing the ears of influential celebrities and everyday fashionistas, diamond drops are becoming more and more popular in social settings, thanks to a growing appreciation for their versatility. Contemporary drops can be static or free-flowing in mesmerizing ways that mimic your body's movements. They also provide ample space for more daring fashion choices and come in varying designs that pair stunning white diamonds with opal, amethyst and other colorful gemstones.
Whether arranged in a striking dangling cluster, bold pave or ring of gemstones, diamond statement earrings offer striking sophistication. Each gleaming facet holds a timeless appeal that transcends fleeting fashion trends. A classic symbol of luxury and elegance, these glittering trend-setters are a foolproof way to capture attention by adding a radiant edge to your look.
John Atencio: The Visionary Behind the Earrings
A legend in the jewelry world, John Atencio's visionary approach is steeped in a deep understanding of both contemporary and timeless elegance. With each piece, he crafts a narrative that goes beyond mere aesthetics to touch upon one's personal style and spirit. 
This season, John once again affirms his place as a beacon of enduring elegance, guiding both new and seasoned aficionados through a rich tapestry of designs that echo the beauty and sophistication synonymous with his name. Whether it's the rich interplay of golden hues, the lustrous elegance of silver, or the radiant sparkle of diamonds, each collection tells its own story, inviting you to become a part of its narrative. Explore John's collection and celebrate the season with a touch of distinctive elegance that is unmistakably John Atencio.