A Closer Look: Tennis Necklace vs. Riviera - What Sets Them Apart?
diamond jewelry, diamond necklace, riviera necklace, tennis necklace
9/25/2023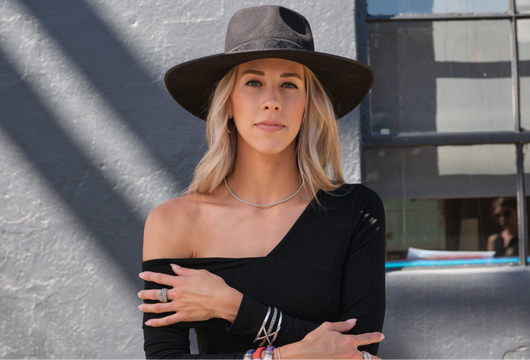 Like the Mediterranean coastline for which they are named, Riviera necklaces sparkle with breathtaking beauty. Similarly, tennis necklaces wreath the neckline in stunning fire, bringing brilliance to formal and casual looks.
But how do these two popular designs differ? And when is one preferred over the other? In this post, we'll compare the Riviera necklace vs. the tennis necklace, so you can select a style for your unique preferences or an upcoming occasion.
Understanding Riviera Necklaces and Tennis Necklaces
A Riviera is a style of necklace known for its classic and elegant design. It typically features a single strand of gemstones, usually diamonds, that are similarly sized—or, in many cases, graduate in size from the center. The stones are typically round cut and set closely together, allowing the necklace to sparkle from every angle.
This style of necklace is versatile and can be worn with both semi-casual and formal attire, making it a popular choice for a variety of occasions. The name "Riviera" evokes images of luxury and glamor, thanks to its association with the French and Italian Riviera, which are known for their opulence and style.
Similarly, a tennis necklace features a single strand of gemstones, usually diamonds, which are linked together in a symmetrical pattern. The design is similar to a tennis bracelet, where the stones are set in a continuous line without any additional embellishments.
Tennis necklaces can be worn for both casual and formal occasions and are known for their elegance and sparkle. The diamonds or gemstones are usually all the same size and shape. They are also typically round or princess cut, but other variations do exist.
Comparing Riviera Necklaces and Tennis Necklaces
Riviera necklaces feature graduated diamonds that radiate outward from one larger, central stone. On the other hand, tennis necklaces typically feature diamonds that are all the same size. 
Although both styles of necklaces exemplify elegance, their design variations cater to different aesthetics and preferences. While Riviera necklaces can be crafted with various gemstones, enhancing their versatility and uniqueness, tennis necklaces are traditionally known for their consistent diamond size and ability to blend well in formal and casual settings. 
Riviera necklaces, which often have a prominent central stone and graduated design, make a bold statement, making them ideal for formal events and special occasions where a touch of sophistication is desired. In contrast, tennis necklaces, with their uniform and delicate design, are versatile pieces that can be dressed up for formal wear or down for a more casual, yet still refined look. Their adaptability makes them a popular choice for everything from ballgowns to t-shirts and jeans, enabling the wearer to exhibit elegance regardless of the event.
Personal style plays a pivotal role in selecting between Riviera and tennis necklaces. For individuals who prefer a more dramatic and distinctive piece that can act as a conversation starter, a Riviera necklace might be more appealing. On the other hand, those who appreciate subtlety and understated elegance might gravitate more towards the tennis necklace. For those seeking a harmonious blend of both styles, layering Riviera and tennis necklaces can create a bespoke look, combining elegant distinctiveness with classic simplicity.
Styling and Choosing for Occasions
Styling Riviera necklaces involves embracing their bold and distinctive design. The graduated stones and/or intricate detailing make them suitable for pairing with v-neck or sweetheart necklines, allowing the necklace to take center stage. For formal events, a Riviera necklace pairs wonderfully with an elegant gown, drawing attention and adding a touch of sophistication. In certain settings, it can be styled with simpler outfits like a blouse and jeans, although a tennis necklace may be more suitable, depending on the design.
Tennis necklaces, known for their uniformity and subtlety, are incredibly versatile and can be styled with various outfits. For formal wear, layering a tennis necklace with other delicate pieces can add a refined sparkle to an evening gown or a cocktail dress. Alternatively, for a casual setting, a tennis necklace can be worn alone with a simple top or dress, adding a subtle touch of elegance without overshadowing the outfit. The adaptability of tennis necklaces makes them a go-to piece for both everyday wear and special occasions.
Mixing both styles allows for a creative and personalized look, harmonizing the boldness of the Riviera with the simplicity of the tennis necklace. This combination is especially striking at formal events, where the layered look can add depth and interest to an elegant ensemble. Matching these necklaces with different outfits involves considering the occasion, the neckline of the garment, and personal style preferences to achieve a harmonious and stylish appearance.
Exploring the John Atencio Collection of Riviera and Tennis Necklaces
Artfully designed using the finest precious metals and gemstones, John Atencio's diamond necklaces radiate scintillating brilliance. Take, for instance, the Monaco Riviera Necklace. 
Imbued with the brilliant creativity of its creator, the Monaco is a masterpiece where the simplicity and beauty of diamonds come alive. Like a glittering river, the impeccably crafted string of diamonds flows gracefully, reflecting light in a dance of sparkle and brilliance. Each diamond in this exquisite piece is responsibly sourced, ensuring ethical elegance and timeless allure. Carefully curated, the design of the Monaco Riviera Necklace embodies the perfect harmony of sophistication and simplicity, making it a testament to John Atencio's dedication to craftsmanship and unique artistic vision.
Similarly, John's diamond tennis necklace is a symbol of refined elegance and subtle glamor that reflects the artistic spirit of its creator. Like a string of celestial stars, each diamond is meticulously set, offering a continuous gleam that illuminates the grace of the wearer.
Responsibly sourced, every diamond resonates with a commitment to ethical beauty and enduring quality. The design, characterized by its uniformity and understated brilliance, is a true embodiment of John Atencio's vision – harmonizing simplicity with luxury, and tradition with contemporary elegance, creating a piece that is both timeless and utterly captivating.
Care and Maintenance
Maintaining the quality and appearance of Riviera and tennis necklaces involves some specific care instructions to ensure their lasting brilliance. Regular gentle cleaning (with a soft brush and mild soapy water followed by drying with a lint-free cloth) can help maintain their sparkle, while periodic professional cleanings are advised for thorough maintenance. It is also crucial to store these necklaces separately in a jewelry box with a soft lining to prevent scratches and tangling.
It's generally best to remove both types of necklaces when engaging in activities that could expose them to chemicals, abrasives or impact, such as swimming, cleaning or sports. This helps maintain the integrity of the metal and the brilliance of the diamonds. 
The John Atencio Difference
Unlike other jewelers, John Atencio provides uniquely designed diamond necklaces you won't find anywhere else on Earth. This ensures a more distinct look that reflects John's decades of experience and creative intuition. When you shop at John Atencio, you will have access to one-of-a-kind fine jewelry pieces that are essentially wearable works of art.
Whether you are treating yourself or surprising that special someone, you can never go wrong with a breathtaking diamond necklace. Browse online or visit any John Atencio location, where our attentive jewelry consultants can help you find the perfect piece to elevate your look and complement the jewelry you wear every day.