The Best Places to Propose in Colorado
colorado, places to propose, proposal
3/1/2022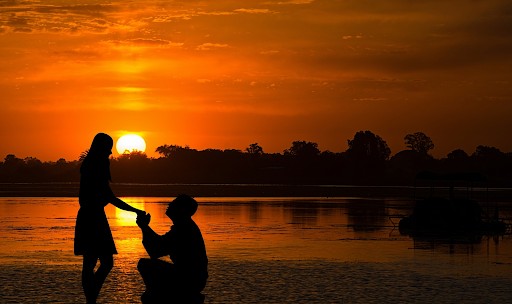 Everyone wants their proposal to be perfect. After all, your bride-to-be will tell the story to her friends and family for years to come. This is why so many people put significant thought into choosing the right engagement ring. At the same time, it's also important to choose an inspiring place to pop the question. Here are some of the best places to propose in Colorado, so you can turn that magical moment into an enduring memory.
Clinton Gulch Dam Reservoir
Only a short drive from Breckenridge, you will find a short, picturesque trail just outside of Copper Mountain Resort. Here, a glittering alpine lake and stunning backdrop of mountain peaks set the stage for an unforgettable proposal.

The trail is only a mile and spans the entire reservoir. But despite its relatively short length, there are plenty of gorgeous spots close to the trailhead where you can stop and drop to one knee. And while you may run across a few anglers in the area, it's very easy to find a quiet little spot to pop the question.

Part of White River National Forest, the Clinton Gulch Dam Reservoir requires no entry fees or photography permits.
Brainard Lake
Located about an hour west of Boulder, this striking alpine lake is an inspired setting for magical proposals. It provides dramatic panoramic mountain views from every angle of the lakeshore. The wide-open space provides incredible light to make your diamond ring look that much more brilliant. It's also easy to access, and if you want to do a little hiking, there is a beautiful trail that links up with Long Lake, another alpine body of water that's a little higher in elevation.
During the summer, there is a small entrance fee which includes parking privileges. From November to May, the main entrance road is closed and there are no entrance fees. You can still access the area, however, by hiking down the closed two-mile road. As with Clinton Gulch Dam Reservoir, no photography permit is required for portraits.
Great Sand Dunes National Park
Located in the San Luis Valley, Great Sand Dunes National Park sits flush against the breathtaking Sangre De Cristo ("Blood of Christ") mountains, named for their reddish alpenglow at sunset. A truly unique proposal site, this incredible destination is one of the few places on Earth where you can experience what's known as surge flow, a scientific term for rhythmic waves.

Medano Pass Primitive Road cuts through the canyon toward the mountains. Trails lead to wetlands, forests and alpine lakes, all of which are memorable places to propose.
Aspen Mountain Ski Resort
One of Colorado's most popular proposal sites, the top of Aspen Ski Resort offers stirring mountain views. You can buy a sightseeing ticket and ride the gondola to the top of the mountain. Many visit the area for hiking or to dine at the Sundeck restaurant. There are a few areas that get less foot traffic where you can pause for that monumental moment. Also, if you're up for a brief hike, there's a truly gorgeous lookout around a 1/2 mile down the trail.

After your big proposal, you can have dinner and drinks at the resort, where the staff is always happy to help couples celebrate their engagement.
Palisade
Often underrated, Colorado's western slope plays host to Palisade, an incredible proposal location with more than three dozen local vineyards. Typically warmer than the Front Range, this inviting area has a real small-town feel. In addition to the many opportunities for wine tasting, there is great hiking in nearby Colorado National Monument, mountain biking in neighboring Fruita, and rafting on the rushing Colorado River.

What makes the place special, however, is the scenery, which paints a perfect backdrop for engagement proposals. Afterward, you can bicycle together from vineyard to vineyard, sampling fine local vintages as you plan your life together.
There's no shortage of beautiful places in Colorado to make popping the question a memory to cherish for a lifetime. To see more, check out this article on the 27 Best Places to Propose in Colorado!
When you do decide to pop the question, regardless of the scenery, you'll definitely want to make sure to have a professional wedding photographer on hand to capture the moment!
Kim Hefner a Colorado-based couples' photographer, specializing in proposals, engagement sessions, elopements, and weddings. Years ago she moved to Colorado in pursuit of a life full of adventures and the outdoors. And as much as she loves planning her personal adventures, she also loves helping couples plan their own unique experiences for the special moments in their lives.

The day you propose is one of the most meaningful days in your relationship and in your life! It's so important that this day is a reflection of who you and your partner really are and what matters most to you.

That's why you need a photographer that just gets you. And that's where Kim can help! She's more than just a photographer. She can help you with all of the planning resources you need to make your special day unforgettable. You have a lot of options—but you don't have to settle for just a run-of-the-mill photographer. Kim will be your friend and even more importantly, your partner to creating the epic day that your love story deserves. Check out Kim's website to see examples of her work and book an appointment!

Searching for the perfect diamond ring for your one-of-a-kind love story? John Atencio takes a unique approach to engagement ring settings, designing each piece around the center gemstone. The result is a perfectly balanced, durable design that sets the gem and ring in a flawless union based on the needs and wants of your bride-to-be. Visit one of our locations and let our thoughtful consultants guide you toward the ideal ring for your magical proposal.