Turquoise and Tanzanite: The December Birthstones
december birthstones, tanzanite, turquoise
12/7/2021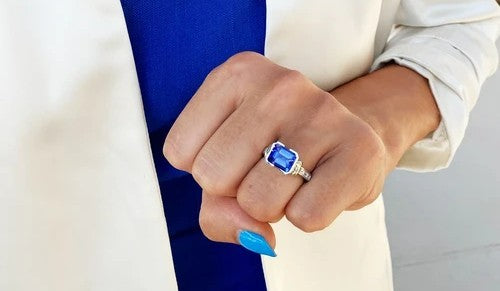 Bursting with vivid hues, December's birthstones cut through the dreary winter months with radiant energy. Equally colorful, turquoise and tanzanite bring distinctive flavors to luxury jewelry pieces. Here's how you can harness their beauty to elevate your winter look.
Tanzanite
Brilliantly balanced between rich purple, velvety violet and vibrant blue, tanzanite is prized for its unique color and incredible rarity. Found only near Mount Kilimanjaro, this exotic gemstone has an intriguing backstory and eye-catching radiance that combine to make it an exceptionally intriguing birthstone.

Tanzanite was formed during the ancient mid-Ediacaran Period, which occurred nearly 600 million years ago. Exceptional heat and plate tectonic activity sparked the gemstone's development amid a relatively complex geological environment not found anywhere else in the world.

Mined commercially in Tanzania, tanzanite is rarely found anywhere else on the planet. Gemologists estimate that natural tanzanite is up to a thousand times rarer than natural diamonds. The gemstone is so rare because it is almost exclusively found in a small area in the Manyara Region at the base of Mount Kilimanjaro. The odds of discovering tanzanite anywhere else on Earth are around one in a million.

The gemstone's scarcity is one of its major selling points. But it's the incredible color and chameleon-like qualities that attract the most attention. Tanzanite can vary in color from bluish-purple to bluish-violet to deep blue. The gem's powerful, saturated color provides an intriguing aesthetic for designer jewelry pieces. From tanzanite bracelets and earrings to tanzanite necklaces and rings, these striking jewelry pieces have become trendy in recent years. Tanzanite engagement rings have also become popular among many contemporary brides who want to show off their one-of-a-kind personalities and fashionable styles.

Prized for its radiant hues, tanzanite has beautiful color-shifting qualities. Depending on the lighting and angle, many gems can appear violet or blue. This lovely aesthetic makes tanzanite jewelry a reliable conversation starter, especially when showcased amid one of John Atencio's artfully designed fine jewelry pieces.
When it comes to selecting a quality tanzanite jewelry piece, it's important to start your search at a reputable jeweler, such as John Atencio, who can guarantee the beauty and quality of each and every tanzanite gemstone. Some of our favorite pieces include John's gorgeous Signature Tanzanite Ring with luxe diamond accents, his Pinnacle Tanzanite Bracelet with glittering pave diamonds, and numerous pieces in his acclaimed Treasure collection.
Turquoise
With a striking color spectrum ranging from sky blue to blue-green, turquoise has been coveted by numerous cultures all over the world for over five millennia. Today, the traditional December birthstone is prized by many well-known modern jewelry designers, along with aficionados of Native American jewelry and the American Southwest.

Turquoise is blessed with an avid collector market, which includes countless enthusiasts who see virtue in matrix variations, different colors and mine sites. Just as every notable gem collection would be incomplete without numerous representatives of this species; no jewelry collection should lack at least one piece featuring this beautifully versatile traditional December birthstone.
With its icy hue, turquoise flatters winter ensembles, while bringing an eye-catching flair to luxury jewelry pieces. Some of our favorites are found throughout John's Bermuda collection. Inspired by the mesmerizing blue-green waters of Bermuda, these stunning jewelry designs blend soft curves with matrix turquoise cabochons and scintillating pave diamonds that flicker with fire amid the bleary winter season.
Exquisite Birthstone Jewelry
Prized for their mesmerizing color, turquoise and tanzanite are available in a wide array of beautiful jewelry selections. At John Atencio, our attentive experts can help you choose a breathtaking piece that perfectly reflects your preferences, personality and style.

Whether you're searching for a compelling alternative engagement ring or a meaningful jewelry gift, turquoise and tanzanite are both worthy selections. At the same time, there are plenty of other striking gemstone options that can enhance any ensemble and illuminate your look.

At John Atencio, we offer an unrivaled collection of gemstones that beautifully complement our artfully crafted jewelry pieces. We also offer a broad selection of stylish luxury pieces featuring other vibrant birthstones, including emeralds, sapphires, rubies and more. Visit one of our many convenient locations and let our seasoned experts guide you to the perfect jewelry piece for yourself or that special person on your shopping list.