How To Choose Your Unique Men's Wedding Bands
mens wedding rings, unique mens wedding bands, unique rings, wedding rings
9/29/2021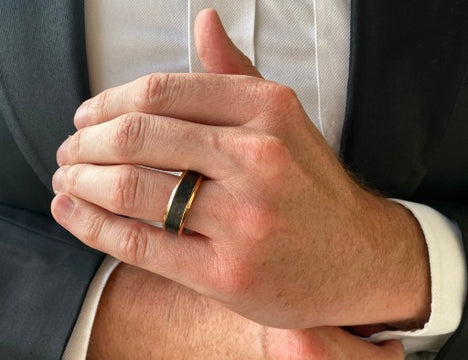 Have you been searching for a unique men's wedding band that makes a statement about who you are? Gone are the days of plain, nondescript men's wedding rings. Today's wedding bands for men are seen as a personal expression of your identity, and symmetry is no longer necessary.
Artistry, innovation and even practicality are key factors in modern men's wedding bands, and distinctive jewelry designer John Atencio is at the forefront of the industry. Bold designs with extraordinary metals, materials and gemstones make for the personal statement you want to show the world. And because every unique men's wedding band is handcrafted with a comfort fit, the choice is easy. Read on to discover how to choose your own look with an authentic John Atencio.
Lifestyle
When you're searching for unique men's wedding bands that reflect who you are as a person, consider your style of living first, because different lifestyles call for different wedding bands. Do you have a unique job that requires you to perform strenuous work with your hands? Do you have a passion for sports or outdoor activities? If the answer is "yes" to either of those questions, then check out John Atencio's Outdoor and Lifestyle Men's Rings featuring nature and sport-inspired laser etching and durable materials like Damascus steel, black zirconium, cobalt chrome and white gold. The White Gold Flat Band with Aspen Pattern, handcrafted in 14k white gold with a satin and polish-finished flat grooved-edge band, is exactly what the hands-on man wants to wear.
Shape
The shape of modern wedding bands has progressed past the plain rings of yesteryear, and the distinctive designs of John Atencio confirm that fact. From flat, square, wide, domed or curvilinear to beveled, non-symmetrical, concave or rock finish, finding a unique men's wedding band that expresses your personality is easier than ever. Proving that classic doesn't have to be stodgy, John Atencio's Classic Men's Wedding Band Collection offers a fresh perspective on men's wedding bands that will capture and keep your interest. The Black Diamond Band, handcrafted in 14k white gold with channel-set black diamonds, is a handsome reminder that bold jewelry is as beautiful on men as it is on women.
Metal and Materials
The range of metals and materials used to make men's unique wedding bands is larger than ever before. While beautiful results continue to be made using the traditional metals of platinum and yellow, white and rose gold, metals such as black zirconium, cobalt chrome, Damascus steel, tantalum and palladium round out the choices in stunning fashion. The materials used for decorative inlays and sleeves are also quite special, including antler, dinosaur bone, carbon fiber, cerakote, mother of pearl, sustainable wood and meteorite. As part of the Black Zirconium Men's Collection from John Atencio, the Black Zirconium Domed Band with Dinosaur Bone has a tan dinosaur bone mosaic inlay that will turn heads because exclusive materials are always in style.
Gemstones
Not only for women's wedding rings, gemstones also serve as a handsome addition to unique men's wedding bands, as well. From diamonds, black diamonds, coral and lapis to malachite, turquoise, sapphires and rubies, these eye-catching gems decorate your wedding band unlike anything else. A stunning example from John Atencio's Precious and Gemstone Men's Collection, the White Gold Eternity Bevel Band with Sapphires is a wide, high-bevel band with a distressed finish handcrafted with 14kt white gold and bead-set blue sapphires. This men's eternity band is an exquisite symbol of the love you share with the one you adore.
Extraordinary Features
Distinctive John Atencio jewelry always makes a personal statement, and his men's wedding band designs are no different. In fact, John Atencio makes self-expression an easy feat with wedding bands featuring marbled Damascus steel, the Colorado flag, a triathlon or exclusive materials like meteorite from the famous Gibeon meteorite formed in space over four billion years ago. Choose a unique men's wedding band that starts a conversation, like the Damascus Steel Domed Band with Meteorite, handcrafted with acid-finished Damascus steel, a meteorite inlay and a Koa wood sleeve. Bold is always beautiful at John Atencio.
John Atencio Designs Unique Men's Wedding Bands
With 46 years of expertise in the jewelry industry, John Atencio is acclaimed around the world for his skill in designing bold and distinctive jewelry that makes a statement. Drawing inspiration from his unique life experiences, John sketches every piece on paper before his master artisans meticulously handcraft his designs into heirloom-worthy jewelry. He is also committed to exceptional quality and sustainability, using only recycled gold and responsibly sourced gemstones in his creations. Learn more about the man who designed the unique men's wedding band you'll always cherish.

Every man is worthy of a unique wedding band that expresses his personal style. Browse our collections of unique men's wedding bands and find the one for you. While online, direct your questions to a concierge or simply stop by a John Atencio boutique store to see our exceptional selection and quality in person. Because every man deserves to wear an authentic John Atencio.