What Is the Most Durable Engagement Ring Setting?
engagement ring, engagement ring durability, ring setting
7/16/2021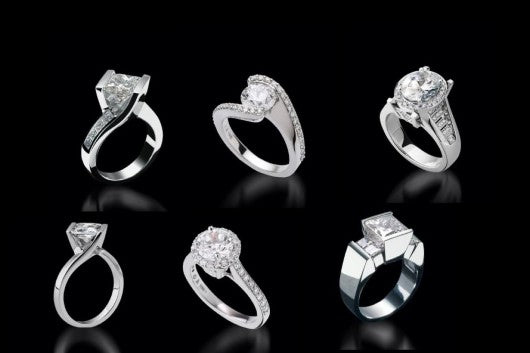 Choosing an appropriate setting is a key step in buying the right engagement ring. If your fiancé is especially active, you want a durable setting that will firmly hold the diamond or other gemstone in place. Read on to learn which settings are most likely to survive the test of time.
What Is a Setting?
The term "setting" is used to describe how a gemstone is mounted to a ring band. In addition to determining how your engagement ring will look, the right setting will ultimately help decide what type of diamond gemstone you will buy. A ring's setting should highlight the fire and beauty of a diamond while suiting the style of the wearer.

Ring styles can vary wildly in appearance and personality, and everything starts with the setting. Some styles are delicate, simple and elegant, making them perfect for brides who appreciate uncomplicated, timeless beauty. There are also plenty of decorative ring styles with pavé or halo diamonds that enhance the piece's overall beauty. Still others are crafted with long-term durability in mind, making them ideal for active, outdoorsy women or people who regularly work with their hands.
The Most Durable Engagement Ring Settings
Getting the most dazzling diamond is usually the first priority for people in search of an engagement ring. That said, there are other critical factors to consider. Having a secure engagement ring setting allows your future bride to be at ease when they wear their ring. This can go a long way toward enhancing their enjoyment.

Certain shapes do much better in certain settings, and there are specific ring settings that are more secure. Here are some of the most secure settings to help keep your precious stone in place.
Bezel Settings
These ring settings partially cover the gemstone. The whole diamond is essentially encased in the precious metal in a way that keeps it locked up tight. Unlike prong settings, bezel settings won't get snagged on clothing. While they aren't the most popular ring setting, bezel settings are definitely more secure. Because the bezel is typically above the girdle of the diamond, the gem is always held firmly in place.

In addition to protecting diamonds better, bezel settings do a good job of disguising inclusions and other small flaws more effectively. Unfortunately, they can also make a diamond look smaller and less sparkly than it actually is; although you can offset this issue somewhat by having the stone set higher on the band.
Adding More Prongs
With prong settings, every type of diamond shape comes with a recommended number of prongs. The recommendations can vary, however, and a higher number will keep your diamond more secure. For instance, a round diamond can have four to six prongs. While four prongs can beautifully display a round diamond, six will protect it better.
Safer Shapes
Diamonds that have rounded edges tend to hold up better under duress. Even if a stone is well protected on its sides, there is always a chance it could get chipped near its sharp edges. This holds true for pear shapes, emerald shapes, heart shapes and marquise shapes.
Choosing the Right Setting
To attain a beautiful, balanced look for an engagement ring, you should always select a mounting based on the carat weight of your chosen diamond. If the mounting is thick, large or wide, the setting will make the diamond look disproportionately small. If your mounting is too little, on the other hand, the piece will seem strangely out of proportion. An oversized diamond can also compromise durability and cause the ring to be out of balance on the finger.

Remember, you aren't just seeking a durable ring; you are seeking flawless harmony between the setting and the diamond. You also want a ring that will suit your fiancé's individual taste and lifestyle. This can be very hard and confusing without expert guidance from a knowledgeable jeweler.

John Atencio takes a unique approach to engagement ring settings, designing every piece around the center stone and scaling up the entire ring based on the diamond size to maintain the dimensions and aesthetic. The result is a beautifully balanced, durable design that sets the diamond and ring in a harmonious union based on the wants and needs of your bride-to-be.

While choosing the perfect setting can be overwhelming, your jewelry buying experience needn't be that way. At John Atencio, our experts can show you how to select a perfect diamond and beautiful setting for your bride-to-be. Visit one of our locations and let our knowledgeable experts guide you toward the perfect ring for your magical proposal.
Listen to our podcast episode on Engagement Rings.