Win Fabulous John Atencio Jewelry in the Win-Your-Wish-List Sweepstakes
win jewelry from john atencio, win your wishlist
3/5/2021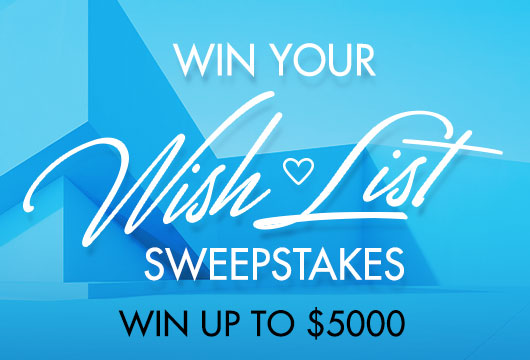 Have you ever thought about what it would be like to win what you wish for? For the month of March only, John Atencio makes winning up to $5k of distinctively bold statement jewelry much easier than you think with his Win-Your-Wish-List Sweepstakes. The chance to win the authentic John Atencio jewelry you've always wanted is only a few clicks away when you make a wish list at JohnAtencio.com. Simply create an account, browse the vast selection of eligible jewelry, then place a heart next to that item or items totaling up to $5k or lower to create your wish list by March 31, 2021. On foot? Pay a visit to a John Atencio boutique and create your wish list there. If you haven't begun already, this is an excellent opportunity to start collecting the stunning jewelry that reflects the person you truly are.
Create a Wish List to Win John Atencio Jewelry
Follow these simple steps to enter to win up to $5k of original John Atencio jewelry.


Visit JohnAtencio.com.
Click "Account" to log in to your existing account. New to the site? Create a new password-protected account to ensure that your wish list will be saved after you make your selections.
Browse the extensive array of statement jewelry and click the ♥ to add one or more eligible pieces to your wish list anytime during the March 1 - 31 sweepstakes period.
Official Win-Your-Wish-List Sweepstakes Rules:
To qualify as an entrant, your wish list must contain a single item or any combination of John Atencio jewelry that totals a retail value of $5k or lower before March 31, 2021, the final day of the sweepstakes. There is no purchase or payment of any kind necessary to enter or win. Participation in the sweepstakes by completing the steps above during the entry period of March 1 - 31 constitutes consent by the entrant to receive communications from John Atencio. All entrants must be 18 years or older to be eligible. Official sweepstakes rules exclude engagement rings, wedding bands, loose diamonds and diamond studs.
John Atencio, Premier Jewelry Designer
When you wish for John Atencio jewelry, you're wishing for the finest in statement jewelry designed by an artist holding over 48 years of experience in the industry. Regarded the world over for designing distinctive jewelry that prompts others to take notice, he is known for the high standards and meticulous attention to detail used in handcrafting each piece that bears his name. Every creation begins with an inspiration and hand-sketch by John, and only master artisans are permitted to handcraft this fine jewelry that is made to be an heirloom worthy of gifting across the ages. Learn more about this renowned and socially responsible designer.
Win Your Wish-List Favorites
John Atencio has an extensive selection of exquisitely bold jewelry, combining clean lines with intriguing twists. From brilliantly hued leather and sterling silver pieces to exotic and striking statement jewelry, the array of eligible pieces you can add to your wish list for the Win-Your-Wish-List Sweepstakes is amazing. Whether it's a John Atencio favorite that has stood the test of time or a collection that's been recently unveiled, you're certain to find something that's worth wishing for.
Win a Wish-List Collection of John Atencio Jewelry
If you've ever longed for a piece of genuine John Atencio jewelry, then creating a wish list during the month of March is a must. If you've ever desired multiple pieces from a collection, such as the breathtaking Arrivo Collection, this sweepstakes is absolutely one you should enter. Incorporating the beauty of trillions and the brilliance of diamonds, sterling silver and 14k gold, this colorful collection consists of an ample variety of stacking bracelets, earrings, rings and pendant necklaces. And with the opportunity to win up to $5k of John Atencio jewelry, adding one of each to your wish list by the end of March is a smart wish to make. Browse the myriad of beautiful and bold jewelry collections and start adding to your wish list today.


March is upon us and it's time to make a wish for up to $5k of boldly distinctive John Atencio jewelry. Remember to visit JohnAtencio.com during the month of March to create an eligible wish list for the Win-Your-Wish-List Sweepstakes. Have questions about selecting a special piece or exploring a collection? Contact a concierge, or simply stop in for assistance at any John Atencio Boutique and make a wish list while you're there. Because there's no jewelry like John Atencio jewelry.