The Ultimate Guide to 7-Carat Diamond Rings
diamond rings, engagement rings
3/11/2021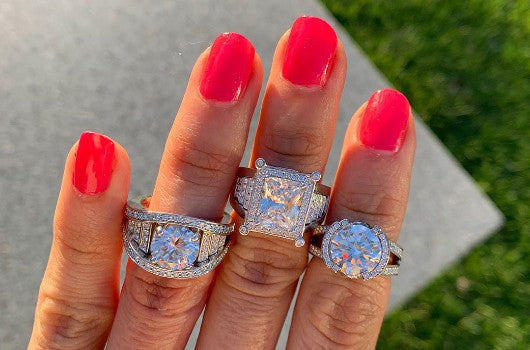 A 7-carat diamond ring is both impressive and glamorous. From the substantial size to the vivid bursts of fire, there's a lot to love about such a prominent piece of jewelry. There's no mistaking the value of a 7 carat diamond. Ultimately, however, the ring design provides the beauty and sophistication that attracts attention for all the right reasons.
Selecting for Quality
Since a 7 carat diamond is exceptionally rare, it comes with a substantial price tag. Depending on the quality of the diamond (as determined by the 4Cs), you could expect to pay tens of thousands of dollars for a single stone. If you are searching for the best in terms of quality, a D color flawless gemstone is as good as it gets. On the other hand, if you don't require the D/IF ratings, a lower clarity/color can cost significantly less and, in certain instances, look nearly identical to the naked eye. Lesser-quality gemstones require an expert ring designer, however, to accentuate the stone's qualities and minimize any potential inclusions and color tints that become more apparent in larger-sized diamonds.
How Big Will it Look on the Hand?
While exceptionally stunning, 7ct diamond rings take up a lot of space. While a 1ct round diamond is approximately 6.5 x 6.5 x 3.9mm; the size of a 7ct round brilliant cut diamond is around 12.34 x 12.34 x 7.5mm. That said, it's important to note that just because a 7c diamond is seven times the weight of a 1ct diamond doesn't mean it will be seven times larger in physical size. In fact, most 7ct diamonds will have a diameter of around two times that of a 1ct diamond.

Still, because 7 carat diamonds are rather large, they can look imposing on smaller fingers and hands. It takes an experienced, thoughtful artist to conceive, design and forge a ring that will highlight the beauty of such a dramatic stone without overwhelming the hand or the eye.
Choosing a Shape
Gorgeous diamond gemstones come in a wide variety of beautiful shapes. Although your choices will be somewhat limited when looking at 7 carat diamonds, you should still have a decent range to choose from. When it comes to diamond cut, one shape isn't necessarily "better" than another. It all comes down to personal style and taste of the wearer.

You can never go wrong with classic round brilliant diamonds. Alternatively, elongated shapes like oval, pear or marquise cuts tend to give a bigger perceived look due to a larger surface area of the table. Whatever the diamond shape, it takes a master designer to craft a beautiful ring around such a large stone. Whether it's a 7 carat emerald cut diamond ring, a 7 carat oval diamond ring or some other entirely different style, John Atencio has the skill, instincts and expertise to blend a 7ct diamond into a work of wearable art.
The John Atencio Difference
John Atencio has spent the last four decades designing creative, compelling engagement rings that evoke glamour, sophistication and style. Through it all, he has always embraced every challenge as an opportunity to continue his artistic journey. John is known for designing exceptional rings that reflect the artistry of a master craftsman. His custom creations accentuate the beauty of large gemstones while providing a personalized expression of the wearer's unique style.

A 7ct diamond ring is very rare and should be just as beautiful. Many people will never see a diamond gemstone this large and even fewer will ever wear one. But carat isn't everything. It takes a creative mind to craft a ring that's worthy of such a rare stone.

At John Atencio, we design unique statement pieces and breathtaking wearable art, made by hand from start to finish — all with unrivaled attention to detail. The epitome of personal expression, our Elite diamond rings showcase John Atencio's unique artistry and signature styling in twelve distinct styles, each a custom creation for larger fancy-cut gems.

Whether it's one of our unique designs or a personalized ring created with you in mind, every jewelry piece embraces the flawless craftsmanship and organic design that is signature John Atencio artistry. Visit one of our locations where our knowledgeable experts will work with you to create a stunning ring design that's worthy of a 7 carat diamond.