Tying the Knot in Denver: Discover the City's Best Wedding Venues
proposal, proposal ideas, wedding day, wedding venue
6/5/2023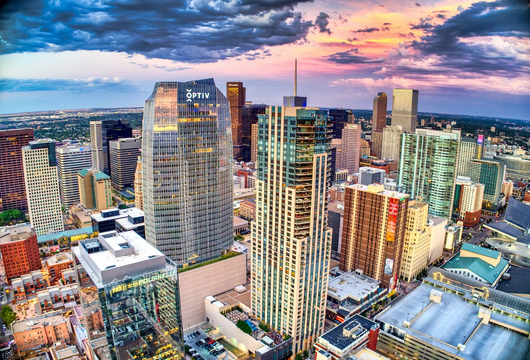 Known for its blend of urban character and natural beauty, the Mile High City is a dream wedding destination. In this guide, we explore some of the best places to get married in Denver, while providing some helpful tips on planning the wedding of your dreams.
Planning Your Denver Wedding: Tips and Considerations
When planning a wedding in Denver, it's important to consider the city's seasonal weather variations. When setting a date, bear in mind that summers can be hot and sunny, while winters can be chilly and snowy. Make sure your logistics plan accounts for Denver's vibrant city layout and mountainous surroundings, so your travel and accommodation options will be convenient for your guests.
You can also enhance the Denver feel of your wedding by embracing local resources, such as John Atencio, who offers an exquisite bridal jewelry collection, which captures the same natural elegance and modern sophistication that Denver embodies.
Where to Get Married in Denver
Affectionately known as the Mile High City, Denver has a distinctive charm as a wedding destination, thanks to its stunning blend of urban sophistication and awe-inspiring natural beauty. Framed by the picturesque Rockies, the metropolitan area offers an impressive range of wedding venue options, from historic mansions and lush gardens to modern art galleries and unique urban spaces.
With its vibrant arts scene, world-class dining and wealth of recreational activities, Denver provides a remarkable backdrop for your big day, while also ensuring an unforgettable experience for you and your guests.
Historic Venues: Denver's Timeless Charms
Known for its vibrant history and magnificent architecture, Denver offers an array of captivating historic wedding venues. These spaces provide a unique backdrop for nuptials, presenting a mix of romance, history and grandeur. Let's take a journey through time and uncover some of Denver's timeless charms.
1. The Grant-Humphreys Mansion
One of Denver's most iconic historic venues, The Grant-Humphreys Mansion, exudes elegance and charm. Nestled in the heart of the city, this 1902-built beauty features Neoclassical architecture, a sweeping grand staircase and spacious, beautifully appointed rooms. The mansion's period furniture and enchanting historical details give a sense of stepping back in time, creating an exquisite setting for a truly memorable wedding.
2. The Brown Palace Hotel and Spa
With its stunning triangular shape, the Brown Palace Hotel and Spa is a testament to Denver's rich architectural past. Since 1892, this luxurious hotel has hosted many Denver high society events, including numerous weddings. With its awe-inspiring atrium, eight unique event spaces, and renowned culinary team, The Brown Palace is one of the most celebrated Denver wedding venues for couples in search of an unforgettable setting for their grand celebration.
3. The Clock Tower
Located in the heart of downtown Denver, The Clock Tower is a unique, historic wedding venue that offers panoramic views of the city. Once the tallest building west of the Mississippi, this venue has five levels of vintage elegance. The lower levels feature Gothic architecture and a retro bar, while the upper levels provide access to the clock faces and an open-air bell tower. A wedding here is sure to be an unforgettable event with a stunning cityscape backdrop.
4. The University Club of Denver
A historic venue established in 1891, The University Club of Denver offers a warm, intimate setting for your special day. With its dark wood, grand fireplace and extensive book collection, it creates a sophisticated, library-like ambiance. For couples seeking a venue with intellectual charm and understated elegance, this venue is a perfect choice.
5. McNichols Civic Center Building
Constructed in 1909, the McNichols Civic Center Building originally served as the Carnegie Library. With its neoclassical architecture and three spacious floors of rotating art exhibits, this venue beautifully blends Denver's history with its vibrant contemporary culture. The grand columns and high ceilings create an elegant setting for a timeless wedding celebration.
Outdoor Venues: Embracing Denver's Natural Beauty
In the Mile High City, outdoor weddings take on a charm of their own. From lush gardens to stunning mountain views, Denver offers an array of stunning locations for couples who wish to celebrate their big day under the open sky. Let's explore the city's best outdoor wedding venues that truly embrace Denver's natural beauty.
1. Denver Botanic Gardens
Imagine exchanging vows amidst blooming flowers, serene ponds and vibrant greenery. The Denver Botanic Gardens makes this dream a reality. As one of the most beautiful venues located in the city, it offers various themed gardens to fit your style and mood. From the romantic Monet Pool, with its lily pads and water-loving plants, to the Woodland Mosaic, a tranquil space with dense shade and cool water elements, there's an idyllic backdrop for every celebration.
2. Red Rocks Park and Amphitheater
For couples looking for a truly iconic Colorado backdrop, the Red Rocks Park and Amphitheater delivers. Framed by the striking red sandstone formations, this venue is unmatched in its natural grandeur. The amphitheater offers a dramatic and panoramic view of Denver's cityscape, providing a unique blend of nature and city for your big day.
3. Chatfield Botanic Gardens
Situated in Littleton, just outside of Denver, Chatfield Botanic Gardens offers a rustic wedding setting with stunning views of the surrounding mountains. From the lush green meadows to the beautiful wildflowers and the historic rustic barn, this venue provides an ideal pastoral backdrop for a country-chic wedding.
4. The Manor House
With panoramic views of downtown Denver and the Rocky Mountains, The Manor House leaves guests in awe. Built in 1914, this historic mansion sits on six acres of land and provides a variety of outdoor ceremony sites. Whether on the expansive lawn or the beautiful patio, couples can exchange vows against the breathtaking backdrop of Colorado's natural beauty.
5. Denver Museum of Nature & Science
While primarily an indoor venue, the Denver Museum of Nature & Science deserves a mention for its Sky Terrace. This outdoor space provides a breathtaking view of City Park, downtown Denver and the Rocky Mountains. The sweeping vistas serve as a stunning backdrop for an unforgettable ceremony or reception.
Modern Venues: Denver's Contemporary Gems
Denver is a city where the allure of the Old West meets modern sophistication. This fusion is perfectly encapsulated in its array of contemporary wedding venues. With their unique architecture and forward-thinking design, these spaces provide a striking backdrop for couples seeking a more modern backdrop for their nuptials. 
1. Denver Art Museum
With its iconic architecture and dynamic collection of international artwork, the Denver Art Museum is a modern venue that makes a striking statement. The museum's bold, geometric design and innovative spaces are sure to inspire and captivate. For a wedding day experience that blends contemporary style with creative flair, this venue is a truly exceptional choice.
2. Blanc
Nestled in the heart of Denver, Blanc is a chic urban venue that brilliantly merges the indoors and outdoors. The space features white-washed brick, an open floor plan, and a lush, vibrant courtyard. The minimalist design of Blanc allows couples to transform the space into their dream wedding venue, embodying modern simplicity at its finest.
3. The Source Hotel and Market Hall
Located in Denver's trendy RiNo Arts District, The Source Hotel and Market Hall is a venue that epitomizes industrial chic. The hotel's sleek design, combined with the historic charm of the attached market hall, creates a modern yet inviting atmosphere. With panoramic views of downtown Denver and the Rocky Mountains, the rooftop of the hotel offers a breathtaking backdrop for any wedding ceremony or reception.
4. Walker Fine Art Gallery
The Walker Fine Art Gallery is a loft-style gallery located in the Golden Triangle Museum District. This contemporary venue boasts rotating art exhibits, high ceilings and an abundance of natural light. For art-loving couples seeking a sleek, modern space, this venue provides a unique backdrop for a sophisticated city wedding.
5. Space Gallery
Situated in the Santa Fe Arts District, Space Gallery is another contemporary gem that offers a unique setting for nuptials. Featuring polished concrete floors and open floor plan, its minimalist design allows for customizations to suit your vision. The venue's array of contemporary art adds a vibrant touch to any celebration, whatever the theme or style.
Unique Venues: Denver's Hidden Treasures
In a city as diverse and dynamic as Denver, there's no shortage of unique venues for couples looking to add an unconventional twist to their big day. These hidden treasures offer a break from the norm, allowing you to create a wedding that truly reflects your unique personality and style. Let's explore some of Denver's most distinctive wedding venues.
1. Denver Zoo
For animal-loving couples or those who simply want a wedding with a wild twist, the Denver Zoo is an unexpected and exciting venue. Imagine exchanging vows surrounded by lush gardens and exotic animals. With several indoor and outdoor spaces to choose from, your guests will be talking about your unique wedding for years to come.
2. Wings Over the Rockies Air & Space Museum
Located in a historic hangar in the Lowry neighborhood, Wings Over the Rockies Air & Space Museum provides a truly unique setting for aviation enthusiasts or history buffs. Surrounded by classic aircraft and space vehicles, the venue allows couples to celebrate among the stars and planes. It's sure to create an unforgettable backdrop for your nuptials.
3. Mile High Station
Once a steel and ironworks factory, Mile High Station has been transformed into an industrial-chic wedding venue. This historic building's original architectural features (such as the red brick walls and steel beam ceilings) have been preserved, creating an atmosphere full of character and charm. For a wedding that blends history with modern amenities, this Denver wedding venue is a perfect choice.
4. Denver Beer Co.
For couples who share a love for craft beer, the Denver Beer Co. offers a unique and laid-back wedding venue. With its high ceilings, beautiful exposed brick, and excellent selection of beer, this venue offers a casual yet sophisticated setting. You can even customize your own beer to serve on your big day.
5. The Studio (Denver)
Nestled in the city's vibrant RiNo Art District, The Studio (Denver) offers an alternative to traditional Colorado wedding venues. It provides a versatile, industrial space with high ceilings, polished concrete floors, and an outdoor courtyard, making it a blank canvas ready to be transformed into your dream wedding venue.
John Atencio: Your Partner in Creating Unforgettable Moments
Renowned for his exceptional craftsmanship and artistic designs, John Atencio can elevate any Denver wedding with his exquisite jewelry collection. Meticulously crafted, each piece echoes the natural beauty and unique spirit of Colorado, making it a perfect complement to the city's diverse wedding venues. With his unparalleled selection of engagement rings, wedding bands and bridal jewelry, John can help make your Denver wedding truly shine, adding an extra touch of elegance and sophistication to your special day.