A Guide to Solitaire Diamond Engagement Rings
diamond engagement ring, Diamond Solitaire Engagement Ring, Solitaire Engagement Ring
4/7/2023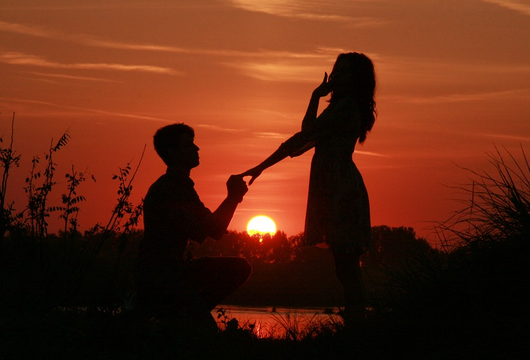 Popular among brides who covet that timeless feel, the solitaire diamond engagement ring is a classic design that puts the spotlight on the center stone. Here's everything you should know about this iconic engagement ring design, along with some tips for choosing a unique design with a compelling one-of-a-kind feel.
What is a Diamond Solitaire Engagement Ring?
Glittering with breathtaking simplicity, solitaire engagement rings feature a single center gemstone. With this refined, simple design, there are no diamonds or gemstones anywhere else on the ring, and the band is typically plain with no pavé diamond accents. Easily one of the most popular settings, solitaire rings have a traditional look that puts emphasis on the center diamond. They are more minimalist than many of today's trendier looks, but their enduring appeal means they never go out of style
Many women love solitaire settings for their classic elegance and unrivaled ability to showcase the scintillating beauty of the center stone. In fact, a recent survey of over 7,000 engaged women found that more than a quarter had received solitaire engagement rings. 
With that said, a solitaire engagement ring doesn't have to be a basic, cookie-cutter design. Within the solitaire category, there are many different settings and diamond shapes to consider. And in the hands of a master artisan such as John Atencio, solitaire diamond rings can be wearable works of art.
Benefits of a Solitaire Diamond Ring
An engagement ring is a symbol of lasting fidelity and endless love. A proposal is a monumental occasion that deserves a ring that meets the moment. At the same time, a woman will look at her engagement ring countless times over the course of a lifetime, contemplating the significance of the beautiful token of love. 
A classic, iconic piece of jewelry, a solitaire engagement ring is a beautiful representation of commitment. The single center stone beautifully symbolizes the bond a couple shares. Simple and refined, solitaire rings provide a number of compelling benefits, including: 
They put the stone in the spotlight. Whether you inherited a diamond or plan to purchase a new gemstone, a solitaire ring puts all 4Cs on display. With minimal details and no additional gems surrounding it, the center diamond can shine in all its glory, attracting attention with fiery facets that truly summon the eye.
They are versatile. Solitaire rings have incredible versatility. They look just as beautiful with a simple wedding band as they do with an elaborate one. They can also look completely different when stacked with funky, fun wedding rings while maintaining the simplicity of a classic band.
Solitaire rings also pair harmoniously with all sorts of clothing styles and jewelry pieces. They also flatter anyone, whether they have small hands or long fingers. 
They accommodate different settings. Although traditional solitaire settings include prong-set center diamonds, solitaire rings are capable of holding the center stone in place in a variety of ways. Chandelier settings, bezel settings, and even tension settings are all possible, giving you more power to customize your ring to make a traditional style more unique.
They work with any diamond shape. While round diamond solitaire engagement rings are the most common choice, they are really just the starting point. Oval diamond solitaire engagement rings, cushion cuts, emerald cuts, and pear cuts are all potential options. In fact, a solitaire ring can accommodate center stones in any shape, including fancy-cut diamonds, which can be easily integrated into solitaire settings for a more unique look.
They are easy to clean. Since there are fewer obstructive details around the center diamond, there are fewer crooks and crevices where dirt can build up. This makes a solitaire ring the easiest style to clean, so you can keep it looking great with minimal effort.
They provide superior sparkle. While a diamond's sparkle depends on its cut, color, and clarity, the setting also plays a role. Since there are fewer details surrounding the center gem, solitaires allow more light to reach the diamond, which increases the noticeable sparkle, especially in larger, high-quality gemstones.
They do not go out of style. While trends come and go, solitaire engagement rings have maintained the unique ability to stay fashionable for more than a century. When you choose a solitaire, you can be sure that your ring's striking beauty will remain in vogue, no matter how styles and trends shift over the decades. This timelessness also helps the solitaire maintain its value better than other ring styles, which may become less desirable as trends change. 

Designer Solitaire Engagement Rings
These days, solitaires are anything but ordinary, and modern brides have a wider selection of designs than ever before. Round, brilliant-cut diamonds are the most popular diamond shape for solitaires. But many brides-to-be prefer other gemstone shapes, which have the ability to add an element of intrigue to the timeless design. 
At the same time, the ring design, setting, and precious metal are all important considerations that determine the overall beauty and character of the piece. While solitaire rings can look indistinct, you can also get uniquely beautiful styles if you shop at the right source.
Designing every ring around the center stone, John Atencio has a beautiful selection of solitaire engagement rings for every taste and style. Some of our most popular designs include:
Azure Solitaire Engagement Ring
Inspired by tranquil waters, John's Azure solitaire engagement ring is beauty in motion. This artful ring design brings clean lines and gentle curves around a prong-set trillion center for an exquisite sense of simplicity, beauty, and movement.
Apropos Solitaire Engagement Ring
Inspired to design a simple but stirring ring with an uncomplicated channel-set diamond, John created Apropos. Blending soft curves and iconic clean lines, this gorgeous ring reflects his unique artistry and design aesthetic, while blending beauty and simplicity in one.
Bellissima Solitaire Engagement Ring
As part of John Atencio's continuous design evolution, Bellissima finds its roots in the movement and curves of Apropos. But Bellissima introduces an intriguing split shank, an open-prong setting, and curves wrapped in diamonds.
Decision Solitaire Engagement Ring
An iconic John Atencio creation, Decision boasts square channels and soft, twisting lines, while showcasing a firey princess-cut diamond in a whole new light.
From his stunning Intrinsic design and his simple Essence ring to his intriguing Optica design and gorgeous Unity ring, John has a variety of compelling creations that take solitaire engagement rings to a higher level. All of John's engagement rings are typically in 18-karat gold but can be made in platinum. Browse his engagement ring collection and find a beautiful symbol for your love story that reflects her one-of-a-kind personality and style.
Caring For Your Solitaire Diamond Ring
While they are easy to clean, solitaires require routine attention to keep them looking their best. Generally, you can safely clean your ring by gently washing it with simple dish soap and warm water. Still, it's best to get a professional cleaning from time to time. 
John Atencio also provides a gentle jewelry cleaner that has been especially formulated for delicate jewelry pieces. He also offers inspection and complimentary professional re-rhodium (white gold) plating.
In addition to these services, John provides complimentary in-store cleaning over the lifetime of your John Atencio solitaire ring. This not only ensures that the center diamond looks amazing; it also includes routine, six-month examinations to make sure the stone is secure in its setting. In-store cleanings are available on a walk-in basis.
Tips on Shopping for Solitaire Engagement Rings
There are a number of things to consider when purchasing a diamond solitaire engagement ring, from the setting and style to the design and diamond gemstone. 
When it comes to choosing a diamond gemstone for your solitaire ring, your options extend beyond shape. These days, you can choose between lab diamonds and natural diamonds. 
Physically and optically identical to natural diamonds in every way, lab diamonds are made in dedicated facilities using sustainable materials. This results in a stunning gemstone at a lower price point. Still, many women prefer natural diamonds for their rarity and compelling history that began billions of years ago when the gems started forming under intense heat and pressure deep within the Earth.
There's no wrong choice between the two, but it's important to remember that the 4Cs (cut, color, carat, clarity) work to determine diamond quality. Whether it's a 1-carat diamond solitaire engagement ring or a 2-carat diamond solitaire engagement ring, be sure to consider the all-important 4Cs, regardless of whether the stone came from the Earth or a lab.
At the same time, you need to think about the setting and precious metal, whether it's yellow gold, white gold or romantic rose gold. Each setting and metal option has its advantages and drawbacks, so it's important to get insight from a reliable local source such as John Atencio.
John hand-designs every one of his gorgeous solitaire engagement rings and typically uses more metal – for a durable and lasting keepsake.
The Ring of Your Dreams Today
Whether she prefers a solitaire or some other ring design, your one true love shouldn't have to settle for a ring that isn't worthy of the moment. At John Atencio, you can find something that represents your beautiful love story. And with affordable financing options, you can get that ring today.
A living legend in the jewelry industry, John offers striking engagement rings for your bride-to-be. Browse online or visit any John Atencio jewelry store location, where our attentive experts can help you find the perfect ring for your beautiful love story.