Custom Made Engagement Rings from John Atencio
custom jewelry, engagement rings
2/1/2021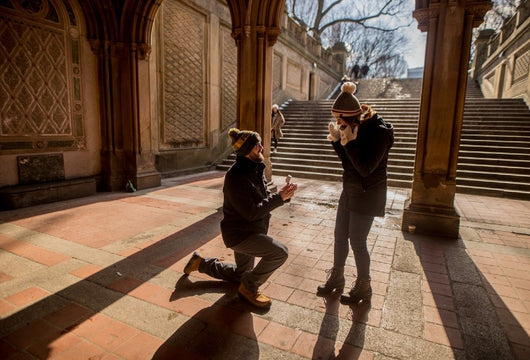 Forged to echo your one-of-a-kind bond, a custom engagement ring is a perfect way to honor your union. Read on to learn why you should consider a unique ring from artisan jewelry designer John Atencio.
Unique Engagement Rings for Women
John Atencio is renowned for fashioning exceptional engagement rings using only the finest gems and precious metals. While all of his pieces reflect the artistry of a master craftsman, John's custom rings take things further by providing a personalized expression of your commitment and love.

At John Atencio, we have 48 years of expertise in design. This expertise extends to working with customers to design a ring that will meet John Atencio's strict standards for quality and last a lifetime. Through every step of the design process, we work collaboratively with our customers to make sure the ring is perfect.

Whether you want a ring with a fancy shaped stone, a nontraditional setting or a contemporary creation that combines more than one style, John Atencio can craft a distinctively beautiful custom engagement ring that's as unique as your love story.
Benefits of Custom-Made Engagement Rings
A customized engagement ring puts you in charge of how a ring looks and feels. When it's crafted by a skilled jeweler, it will also be enhanced with powerful symbolism and distinctive facets that truly make it one of a kind. But the benefits don't stop here.

There are so many reasons to consider a custom ring, including:

It can be a shared expression of love.

Custom engagement rings let you add some of both your personalities into a single ring design. Whether it's a custom design from scratch or a few creative changes to an existing style you love; you can add some compelling flair that reflects your knowledge of each other. It may be her ring, but it can still have a touch of each of you in its stone, setting and design.

There are a lot of ways to customize.

Most engagement rings can be personalized in a variety of ways. You can swap out stones, switch up metals or mix and match styles to create a beautifully melded design. You can also engrave your name, dates or even a message in a way that customizes the ring for eternity.


It shows you really care.

Customizing an engagement ring is a sure way to show her just how special and unique she is. You can really elevate a proposal by giving her a ring that's one-of-a-kind. Each time she slips it onto her finger, she will know there is no other ring in the world like the one you gave her at that monumental moment.

You have a chance to craft a dream ring.

One of the main benefits of a custom engagement ring is the creative freedom it offers. There are no restrictions on the size, color, shape, metal or precious gems you can use. The idea is to design and forge a ring that perfectly reflects your partner's personality and style while also expressing deep, heartfelt meaning.

The budget is built right in.

With a custom design, you can set the budget for your engagement ring and work from there. This allows you to relax and enjoy the custom jewelry experience with the confidence that your designer will stay within your budget. In some instances, a custom ring can even save you money; in fact, if it has little to no markup, you could save 20% or more on the final price.
Where to Start
When choosing an engagement ring, many people simply walk into a local jewelry store and choose a preset piece from the display. Unfortunately, many simply don't realize they have other options.

John Atencio will work with you to conceive and create a customized engagement ring from start to finish.


If you're not sure where to begin, consider using a preset ring as a starting point. This is a great way to find inspiration for a custom design.

You can browse John Atencio's extensive collection of gorgeous preset engagement rings at one of his several convenient locations or online. Then, talk to one of John's attentive jewelry experts to learn the customization options for a ring and better understand what can and can't be done. From there, you can select the available options to help craft a breathtaking piece unlike any other.

Although choosing the ideal engagement ring can feel overwhelming, it doesn't have to. At John Atencio, our jewelry experts can show you how to choose a perfect diamond and setting for your special someone. We can also help you customize a distinctive ring that perfectly represents your enduring unity and once-in-a-lifetime love. Visit one of our locations and let our seasoned experts guide you toward the one quintessential ring for your love story.
Listen to our podcast episode on what to look for in an engagement ring.