Our Favorite Oval Diamond Engagement Rings
oval diamond engagement rings, oval diamonds
5/13/2022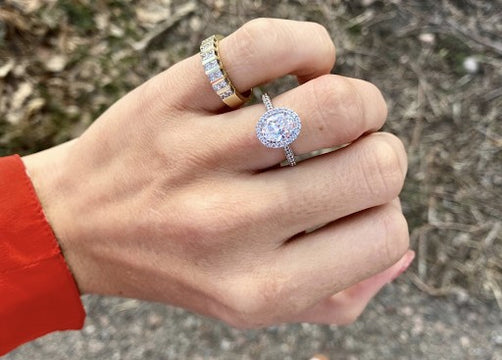 When most people picture a diamond engagement ring, they imagine the popular classic round shape. In reality, there are several different ways to shape a diamond into something spectacular. Here are some of our favorite oval diamond engagement rings along with some insight into why the oval shape is preferred by many brides.
What Makes an Oval-Cut Diamond Special?
Essentially a longer-cut version of a round diamond, the oval shape is known for its brilliant facet pattern. The elongated cut makes the stone appear larger while making the wearer's finger appear to be thinner and longer. An elegant, non-traditional choice for engagement rings, oval cuts are becoming more and more popular among modern brides-to-be.

Because they look larger at smaller carat weights, oval diamonds can be more affordable in many instances. While some other fancy-shaped diamonds tend to sacrifice a bit when it comes to overall brilliance, oval diamond cuts are extremely brilliant since they essentially feature a modified version of the round brilliant diamond's radiant faceting pattern.

Here are some of our favorite oval diamond engagement rings from John Atencio's celebrated jewelry collection:
Essence Oval Diamond Engagement Ring
This exciting bridal design showcases a simple yet inspired diamond design. With iconic styling and classic contoured lines, the Essence ring is quintessential John Atencio. Immensely popular, this uncomplicated diamond ring sets the ideal stage to showcase your oval diamond.
Satin Oval Diamond Engagement Ring
Soft, smooth and elegant — that's John's Satin collection. This stunning design carefully pairs a raised diamond halo with cascading side diamond accents. With a compelling peek-a-boo side-stone, the rich yet subtle beauty of this ring is a beautiful tribute to contemporary romance.
Josephine Elite Oval Diamond Engagement Ring
Inspired by Joséphine Bonaparte, the Josephine Elite diamond ring is the epitome of personal expression. Coronated as Empress of France in Notre-Dame de Paris, this formidable historical figure has captured the imagination of generations of women. John evokes her noble essence with this striking ring that can be customized with a scintillating oval-cut diamond.
Elizabeth Elite Oval Diamond Engagement Ring
Discover your nobility. Inspired by powerful women in history, each Elite diamond ring is the epitome of personal expression. Crafted of the highest quality materials and flawlessly engineered in 18k gold, Elizabeth Elite is all about making that bold, personal statement. And, of course, it can be customized with a high-quality oval-cut center stone.
Catherine Elite Oval Diamond Engagement Ring
Inspired by Catherine the Great, the Catherine Elite oval diamond engagement ring is a sight to behold. Reminiscent of one of history's most formidable women, this artfully crafted piece includes a dazzling diamond and a customizable design that can be tailored for a 2-carat up to an 8-carat oval-cut center stone.
The John Atencio Difference
In addition to these popular oval-cut diamond engagement rings, John Atencio has an array of designs for every preference and style. And most of John's rings can be customized for an oval center stone.

With many other jewelry stores, you can simply drop a gemstone into the setting, whatever the scale, because that's the easiest method. John Atencio does things differently. As a skilled artist and experienced jeweler, John brings a one-of-a-kind perspective to each engagement ring, designing each piece around the center stone.

Every John Atencio engagement ring is a uniquely beautiful artistic love story, conceived and crafted to stand out. The beauty of every piece is in the uniquely inspired, hand-sketched design and time-honored commitment to extraordinary quality and craftsmanship.

For every ring design, the dimensions are changed along with the size and shape of the center stone. From a 3/4-carat stone to 2-carats and up, John adjusts the scale of the setting to visually complement and support the center stone and maintain proportions. This flawless aesthetic balance makes each ring uniquely beautiful, whatever the shape of the diamond.

Explore all our diamond cuts and ring designs and let us help you select the ideal gemstone for your unique style and budget. Whether it's a fancy gemstone, a specific precious metal or a personal inscription, we can help you design a ring that's uniquely yours.