Diamond Tennis Bracelet Gift For Any Occasion
diamond tennis bracelets, lab grown tennis bracelet, tennis bracelet, tennis bracelets
11/7/2022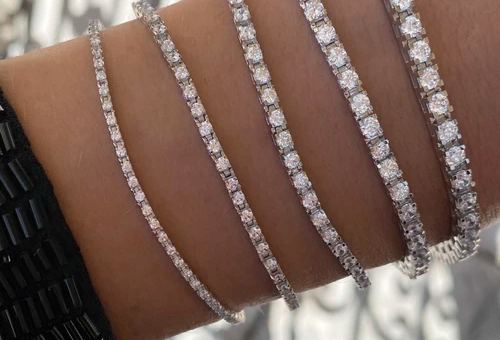 Diamond Tennis Bracelets Are The Ultimate Gift
 An iconic, fashion-forward jewelry piece, the tennis bracelet can elevate any outfit, from casual summer ensembles to the most formal ball gowns. This incredible versatility makes it an ideal gift for almost any occasion, including holidays, anniversaries and everything in between. Here's are bracelet gift ideas and why you should consider a tennis bracelet gift for that special person on your shopping list.
Great For All Ages
 Glittering with scintillating fire, diamond tennis bracelets are an easy way to quicken the pulse of your sweetheart. But is a tennis bracelet a good gift for the other important women in your life? 
 Available in a wide array of styles, tennis bracelets have broad appeal that makes them a classic staple for women of every age and background. This makes them a perfect gift for girlfriends, wives, mothers and sisters. 
A Diamond Bracelet Gift for Any Occasion
 Classic and endlessly elegant, a diamond tennis bracelet infuses any ensemble with breathtaking glitter and glam. Because they go with everything, these timeless jewelry staples make beautiful and meaningful gifts throughout the year. 
Birthdays
 Birthday bracelet gifts always hit the mark. To truly widen their eyes, however, you need the scintillating sparkle of an endless circle of diamonds. Consider a tennis bracelet for her when celebrating milestone birthdays, such as 21, 30, 40 or 50. That said, any birthday is a great reason to treat your special someone to a dazzling tennis bracelet that attracts attention for all the right reasons. 
Push Presents
 Celebrate the new mom in your life with a thoughtful jewelry gift that's straight from the heart. Push presents are a trendy way to show some tangible gratitude for the harrowing nine-month journey to motherhood. These thoughtful gifts also make lovely reminders of the joyous miracle of life and the deep love that brought new life into the world. 
 An ultra-classic fashion statement with endless versatility, tennis bracelets make unforgettable push presents. While a new baby is the best gift of all, a diamond push present is a meaningful way to celebrate the occasion and honor the strength of a new mom. 
Holidays, Anniversaries and Graduation
 Searching for the perfect holiday gift? Diamonds add elegant emphasis to Valentine's Day gift bracelets, Mother's Day gift bracelets, Christmas gift bracelets and everything in between. The same goes for anniversaries, which demand gifts that are both beautiful, meaningful and worthy of the moment. Whether you're celebrating 50 years together or three months, tennis anniversary gift bracelets are the easiest, most effective way to bring a smile to their face. They even make spectacular graduation gift bracelets to help celebrate and commemorate that special student in your life. 
Available in a Variety of Styles
 Modern tennis bracelets are available in a broad array of different precious metals and styles. And when you shop at John Atencio, you gain access to a world of distinctive tennis bracelet styles and designs you won't find anywhere else on earth, including gorgeous lab-grown tennis bracelets, which come in a variety of different styles and price points. 
A Beautiful Investment
 While many different gifts have the power to bring a smile to someone's face, very few will bring a long-term return on your investment. Unlike most other gifting options, diamond jewelry generally retains a market value that increases or remains consistent over the years. So, you should expect your tennis bracelet value to increase over time as long as you purchase the piece at a fair price and take good care of the gemstones. 
A Timeless Gift
 A truly iconic jewelry piece, diamond tennis bracelets have the rare ability to harmoniously blend flashy brilliance with subtle class. Elegant and stylish, these dazzling jewelry pieces are a wardrobe staple that adds shimmering glam to any outfit. Instantly stunning and easy to wear, this timeless classic is both simple and eye-catching in formal and casual settings. What's more, tennis bracelets are often passed down for generations as family heirlooms and keepsakes.
 Unlike other jewelers, John Atencio provides uniquely designed tennis bracelets you won't find anywhere else on earth. This ensures a more distinct look that reflects John's decades of experience and creative intuition. When you shop at John Atencio, you will have access to one-of-a-kind tennis bracelets that are essentially wearable works of art.
 Whether you are surprising that special someone or treating yourself, you can never go wrong with a breathtaking diamond tennis bracelet. Masterfully crafted using top-quality gemstones, John Atencio's tennis bracelets are available in a wide range of carat weights and one-of-a-kind styles. Browse online or visit any John Atencio location, where our attentive consultants can help you find the perfect tennis bracelet or other diamond gifts to elevate their look and complement the jewelry they wear every day.