Why Halo Engagement Rings Are Trending
halo diamond ring, halo engagement ring, jewelry trends
6/1/2021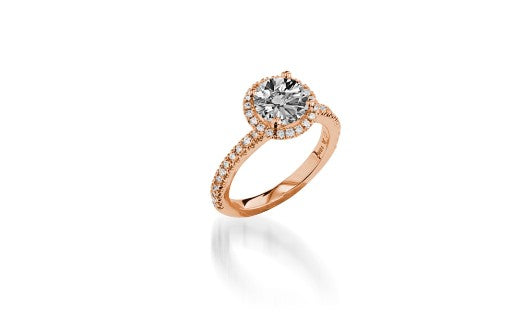 Halo engagement rings are especially trendy these days. Aside from the classic solitaire, they've become the most popular ring style among modern brides-to-be. What makes this beautiful ring design so fashionable? Read on to learn why people love halo diamond rings.
What Is a Halo Ring?
Designed to put a diamond's beauty and brilliance center stage, halo engagement rings include a primary gem completely encircled by glittering accent diamonds for an eye-catching look. They are elegant but have a nice vintage feel. They're also exceptionally noticeable without being too over the top.

Prized during the Retro, Art Deco and Victorian eras, halo rings have seen a resurgence in popularity among people who are drawn to their exceptional versatility and stunning symmetry. Halo designs can range from vintage and glamorous to streamlined and contemporary. A double halo diamond ring design delivers an even more elegant and ornate look.
What's the Appeal?
With halo engagement rings, the smaller precious gemstones add eye-catching emphasis to the fire of the center stone, making it appear more pronounced. This helps create the illusion of a bigger diamond that makes a ring seem a bit more valuable than it is. For budget-conscious buyers, that brings significant appeal. The halo setting makes one of the biggest impacts for your investment dollar. It's elegant, glamorous and makes the gem appear larger — and all for relatively less money.

Versatile enough for every type of precious metal, the halo design looks great in white and yellow gold. Paired with blush, rose gold, halo rings can also have a lovely romantic look that makes them popular among modern brides-to-be.

But the design's versatility doesn't end there. Halos come in a variety of design options, including floating halos and double halos. More and more couples are getting especially creative with their designs, choosing hidden halos, unusual shapes and unique gemstone combinations.
Halo Rings in Other Shapes
Round diamonds are the most popular shape for halo engagement rings. An example of this can be found in John Atencio's Chiffon Round Engagement Ring, an exemplary round-cut halo-style ring. That said, the halo design also looks beautiful with other diamond shapes. Cushion-cut diamonds are frequently set with a halo. With a soft pillowy shape, cushion cut gems aren't always the most brilliant; so the halo design provides extra sparkle.

The trendiest diamond shapes for halo engagement rings include the round cut, the cushion cut and the oval cut. Even still, the design trend is evolving in subtle ways, as women seek rings that are more distinctive and eye-catching. For example, a drop halo with an additional row or ring of pavé diamonds has become a budding engagement ring trend. We're also seeing more and more shield halos, along with striking floral motifs that stand out from the crowd.
Is Halo Right for You?
Whether it's a halo or other design, an engagement ring setting should be suited to your diamond and the style of your fiancé-to-be. With so many available options, it helps to seek counsel from jewelry experts who know how to choose settings that will beautifully complement your diamond selection and attract attention for all the right reasons.
With rings from most jewelers, you can simply insert a stone into the setting, whatever the scale, because it's the simplest approach. At John Atencio, every single engagement ring is masterfully crafted to be an accurate, artistic expression of your love story. It starts with an inspired, hand-sketched design and ends with a stunning piece of artistry.
John takes a distinct approach to ring settings, designing every piece around the center stone—from a 3/4 carat to 2 carat and up—scaling up the ring to preserve the dimensions and aesthetic. This results in a flawlessly balanced design that sets the gemstone and ring in a harmonious balance based on the taste and lifestyle of your one-of-a-kind bride-to-be.
While choosing an engagement ring setting can feel overwhelming, your experience doesn't have to be that way. At John Atencio, our experts can show you how to select an ideal diamond and setting for the love of your life. Visit one of our locations and let our experts guide you toward the one ring for your beautiful love story.