Our Favorite 2 Carat Diamond Tennis Bracelets
diamond tennis bracelets, lab grown tennis bracelet, tennis bracelet, tennis bracelets
6/13/2022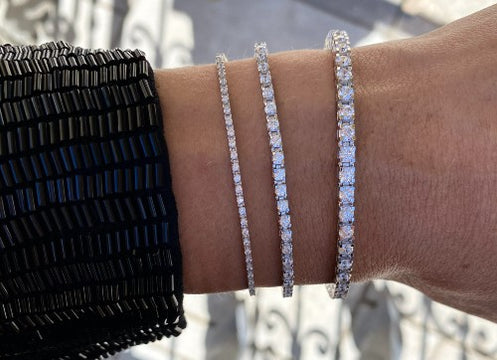 Have you been thinking about how a dazzling 2 carat diamond tennis bracelet would look draped around your wrist? Forever in style, tennis bracelets are versatile pieces that can complement a casual outfit or formal clothing. Known as "tennis" bracelets due to tennis legend Chris Evert famously stopping a game to look for hers on the court, these stunning bracelets have become a staple of many women's wardrobes. Because every diamond in a genuine John Atencio is ethically sourced and matched for brilliance, you can feel good about wearing it or gifting it to someone you love. Whether you're searching for yourself or looking to give the most glamorous gift to a very lucky person, the perfect tennis bracelet exists, and it's waiting for you at John Atencio.
The 2.0 Carat Diamond Tennis Bracelet
When you're seeking an iconic fashion piece with great versatility, John Atencio offers distinctive diamond tennis bracelets that will make you look and feel your best. Shimmering and extraordinary, the 2.0 Carat Diamond Tennis Bracelet is impeccably handcrafted in 14-karat yellow gold, with matched, prong-set diamonds and a safety clasp. Also offered in white gold, this classic piece looks beautiful on your wrist when worn alone or when stacked against other bracelets. Following the trend of stacking multiple pieces allows you to wear one metal for a uniform look or mix different metals for that fashionable mixed metal style. Any way you wear it, you deserve to wear a genuine John Atencio.
The 2.0 Carat Lab Grown Diamond Tennis Bracelet
John Atencio is not only known for his bold and distinctive artistry in jewelry design, he is also celebrated for his ethical stance on offering beautiful jewelry that's sourced in an environmentally friendly manner. Just as dazzling as diamonds sourced from the earth, lab grown diamonds are created in controlled conditions and are increasing in popularity every day due to their honorable nature. The 2.0 Carat Lab Grown Diamond Tennis Bracelet is handcrafted in 14-karat white gold with matched, prong-set, diamonds and a safety clasp. Whether worn solo or stacked, this traditional bracelet will be your glittering go-to piece for staying casual or dressing it up.
The Lines 2.0 Carat Diamond Tennis Bracelet
If you're browsing for a tennis bracelet but prefer a twist on the traditional, John Atencio crafts a bracelet you'll always cherish. Part of the simple and highly structured Lines Collection that brings curated diamonds into exquisite focus, the Lines 2.0 Carat Diamond Tennis Bracelet is handcrafted with 14-karat white gold and glistening, channel-set diamonds. Also offered in yellow gold, this bracelet is a must for the person who appreciates unique fine jewelry. Wear it with any of the matching rings, necklaces and earrings from the collection to create a sensational look that all will remember.
The Everlast Diamond Tennis Bracelet
Sometimes, something is so magnificent that it strikes you immediately, and you know it should be yours. Because everyone delights in a gorgeous bracelet with stopping power, you'll know the Everlast Diamond Tennis Bracelet is for you the moment you set eyes on it. Crafted by hand by expert artisans, this piece is made with 14-karat white or yellow gold and channel-set diamonds that weigh in at 2.4 carats. Sparkling as a solo endeavor or paired with a classic tennis bracelet for a divine combination, it will pedestal your look to new heights every time you wear it.
The Monaco 1.89 Carat Diamond Tennis Bracelet
If you're searching for something simple but stunning, John Atencio designs the perfect piece for you. Sparkling at just under two carats, the Monaco 1.89 Carat Diamond Tennis Bracelet is meticulously crafted in 14-karat white gold and prong-set diamonds. Catching every eye in the room with its shimmering grace, this beautiful piece of jewelry is crafted in yellow gold as well. Go solo, stack it or mix metals to create your own style that celebrates your appreciation for exquisite jewelry. Even better? Pair it with the Monaco Long Dangle Earrings and Riviera Necklace for undeniable glamour.
John Atencio Designs Unique 2 Carat Diamond Tennis Bracelets
Acclaimed across the globe for his bold and distinctive jewelry artistry, John Atencio enjoys an amazing 46 years of experience designing extraordinary pieces that please the soul. He takes his craft to heart, thoughtfully hand-sketching his designs from the inspiration of history and his own life experiences. Renowned in the industry for his solid commitment to quality and his sense of social responsibility, John demands that only recycled gold and responsibly sourced gemstones be used in his creations that he allows only master artisans to handcraft. Discover more about this fascinating person who designed the exceptional tennis bracelet that makes you feel fantastic when it's around your wrist.

Whether it's classic or unique, every 2 carat diamond tennis bracelet from John Atencio is distinct in design and quality. Make one of them your own by visiting JohnAtencio.com or walking in to one of our boutique stores. Questions? A knowledgeable concierge has answers and will gladly assist you with your purchase. Because there's no other tennis bracelet like a genuine John Atencio tennis bracelet.